"Look mom, it's the castle, it's the castle!" Yes, those were the words my kids yelled in excitement and awe as we pulled up to a major Orlando theme park! BUT it was not the one you may be thinking. For years I have watched in pure happiness as we arrived at the Disney castle each year. When my kids faces lit up, it gave me chills. Well, look out Cinderella because there is another castle in town!
That's right! My kids were saying "Look it's Harry Potter's castle!" Now we know they are actually referring to Hogwarts but to kids with vivid imaginations, it was Harry's castle. It was a magical place they had only read about in books and seen in movies. It was a place where boys became wizards and their favorite character saved the day. When my kids started yelling, it took me by surprise. I became emotional in a new way that I was not expecting. There was so much magic and wonder in their eyes that I knew this place would be special!
For those who don't know, The Wizarding World of Harry Potter has 2 sections: Hogsmeade at Islands of Adventure and Diagon Alley in Universal Studios. The two are connected by the Hogwarts Express. Tickets for BOTH theme parks are needed to visit each section and ride the train. Each area is unique in its own way and offers a true Harry Potter experience. Here is a closer look at Hogsmeade, Diagon Alley and Hogwarts Express!
Hogsmeade
Guests of Islands of Adventure can enter Hogsmeade from either The Lost Continent or Jurassic Park areas. (TIP: There is a great photo op in front of the castle from the Jurassic Park entrance.) You can also arrive at Hogsmeade by taking Hogwarts Express from King's Cross Station at Universal Studios. From the moment you arrive, it is like you have stepped into a Harry Potter novel. The attention to detail is amazing especially when admiring Hogwarts Castle. This area offers 4 attractions (plus Hogwarts Express) and 2 restaurants. Each ride takes the Express Pass. Here is what you can expect:
Harry Potter and the Forbidden Journey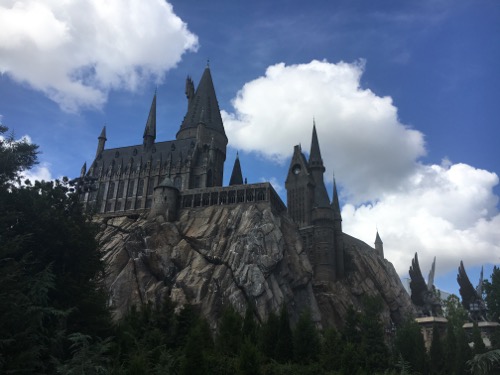 Located inside Hogwarts Castle is the thrill ride Harry Potter and the Forbidden Journey. It is for guests 48″ and taller and NOT for individuals who get motion sickness. Although I really enjoyed this ride, I was a little queasy at the end. Riders move all about on a multi-sensory adventure with Harry and his friends. The queue is a big part of the ride as you get to see Professor Dumbledor's office as well as moving and talking picture frames.
Flight of the Hippogriff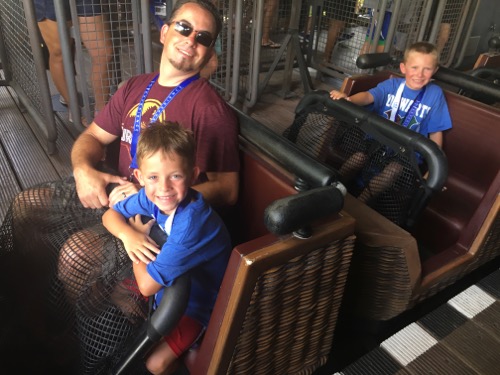 In the 3rd book, Harry Potter and the Prisoner of Azkaban, we are introduced to the intriguing Hippogriff. This ride lets guests experience what it would be like to ride on the back of one of these magical creatures. It is a fun family coaster that everyone 36″ and taller will LOVE! I heard many people say this was their favorite ride in the park. (TIP: Bow to the Hippogriff. He may just bow back.)
Dragon Challenge
This high speed roller coaster is an exciting ride; however, it's reign will be coming to an end soon to make way for a new Harry Potter experience. Guests must be at least 54″ to ride this ride.
Ollivanders
If you have read or seen Harry Potter and the Sorcerer Stone (first book/movie), then you know Ollivanders is where Harry's wand chooses him. At Hogsmeade, guests can enter Ollivanders and witness a wand choosing ceremony. One lucky child will be chosen to find his perfect wand. After the show, you can explore the store and all the amazing wands. I recommend picking up an interactive wand.
Casting Spells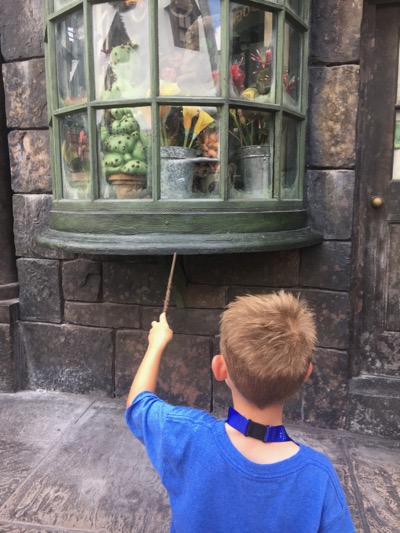 After purchasing an interactive wand at Ollivanders, guests can cast spells throughout Hogsmeade. Each wand comes with a map so you can easily find the spell casting areas. My kids LOVED this experience. At various locations, you will find plaques on the floor with spell instructions. The wizard points their wand at that location and repeats the spell. Each area offers a unique experience.
Three Broomsticks
Although I did not have the chance to eat here, I heard it is amazing so it is on my MUST DO list for my next trip. Guests can enjoy meals such as fish and chips, ribs, shepherd's pie and more. Don't forget the Butterbeer too! You can also pick up some beverages at Hog's Head Pub and a Butterbeer cart in the center of town or pick up some unique candy and treats at Honeydukes.
Diagon Alley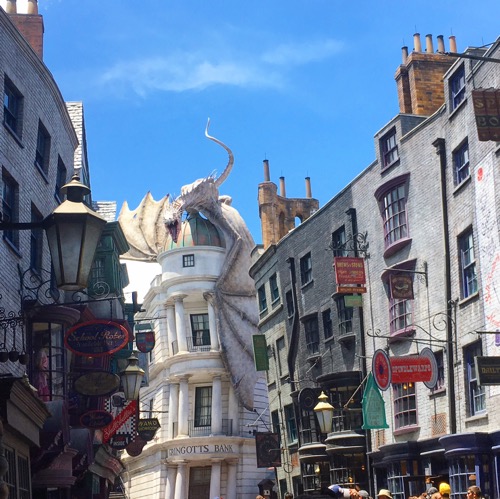 Diagon Alley is a hidden area within Universal Studios. You enter Diagon Alley "through" a brick wall. There are no signs for this area of the park but you can find it on the map. It is located next to King's Cross Station and across from the Night Bus. I promise you will be in awe from the moment you enter Diagon Alley. Day and night time, this space will transport you to another world. Diagon Alley offers just one ride but, for me, it is the best ride in the park. There is also one restaurant, places to get sweet treats and another Ollivanders Wand Shop.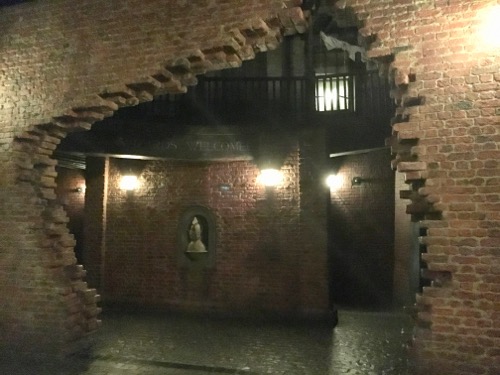 Harry Potter and the Escape From Gringotts
This was my FAVORITE ride in all of Universal! It brings families on an exciting adventure through the Gringotts Bank and it can be enjoyed by guests 42″ and above. Make sure you notice all the details while on line as well. It is truly an amazing and magical experience.
Leaky Cauldron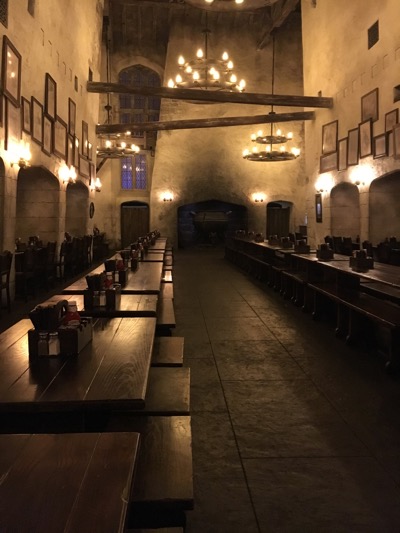 We enjoyed an amazing lunch at the Leaky Cauldron as part of our VIP Tour. What I really enjoyed was that it forced us to go outside our traditional dining box as there were no hot dogs, hamburgers or soda in sight. Guests choose from an amazing menu of English meals such as fish and chips, lamb stew, cottage pie and more. Unique drinks and desserts are also available including the famous Butterbeer and potted cream.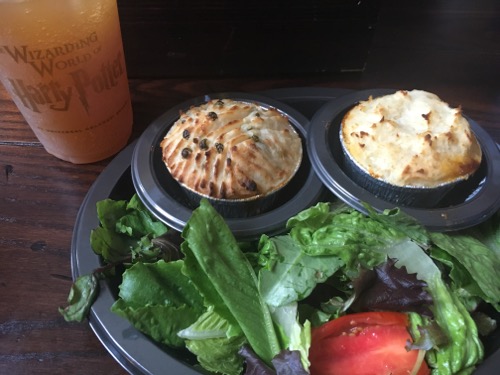 *Other places to find sweet treats and beverages are: Florean Fortescue's Ice Cream Parlor (just like the book), Fountain of Fair Fortune, Eternelle's Elixir of Refreshment and The Hopping Pot. (TIP: Try the pumpkin pasties. They are delicious!) You can also pick up sweet treats like Every Flavor Beans, Chocolate Frogs and Cauldron Cakes at Sugarplum's Sweet Shop!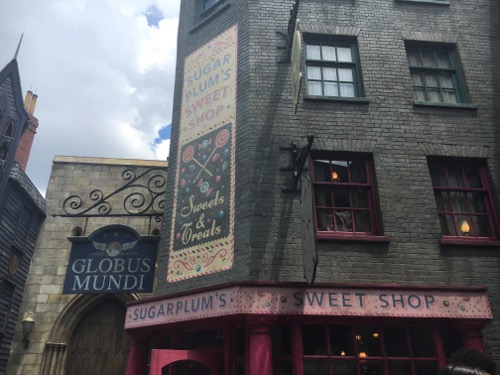 Ollivanders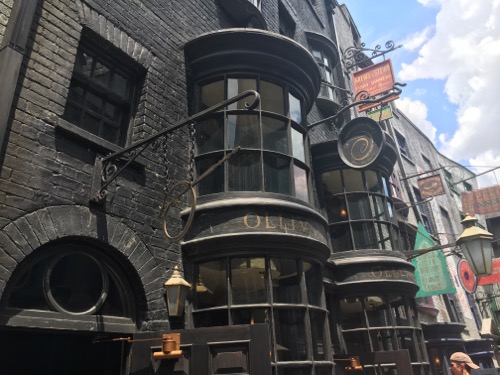 Just like in Hogsmeade, Ollivanders in Diagon Alley offers a unique wand choosing ceremony experience. You can also explore the store and purchase your favorite wand. Again, I recommend an interactive wand which costs around $50.
Cast Spells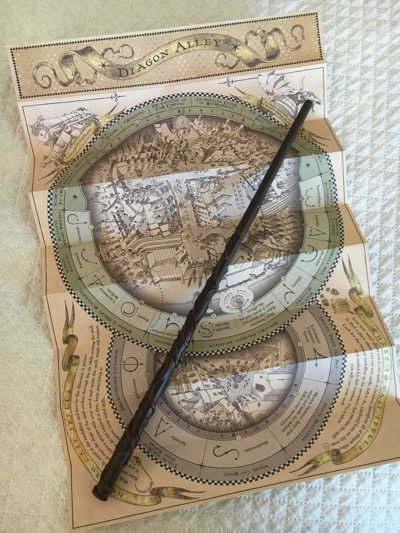 Diagon Alley offers even more spell casting fun. I found some of the spells to be grander and more exciting than the ones found at Hogsmeade. You can use the same map as it offers locations for Hogsmeade on one side and Diagon Alley on the other.
Knockturn Alley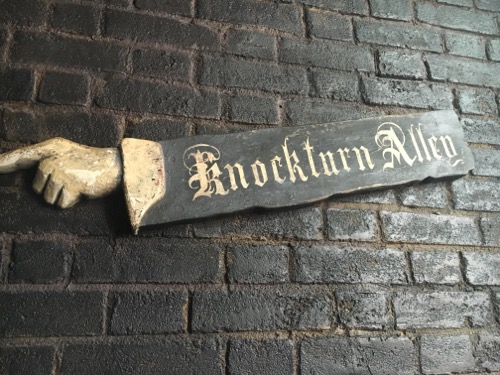 Tucked away within Diagon Alley is the dark and creepy Knockturn Alley. Inside, you can find additional spell casting areas as well as a unique gift shop. Did I mention it is also air conditioned making it a great place to beat the heat?!
Gringotts Money Exchange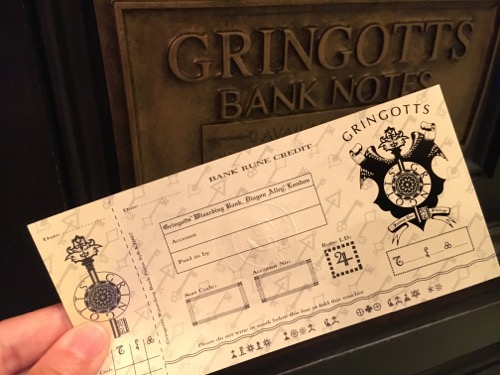 A unique experience within Diagon Alley is exchanging Muggle money for wizard money. The bank notes can then be used to make purchases in Diagon Alley and Hogsmeade at select locations. My son used his money to buy a Harry Potter interactive wand at Ollivanders. Make sure you pay attention to the goblin behind the counter. You can even ask him a question and get a response! (TIP: Unused wizard money can be transferred back to Muggle money but I recommend keeping it as a souvenir!)
Hogwarts Express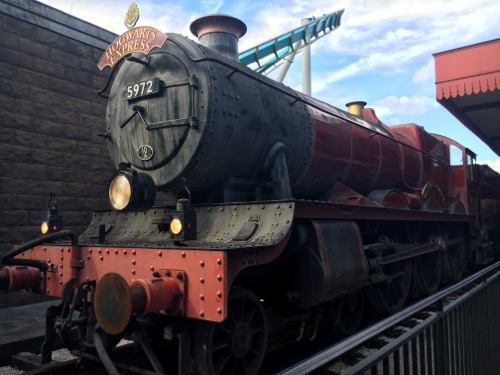 One of the most unique aspects of the Wizarding World of Harry Potter is the ability to be transported between both worlds via Hogwarts Express. Tickets to Islands of Adventure and Universal Studios are needed to ride the train and explore both worlds. Express passes can be used on this ride which can cut your wait time in half. Hogsmeade and Diagon Alley each have their own stations with both offering an exciting and unique experience.
King's Cross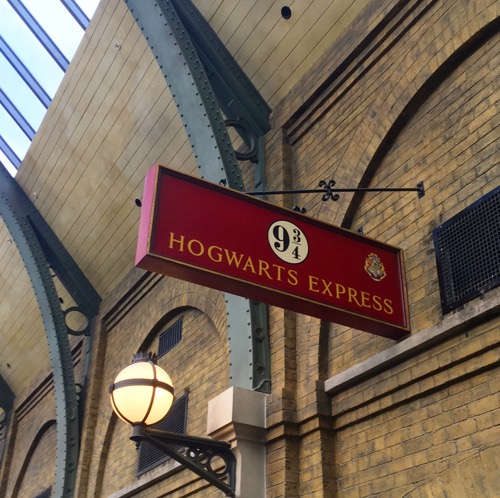 Located next to Diagon Alley is King's Cross station where wizards of all ages can take Hogwarts Express to Hogsmeade. It is a surreal experience as you get to "walk through" the brick wall and see the sign for Platform 9 3/4. (TIP: Stay back and look through the mirror on the line to the train. You will get to see riders going through the wall. I recommend recording it!). While on the train, guests will look out the window and watch as London passes by. As you get closer to Hogwarts, you will also see familiar characters and places such as the Malfoy Mansion. It is a truly unique experience!
Hogsmeade Station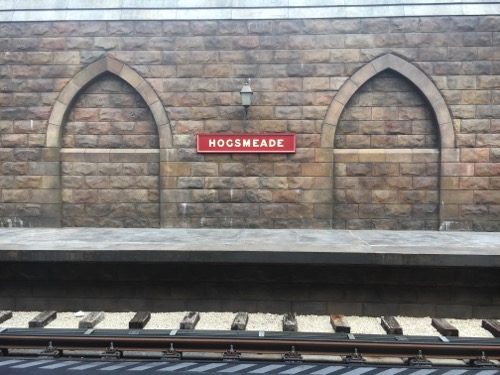 Located within Hogsmeade is the Hogsmeade Station that will take you back to London. There are some amazing photo opportunities just outside the station which I recommend you take advantage of! The ride to London is different than the ride to Hogsmeade so pay attention to the sights outside the window as well as in the hallway of your train car.
There you have it! My breakdown of The Wizarding World of Harry Potter. I hope it was helpful in preparing for your next trip to Universal Orlando Resort. As we explore this park more, I may be adding more details, tips and secrets for this magical world!
We were so excited to be a part of the Family Forward adventure this year which worked closely with Universal Orlando Resort to bring us the best possible experience. All opinions expressed are my own.
You may also want to read: