Brain Gain is on its way!

Children need the summer off especially young ones. They need time to play, run and engage. As an educator, my children are off from daycare in the summer and while that never concerned me before, my daughter has been struggling so I knew that she would be completing some scheduled learning activities. We always look to incorporating learning in all of our activities but completing a few pages in a workbook each day would help with fine motor skills and get her ready for the school year. I was incredibly excited to review Gakken's Play Smart books designed specifically for young children for this exact reason.
Gakken is the publisher of top-selling workbooks in Asia which has an emphasis to put fun first in learning. The workbooks can begin as early as two years old and have three different types of books: Early Learning, Brain Boosters and Skills Builders (School Skills for 4+). The activities shift every few pages which keeps your child's interest but is also consistent so that they can easily pick up the rules for each activity.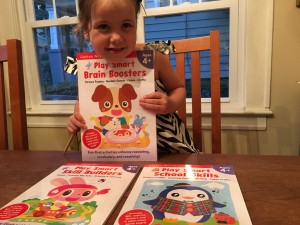 Mommy University Presents
Reasons We Love Play Smart Books
Offers Challenging Activities
My daughter selected the Brain Boosters book to begin since it had a dog on the cover which is a scientific process a four-year old applies, and she loved every minute of this book. From the first page, the activities were challenging in that she was asked to complete unique brain teasers. Since she has done mazes and puzzle books before she thought she knew the instructions, but Play Smart actually designed the activities differently. I appreciate these differences in activities because it made her think about each page and proved to be very engaging.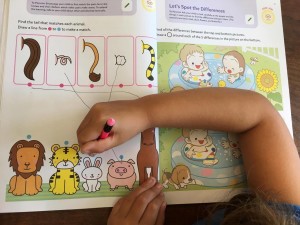 Encourages Parental Involvement
In addition to the activity on each page, there are the general instructions for the page as well as suggestions for parental involvement. At Mommy University, we encourage family involvement for various reasons; however, I will say the recommendations were perfect. They were bite sized, easy to accomplish and led to some interesting conversations with my daughter.
Puts Fun First
While the pages do not reinforce alphabet or numbers, the critical thinking skills the children are working on are positive.  What I found was that my daughter loved completing the pages. She asks to bring her book with her when we visit a friend or just sitting at home. Play Smart is also designed so after a child completes the page they can place a reward sticker at the top of the page. She is so proud of herself and is selective which a sticker is applied to each page. She is having absolute fun playing with these books and I am thrilled to see her excitement.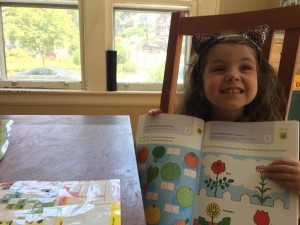 Play Smart Workbooks from Gakken are NEW! They were recently released on Amazon in July 2017. I have already asked them to develop books for older children as I would prefer for her to continue with these activity books (and I think she would too!). There is Brain Boosters, School Skills, and Skill Builders each sold for less than $7 (prices vary) on Amazon.
You may also enjoy: