Awesome or should we say Jawsome?
As the dominant predators of the ocean, Sharks have assumed a strong and automatic imagery due to films like Jaws. They have physiological qualities that make them unique, however, their role in the ocean is necessary to maintain the balance of the ecosystem. If you have a child that is curious about these creatures, we have compiled a fascinating list of books to propel their reading and academic skills as well as the most important skill which is their imagination.
Whether it is to read in the morning, right after school or before bedtime, reading is an important part of any child's routine. We hope this list can make your story time or learning experiences even more exciting! We have included Amazon affiliate links to make your shopping experience easier and more convenient!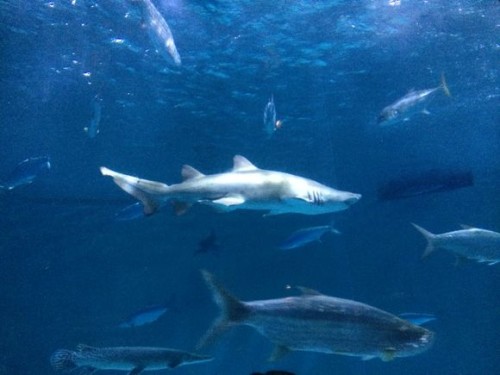 Mommy University Presents
10 Jaw-some Shark Books
Shark Lady by Jess Keating
This children's book, Shark Lady, is based on the real life of Eugenie Clark who fell in love with sharks. It is always good to read books to children that have protagonists that defy stereotypes such as a female scientist. As well, this character looked beyond the surface to appreciate misunderstood creatures.
Sharks by Gail Gibbons
My son loved this book which talks about concrete facts about Sharks. Sharks is a wonderful book for your non-fiction preschool reader.
Hark! A Shark!: All About Sharks (Cat in the Hat's Learning Library)
The Cat in the Hat is a go to book to add in our growing library since it utilizes a light-hearted rhyming but includes concrete scientific information. Hark! A Shark! is no different since it provides information about sharks including how their bodies are unique and it gives quick facts about several sharks.
Sharks by Seymour Simone
This Smithsonian book is perfect for non-fiction readers in grades 4-5. The accompanying pictures highlight what the pages are describing without scary imagery. Sharks will have a long shelf life for pre-readers to early readers.
Wandering Whale Sharks by Susumu Shingu
While this book is a poetic story, it does include facts about the massive whale sharks. The illustrations are stunning in Wandering Whale Sharks. This story is a great night time read!
Shark vs. Train by Chris Barton
What happens when a boy grabs his toy shark and his friend grabs a toy train? An imaginative and epic battle! Shark v. Train is great for shark (or train) fans and contains interesting teaching moments for young children.
Sharkabet by Ray Troll
If you have a child learning the alphabet and loves sharks then Sharkabet is the book to add to your library. I love alphabet books and typically include them in our book lists since they are a fun and engaging way to reinforce the alphabet while learning interesting facts.
Sharkopedia by Discovery Channel
Discovery Channel brought us Shark Week over twenty years ago and Sharkopedia is a fun companion to this celebration. Sharkopedia extends the feeling of Shark Week for the full year as it is filled with over 400 photographs and interesting "fin facts".
If Sharks Disappeared by Lily Williams
Since there is enormous negative beliefs about sharks, they are not the most appreciated creatures in the ocean; however, their role is significant. If Sharks Disappeared educates us on the importance of conservation especially with sharks.
Magic Tree House Sharks and Other Predators by Mary Pope Osborne
The Magic Tree House series offers wonderful books that are imaginative but include facts which is a nice bridge for those non-fiction readers.The early chapter books contains books on sharks, pirates and dinosaurs to name a few. The companion book, Sharks and Other Predators, contains facts about sharks and the need for their conservation as well as other unique creatures.
What is your favorite shark book?
If you like this post, you might like: