While we often times consider our backyard full of simple things like grass, a garden or patio, The Academy of Natural Sciences has brought an innovative exhibit called Backyard Adventures to help us appreciate the wonders right outside our own home. The exhibit is overflowing with interactive stations for families to learn through play. What can easily be overlooked, however, is how much physical activity your family will engage in by visiting The Academy.
While some exhibits promote the visitor as an observer, Backyard Adventures will have your kids, jumping, moving and running. There are a few stations to play on video stations, yet overall this is an active space for the body as well as the brain. It is not surprising the word "adventures" is used in the title! We thoroughly enjoyed this new exhibit which invites you to stand up and get involved in the learning process.
Mommy University Presents
Favorite Spaces at Backyard Adventures
Challenge Yourself at Garden Golf
While mini golf is always a fun time, The Academy offers Garden Golf which is a fun new spin on this beloved activity. Not only are children learning about physics with this gross motor activity, they are applying math concepts with each attempt to get the ball to the next location. While the space is not large, you spend quite a bit of time trying to complete the course especially as you attempt to navigate around the natural obstacles such as large spider.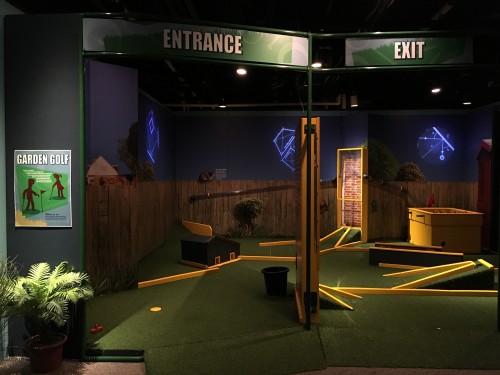 Ride like a Bee
Children are also invited to leap on a bicycle shaped like a bee to ride around the backyard. As they pedal and maneuver the machine, they are attempting to collect as much pollen as they can within the allotted time. The hands-on activities like this one at Backyard Adventures will have children burning energy as they are learning.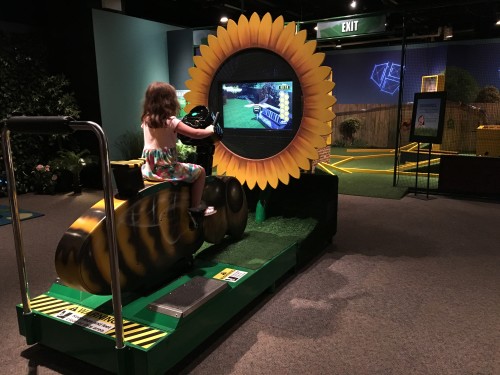 Walk Through The Seasons
Hop on the treadmill to walk through all four seasons which is projected on a television screen with each step. It does take some time to see the changes on the screen that projects the backyard but it certainly takes less time than twelve months. While we notice the small changes in nature as the seasons change, this activity speeds up the process virtually so that children can increase their understanding of nature.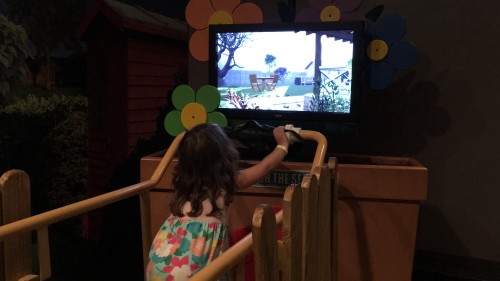 Build in The Shed
The Shed is designed to resemble the toolshed where items are built or repaired. This activity occupied most of my daughter's attention as she built several items using the plastic building toys made available. No power tools are needed at this station which has several small tables that accommodates children. This station contains a poster of a dozen projects that can be made as well as sample instructions that are available to take home to make larger and more complicated projects like birdhouses or a go-kart.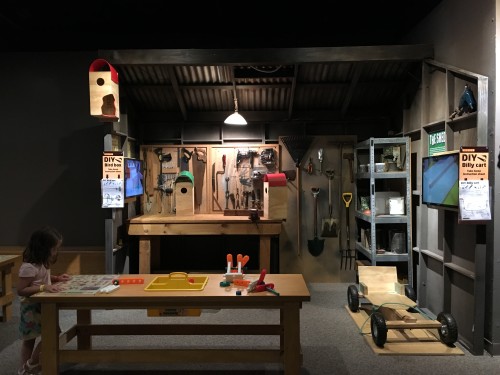 This new exhibit at The Academy of Natural Sciences of Drexel University runs until September 10, 2017 offering a whole new experience for families to enjoy together. This is the perfect place to explore this summer as families will not only be exercising their bodies but their minds as well!
The Academy of Natural Sciences is located at 1900 Benjamin Franklin Parkway, Philadelphia, PA. It is open Monday-Friday from 10am-4:30pm and on weekends and holidays from 10am-5pm. Admission is $17.95 for ages 13 and up and $13.95 for children ages 3-12. Kids under 3 are FREE! For more information, please visit the Academy's website.
You may also enjoy: