Get Linked Up! Wonder Forge adds fun to Family Game Night
We were so excited for the release of the new Illumination Entertainment film, Despicable Me 3. As we waited to see the new adventures that Gru, his Minions and his brother Dru embark, my family has been having a wonderful time on Wednesday nights playing the Despicable Me 3 Linked Up game from Wonder Forge. Wednesday nights is when we congregate around the dining table to host our Family Game Night. At Mommy University, we are always looking for new additions to games the whole family can enjoy. The Linked Up game is now in heavy rotation and with good reasons.
Linked Up has the objective that players are to use the links to connect the different characters from the Despicable Me 3 film. There are four different links that vary in length and each length has its own color. Every player starts with four links and three cards. On each card a different character is displayed that is also found on the board. The player that collects the most cards or completes a full set of cards is the winner. Eventually, players use all the links and have to borrow more.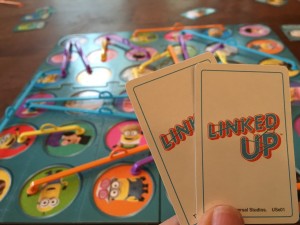 Mommy University Presents
Reasons Linked Up Should Be Added to Family Game Night
Encourages Strategic Planning
Immediately, we recognized that Linked Up requires strategy to be successful in the game. Since the links can't cross over each other you will quickly develop your own technique. Strategic thinking helps enhance reasoning skills and problem solving which leads to academic success.
Promotes Turn Taking
Since my children are on the younger side, I appreciated that the game is designed so that everyone gets a turn. What made it is easy for my children to ease into this play was how easy they were able to learn the game. Within a few turns, everyone understood the rules and were able to wait patiently for the next players to play. This is a fun way to enhance social skills.
Inspires Family Bonding
Within minutes Linked Up had all family members laughing. From the silly characters to the strategy we used to connect the pieces to the conversations, this is a family favorite. Family Game Nights are a great way for parents to learn more about their kids and how they see the world. Linked Up not only shows kids' sense of humor but also highlights their thinking and reasoning skills.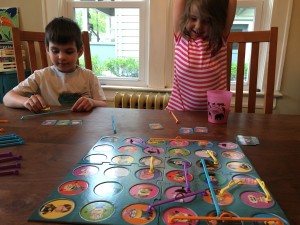 Linked Up is available on Amazon (affiliate link) for less than $16. It is recommended for children 6 and older, however my five-year old learned the rules quickly (while my four-year old had difficulty). It is best played with two to four players and the game is estimated to last 30 minutes. At first, the game moves quickly but slows down as players struggle or debate how to move the pieces. Linked Up is the perfect addition to Family Game Night!
You may also enjoy: