In full disclosure, we were provided compensation in exchange for our honest review.  The opinions expressed belong to Mommy University.
Learning through play is a concept heavily emphasized at Mommy University which is accomplished in small activities which extends to playing games. In fact, playing games is a wonderful opportunity for young minds to expand. With the arrival of tablets, games were immediately placed on them, and while children learn, they also easily remain fixated on the screen. As adults, our eyes become entranced by screens as well tuning out what is happening around us. John Shi recognized the positive values of this technology to create Beyond Tablet.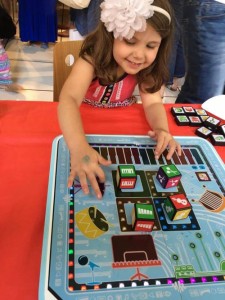 Beyond Tablet sits flat on the table and contains no screen, however is filled with fun and learning. By removing the screen the emphasis is back on the game and interaction of people together. This play can be cooperative or competitive; however, the screen that has become a wall is no longer present. Separate sheets can be placed on the tablet which determines the game. For example, your child could be playing a game that involves solving puzzles or playing with music or families can gather together for trivia games.
At the US launch of Beyond Tablet at the Children's Museum of Manhattan, we were able to hear more about this innovative toy from the creator John Shi who discussed putting the emphasis on bringing families together. As players gather around the tablet it is easy to see how this takes place as we were able to explore games on Beyond Tablet.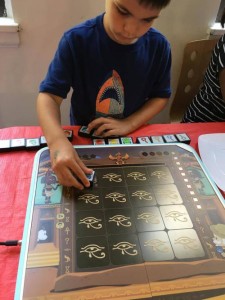 Both of my kids played the Lost Pyramid game which is a logic puzzle. The player has multiple pieces with symbols in four different colors which they use to interact with the game and reveal the pattern. It was great to see how my daughter successfully solved the puzzle several times. After a few rounds of finding the pattern in Lost Pyramid, she discovered Play Do Re Mi where children can produce music. Since the game requires interaction, part of the initial thrill was seeing the cause and effect. With the game Music Cube children can compose music and then upload to their phone. My son loved Yes or No which is a trivia game that kept his attention. The diversity of the games is impressive especially since the goal is to invite children to play which it accomplishes. Below is a video that demonstrates a few of the games available for Beyond Tablet.
Beyond Tablet is available on Amazon (using our affiliate link) for $199 that comes in white, blue, or black. It comes with the tablet and five games (Yes or No, Happy Tunes, Happy Circus, Play Do Re Mi, Tong Tong Cha). There are more games available for purchase. Designed for children ages 3 and older, it has games that encourage multiple intelligences and bring families together. For those of us that love family game nights, we just saw a toy that would make a fabulous addition!
If you like this post, you might like: