Last year my family made our first trip to Disney World and it was completely overwhelming and wonderful all at the same time. Sadly, we scheduled our last full day of this whirlwind tour at Animal Kingdom which was when my family's energy had dropped. While we saw the shows and enjoyed Kilimanjaro Safari, our crowd of seven had dwindled and we slowly finished the day. From observing animals to obtaining Wilderness Badges to traveling to parts of Africa and Asia, Animal Kingdom fits our family's personality perfectly yet we only sampled a portion of what it offers. When I was selected to host a Disney Kids Preschool Playdate, I knew it was going to have a theme focused around this fascinating park.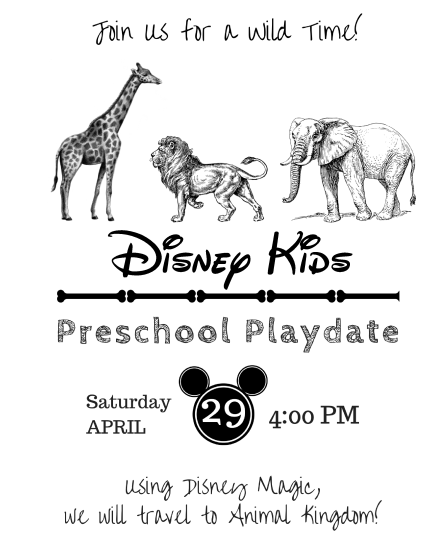 As a host, we received pixie dust to help us with our event. A box of supplies arrived which reminded us that the magic is endless when it comes to Disney.
Part of my strategy was to involve my children in the process as much as possible because it offered me surprising ideas, gave them a sense of ownership and built their own excitement (as if they needed anymore of that). Our list started long but with time we put some ideas aside due to finances, time or children's ability. The playdate had three main areas: decorations, activities and food. My kids did so well brainstorming ideas, they were my assistants in all three areas of the playdate!
Decorations
Since I have a small house, we divided the living room into stations such as Dino Land USA, Lion King and Lion Guard, as well as a photo booth. The dining room was our Finding Dory and Nemo room where the food was stationed.
Tree of Life Mural
One of the most iconic symbols of Animal Kingdom, is the Tree of Life! We took old brown paper bags from the food store and cut them open. The blank side became our canvas. At first, I drew the outlines of animals, then my children wanted to put their own designs on the tree. For my daughter she drew an elephant using a small model and my son drew a hammerhead shark tracing one of this toys.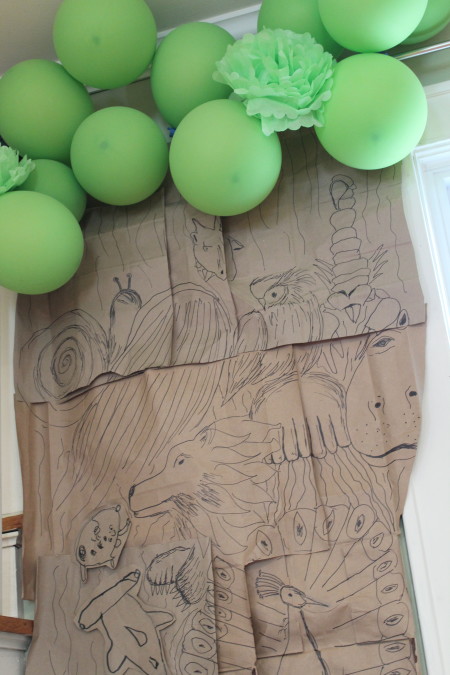 Modification: If you want to try this at home you could also purchase large rolls of brown paper, lay down on the floor and have the children draw the animals. This would be a great activity where all the guests create art!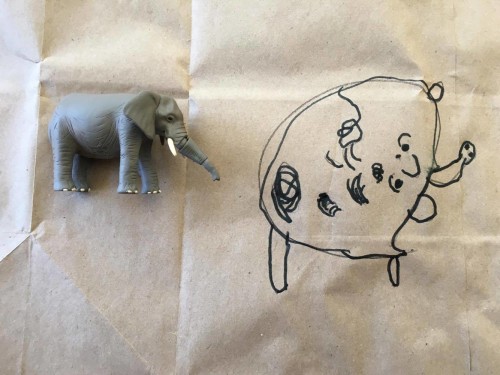 Follow the Paws
The original plan was to draw paw prints leading from the driveway to the front door; however, as I started drawing with chalk my children drew flowers and Mickey ears. This bright greeting still was fun and a colorful surprise for our guests. They were so proud of their artwork.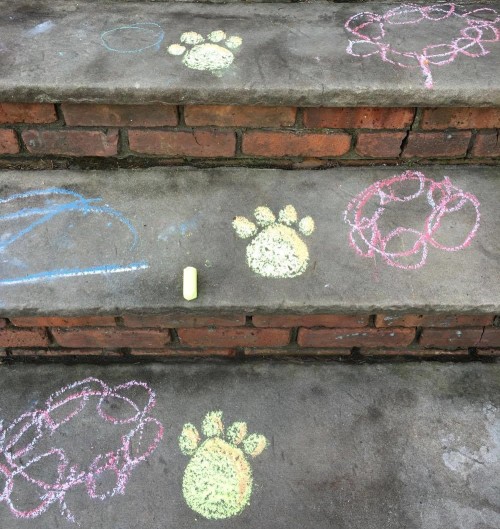 Finding Dory/Nemo
The decorations in this room were easily achieved with green streamers and colorful paper. We cut the streamers at different heights and taped them to the wall. The kids cut out fish out of different colored paper. Transforming the room was the addition of our Pillow Pets Nemo.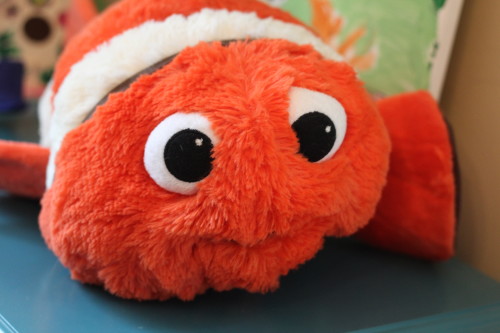 DinoLand USA
My son loved donating his extensive dinosaur collection to set up our own DinoLand USA display. He insisted on putting all of his dinosaurs and placing them in specific places.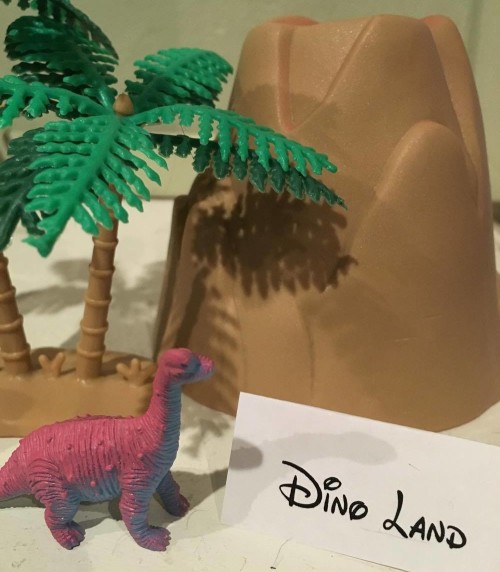 Activities
Since we had young children we had stations where children can play as well as a couple of organized activities, however all focused on Animal Kingdom. We were lucky to partner with some amazing companies such as Disney World Parks, Just Play, Mindware and Slimie Time to offer unique activities to keep everyone engaged!
Coloring Station
Preschoolers love the invitation to color which is why we had a table set up with our Mickey Mouse coloring book as well as pages from a Finding Dory coloring book.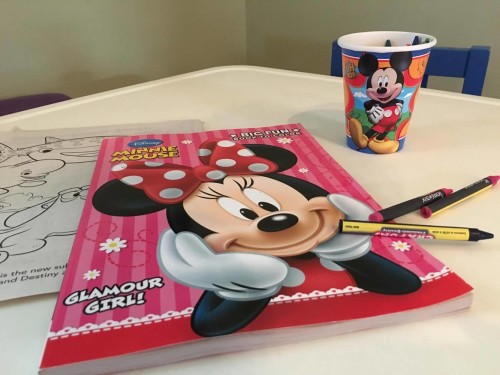 Pride Lands Sensory Bin
We were lucky to receive the Lion Guard Pride Lands Deluxe Figure Set from Just Play which are wonderful for pretend play. Since I wanted to have stations that children can play independently, we set up a sensory bin. My children inspired this idea when they collected rocks during a nature hike. Once we decided we would use the toys for a sensory bin, they collected the rocks over two weeks. At the party, everyone enjoyed designing their own scene for the Pride Lands and playing with the toys.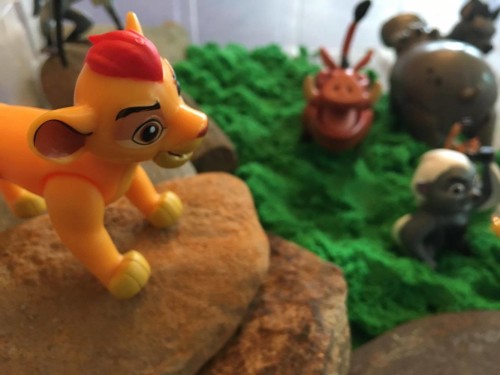 Memory Maker Photo Booth
As host of a Disney Kids Preschool Playdate, part of the supplies we received was a brightly colored tablecloth which we actually used as the backdrop for our photo booth. I taped it to a tall bookcase which was perfect to hide what was in it but also a great height for everyone to take photos!
Go Fishing Sensory Bin
One of our sponsors, Slimie Time, provided us with Finding Dory slime as well as sending home samples to all of our guests! Surrounding a portion of the slime on a tray, I sprinkled the included Dory and Nemo confetti. I thought the children would prefer to add as they played with it. This tactile toy was one of the stations children could visit throughout the party.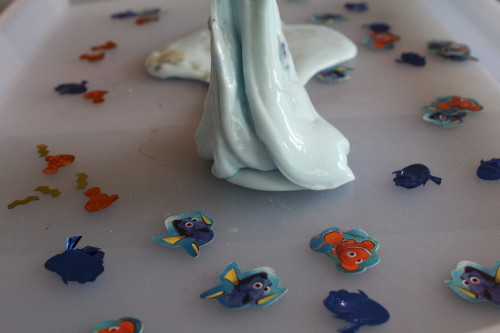 Hatch Eggs at DinoLand USA
Located in Animal Kingdom is DinoLand USA which is home to many dinosaur attractions. One of our Learning Partners, Mindware, sent us Dig It Up Dino Eggs that contain 12 individually wrapped dinosaur eggs and chisels. Since each egg holds a different dinosaur, the children were able to chisel open their creature and then compared them against the guide that has information about each dinosaur. This was a wonderful learning through play opportunity for the kids and perfect for a playdate.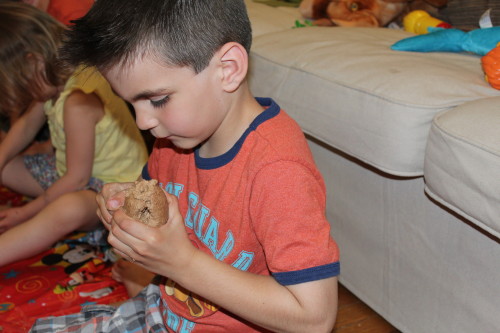 Toddler Dance Off Competition
After locating some musical songs from Lion Guard and Lion King, we asked the children to volunteer and essentially told the parents they are required. It is a simple rule which is that whatever the child does dancing the parent follows. This game is a fun icebreaker and a great moment to laugh.
Refreshments
Inspired by the cuisine of The Yak & Yeti at Animal Kingdom, we ordered Chinese Food for our play date. Since not all the children like this food, we also served some dinosaur shaped chicken nuggets. The snacks to munch on before the main meal were inspired by Lion Guard and Finding Dory.
Finding Popcorn!
As a host we were provided samples of Pop Secret which is a family favorite. The kids and I popped the popcorn which is always super quick in the microwave and then added some melted blue chocolate and orange sprinkles. As one guest called them "Popcorn Cupcakes".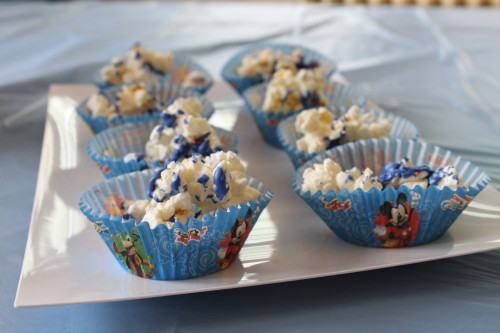 Go Fish Cups
The kids enjoyed stirring and mixing Jello to make these Go Fish cups. Once they were set, we added red Swedish Fish.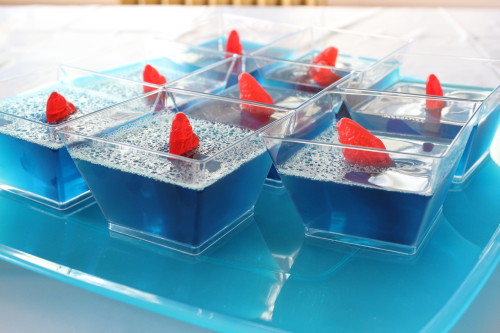 Take a Dip with Chips
A quick and easy option was chips and spinach dip which we called Seaweed Dip. We also had goldfish in a pail as well as Cheetos which we called Coral Reef.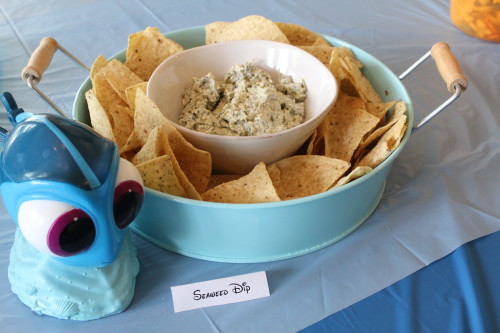 Safari Cake
As always we worked with our local Carvel store to make a unique creation that honored our favorite mouse as well as tied our theme together with animal print design. The irony is the day we threw the party was the hottest in the past few weeks, so the ice cream was thoroughly enjoyed.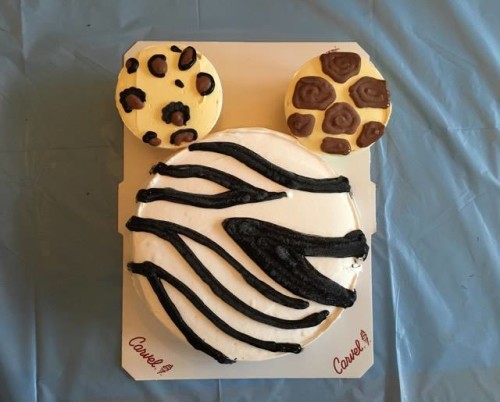 Don't Forget Loot Bags!
All of our guests were provided with a favor bag that included an Animal Guide to Animal Kingdom, Finding Dory Slime, Just Play Lion Guard Blind Bag, HP SnapShots, and a fish eraser. It is wonderful that everyone was able to take home a little Animal Kingdom with them that day. For my children, I believe they were especially proud that they were involved from design to delivery of such a unique experience.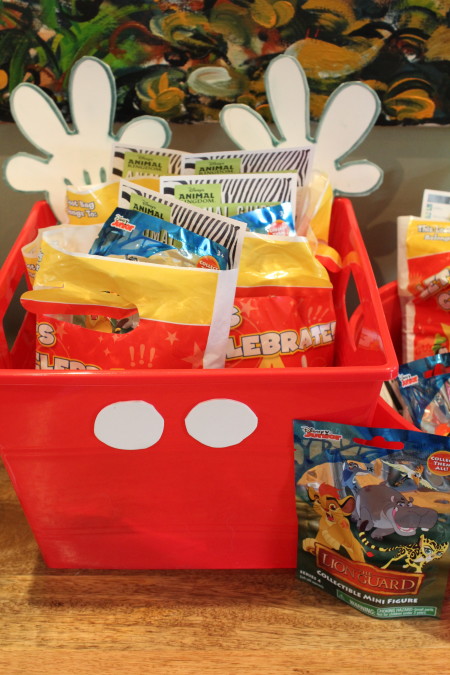 In case you liked this post, you might like: