As a kid, I remember attending church with my mom and sister. I loved my church. The choir was unique as they sang Our Father with enthusiasm behind a full band. I remember holding hands with my sister and fellow church goers as we all sang together happily. It was a wonderful time in my childhood.
I also fondly remember my Communion. Of course I remember my pretty white dress but what I really loved was making unique banner with my mom. We worked together to make a beautiful banner to hang on my pew in the church on my special day. Every child's banner was unique and different which showed off not only their personality but their love for God.
As a mom, I try to continue to show my children the importance of religion. Although, to be honest, my faith has faltered a little due to personal experiences, I still wanted my boys to grow up with religion in their lives. I signed my boys up for CCD last year at our local church and watched as they began to develop an understanding of religion and what it meant to them. This year, my son began preparing for his Reconciliation and First Communion. I have enjoyed working with him on his CCD homework and attending a wonderful retreat. We have learned together about God and his importance in our life.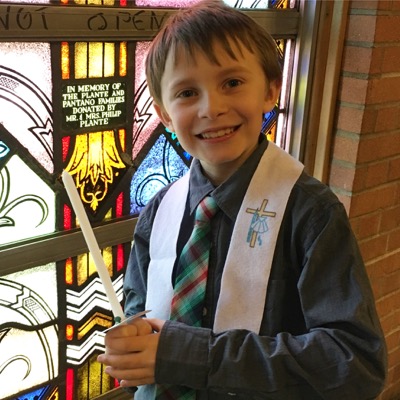 As my son's Communion drew near I began to think about my banner I loved so much as a child. I spoke to my son's teacher who also happens to be my good friend, and she was very interested in the kids making banners for their special day. I decided to reach out to my friends at Oriental Trading to see if they would be able to provide banners for my son's class. They happily said YES and I ordered banners for the entire First Communion class.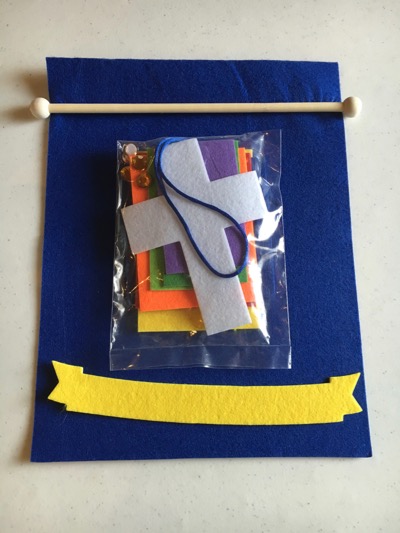 Oriental Trading offers a variety of banner options. They are all beautiful and perfect for celebrating a child's faith. We picked the Stained Glass Banner Craft Kit that comes with self-adhesive foam pieces, a wooden dowel, satin cord and jewels. The felt banner is 9″ x 12″. The kit comes with 12 banner sets for only $15.99.
We decided to make the banners in class rather than at home making for a fun group experience. I, along with a few other parents, attended a CCD class to help the teachers with this project. We chose the mosaic design because the pieces were self-adhesive so a glue gun was not required making the craft easier and less messy.
Each table was provided with a print out of the what the final product would look like. We had the kids create the design before attaching it to ensure it was correct. Once checked by an adult, we let the kids peel off the back of the pieces and stick them to the banner.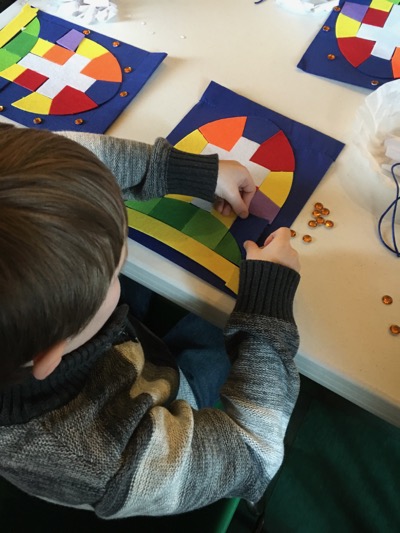 Each child was also provided several jewels. Instead of copying the printed design, we asked the kids to place the jewels wherever they wanted. This made the banner unique to them. When finished, each child had their name written on the banner.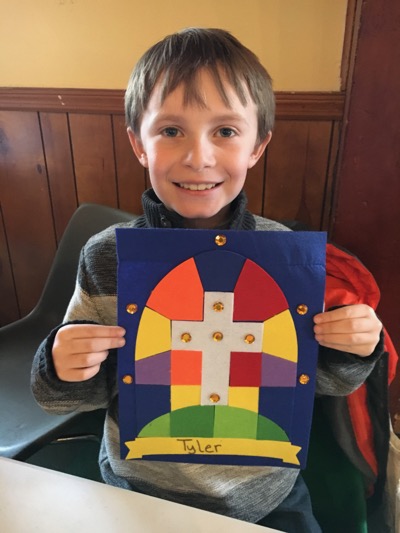 The finished banners were beautiful, and the kids were so proud of their work. They cannot wait to display them on their pew at church on the day of their First Communion. I loved that I was able to share something that was so special to me from my childhood with my son. I cannot wait for his big day!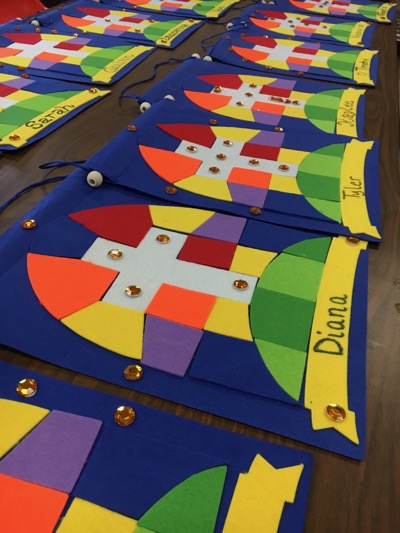 Oriental Trading also offers additional First Communion crafts and party supplies. You can find them all on their website for affordable prices! Don't forget to check out their Sale/Clearance page too for amazing discounted toys, favors, party supplies, craft kits and more!