As ambassadors for NCircle Entertainment we look forward to sharing with our readers educational and engaging entertainment for children as well as offering giveaways.
Dino Dan began as a children's television program in Canada where the main character, Dan, can see dinosaurs in his different experiences. In 2013, his younger brother Trek, received a series that launched Dino Dan: Trek's Adventures. Trek can see different types of dinosaurs during his adventures. Designed for preschoolers, Dino Dan has become a hit in our home and we loved watching and reviewing Dino Go Seek.
Dino Go Seek includes five different episodes and the video lasts a total of 60 minutes which means that single episodes fit the attention span of this age group. The show is perfect for the budding paleontologist in your life as they learn about prehistoric creatures.
3 Reasons Dino Go Seek is Roaring Fun for Preschoolers
Exploring Problem Solving
In each episode, Trek is faced with a problem. Using his resources and creativity, he solves the challenge. This subtle lesson is a great fit for preschoolers who see the main character, Trek, and his friends as similar to them in age.
Captivating Dinosaurs
In each episode, we meet different dinosaurs from Microraptors to Dromaeosaurus. Trek talks about each dinosaur offering information about their name, physical and personality traits. The dinosaurs are cute and adorable but after watching the DVD my children learned interesting facts about these prehistoric creatures. I also was impressed that the DVD included dinosaurs that are not as well-known.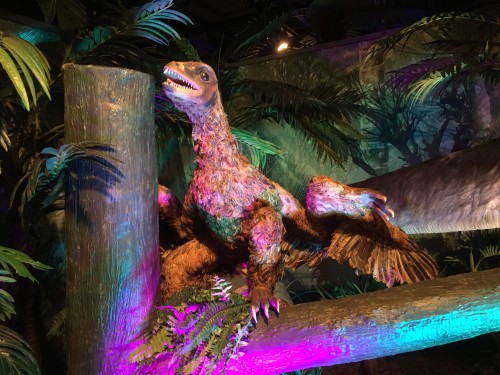 Perfect Transition Programming
I find programs for preschoolers can be challenging because they are beginning to transition out of animated shows. Dino Go Seek involves child actors so it mirrors more adult programming but at the same time includes dinosaurs using CGI. Often times, I become exhausted watching animated programming with my children so this was the most refreshing break. Since we discovered this show I think we will be watching more of it in the future!
Who is NCircle Entertainment?
NCircle Entertainment is a leader in children's entertainment offering quality family programming that helps build a foundation of learning and encourages a love of science. According to their website, "NCircle's award-winning brands engage your child in the learning process, using the interdisciplinary STEM approach, teaching reading readiness, science concepts, problem solving tactics, social skills and environmental awareness, while entertaining them with song, dance and laughter." This is exactly why Mommy University is so excited to team up with this amazing company!
Dino Go Seek can be purchased on the NCircle Entertainment website for under $10 but you can win your own copy of Dino Dan: Trek's Adventures Dino Go Seek right here!
Here are the rules and conditions for this giveaway:
Participants MUST live in the United States.
The winner will be chosen by Rafflecopter.
The contest will run from April 24, 2017 through 12am on May 10, 2017.
The winner will be announced on May 10, 2017.
The winner will receive the Dino Go Seek DVD directly from NCircle Entertainment.
The winner must respond within 1 day or another winner will be chosen.
To enter, participants can earn entries by: visiting the Mommy University Facebook page (likes are appreciated but not required), following Mommy University on Twitter, sharing the contest with friends, providing an email address and commenting on this blog post by answering the required question.
No purchase is necessary to win.
Your chances of winning are dependent on the number of entries received.
Enter here: a Rafflecopter giveaway

If you like this post, you might like: