We are incredibly excited to partner with American Girl and Mattel to review the 2017 Girl of the Year Doll: Gabriela McBride. 
The premise that everyone has a story to tell is the most fascinating quality about American Girl dolls. The dolls are beautifully made and the accessories are stunning, but what I am simply attracted to as a parent is the idea that these quality products reinforce to young girls that each of them has a story to tell just like their dolls.
Established in 1986, American Girl has quickly become the premier location to get the doll for your child. For some families, it has become a cultural rite of passage when they gift them an American Girl doll. The company has been well-known for their historical dolls from different eras and various backgrounds which later expanded to include dolls from modern times. Accompanying these dolls is their own unique stories expressed over several books. With American Girl, children are encouraged to imagine a world that is different from their own and at the same time promoting a love of reading.
Each year American Girl releases a Girl of the Year (GOTY) that has a unique look, accessories and a compelling story to tell. In 2017, the GOTY is Gabriela McBride who is a young artistic soul that dances and writes poetry. While her expressive endeavors do not sound unique, for Gabriela it has helped her overcome a personal obstacle. Art helps her tackle her stuttering. This story reflects a parallel that we are addressing with my daughter. Painting, acting, and dancing has promoted my daughter's speech as well as her confidence.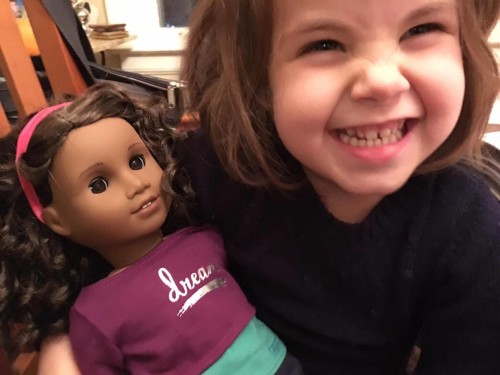 When we introduced Gabriela to my daughter all she kept repeating is that "she is an artist." While my daughter is still young, she has struggled to speak clearly. Employing some strategies that worked with my son, we found that she naturally gravitates towards the arts. To hear that another girl struggles with her speech and found her strength through similar activities is inspirational.
The 18" Gabriela has brown skin, warm brown eyes, and curly brown hair. In addition to her casual dance outfit, she also arrives with a pink double headband, 10 hair bands, and the Gabriela paperback book by Teresa E. Harris. The extensive collection is available at americangirl.com, at all American Girl retail locations as well as Toys R' Us in March. The Gabriela books can also be purchased through retail and online bookstores.
American Girl is launching some unique changes. For example, GOTY are only available for the year they are released; however, Gabriela will be available past this year. In spring, additional accessories will be released.
Gabriela's inspiring message will be promoted with a partnership with the largest publisher and distributor of children's books, Scholastic. Starting March 1, 2017, Scholastic will launch Express Yourself, a curriculum program that teaches children in grades 3-5 how poetry can be used for self-expression. The free material includes teacher lessons, classroom activities, poetry poster, parent tips and activities for home. It will be available on www.scholastic.com.
At Mommy University, we look forward to reading Gabriela's story to my daughter to learn about how this determined character confronts and overcomes her personal obstacle to find her voice. During the month of March, we will celebrate National Poetry Month as we explore some of the activities that Scholastic recommends in their Express Yourself program. Until then, my daughter will be playing with Gabriela as they enjoy expressing themselves through the arts.