I am so unbelievably excited to share that Mommy University has partnered with Hersheypark and Hershey, PA to share with you all their sweet learning adventures.
It is safe to say that we are a Hershey family. I have vacationed in Hershey since I was a little girl, and now I keep the tradition alive by bringing my children to the sweetest place on Earth. We love all the family experiences including exciting rides, wonderful shows and, of course, all the chocolate. Hershey holds a very special place in my heart and I know it will for you too!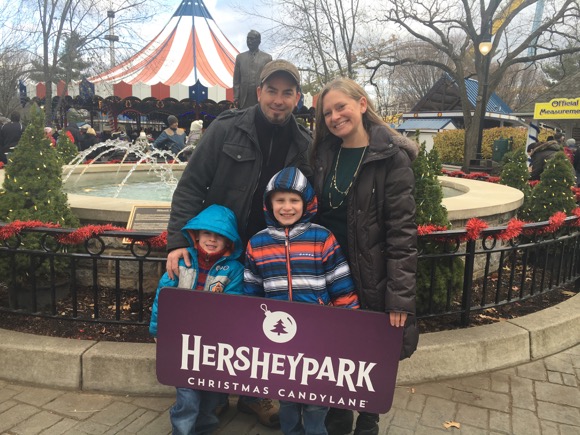 We have been visiting Hershey during the holiday season for the past 4 years. It has become our favorite family holiday tradition. Plus, we get to celebrate my son's birthday while we are there. We love everything about celebrating Christmas in the sweetest place on Earth. Each holiday season the excitement and the adventures get even sweeter. It's partly because my kids are getting older so we are able to stay out later and experience more together as a family. It's also because Hershey is always surprising us with new experiences such as new rides, shows and games. Each holiday season Hersheypark offers a new adventure full of amazing memories.
Each season there are certain must-do experiences. During the summer, it's the water rides, roller coasters and roaming performers, while during the fall families can enjoy haunted adventures and trick-or-treating. In this article, I have put together a list of some experiences I believe you can't miss when you visit Hersheypark this holiday season!
For those who have not yet had the pleasure of visiting Hershey during the holidays, Hersheypark is transformed into a holiday wonderland called Christmas Candylane. Open until January 1, 2017, Hersheypark offers an exciting way to kick off the holiday season. Young and old alike will create sweet memories to last a lifetime!
5 Must Do Holiday Experiences at Hersheypark
NOEL Holiday Light Show
My favorite holiday event at Hersheypark is NOEL (Nights of Extraordinary Lights). Families will be in awe as they watch over 200,000 lights dance to the beat of some of their favorite Christmas songs. Shows start at 5pm and take place every half hour. There are a variety of shows so each experience is unique and breathtaking.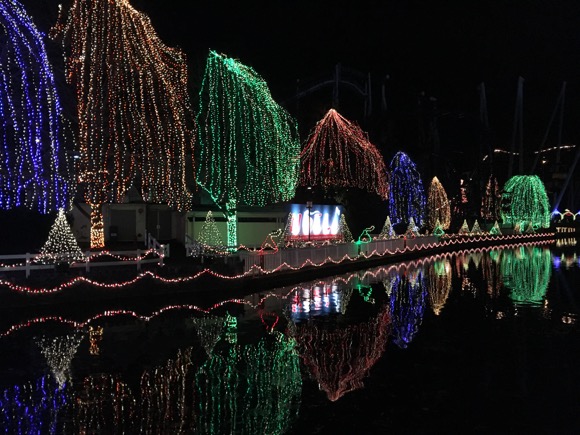 NOEL takes place along the waterfront between The Hollow and Kissing Tower Hill. The show can be observed from one of the bridges that cross the waterway, the seating set up by the Sweet Swing or even from some of the rides. If you time it just right, you can enjoy a spectacular view of NOEL from The Kissing Tower, Monorail or Skyview. Check out our Youtube video of one the amazing shows.
TIP: While at NOEL, make sure you also check out the Hersheypark Kissmas Tree. It is a magnificent sight and makes for amazing pictures. The Kissmas Tree also plays an important role in the holiday light show!
Holiday Train Ride
This year, the Dry Gulch Railroad train ride was even more spectacular than in the past. As the train makes its way around the Pioneer Frontier, guests will be awed and amazed by thousands of twinkling and dancing lights along with spectacular light displays. My boys loved pointing at the lights as we passed them by, and the smiles on their faces were priceless. The holiday train ride is an experience you can't miss during your next trip to Hersheypark Christmas Candylane.
Christmas Candylane Storytime
Located at The Cookie Workshop on Kissing Tower Hill is Christmas Candylane Storytime. Kids are invited to sit on the floor in front of a gorgeous holiday display, and stories are read by one of Santa's helpers in a fun and charismatic way. An elf also joins the fun as he shows off his juggling and magic skills. At the end of the event, kids get the chance to meet the Gingerbread Man. My boys absolutely LOVED this storytime experience especially since one of the books was about how to catch Santa!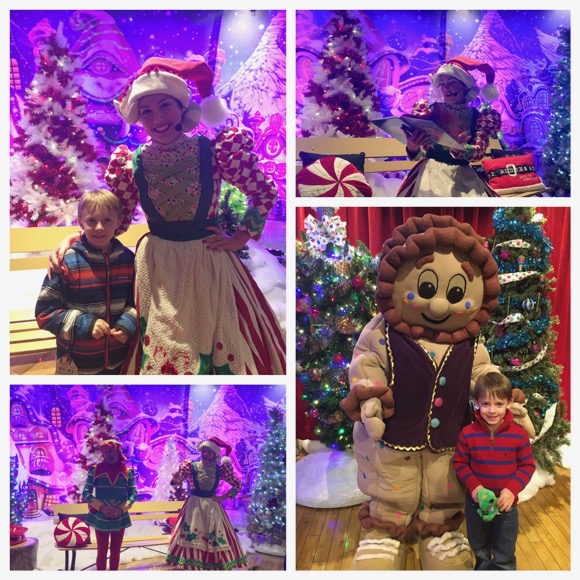 Santa's Stables
Did you know that you can see REAL reindeer at Hersheypark this holiday season? Head over to Santa's Stables in Pioneer Frontier to meet Santa's 9 reindeer including Rudolph. Families will get to watch them prance around and play while they get ready for the big day. Guests will also have the chance to touch a real antler. It's a fun experience for the entire family!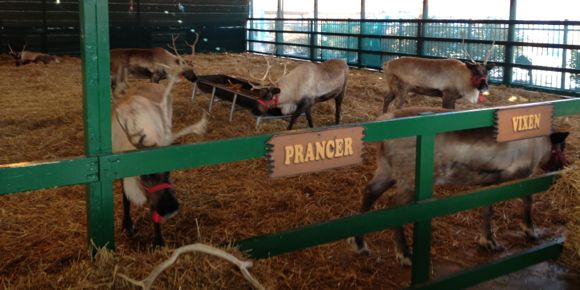 Holiday Laff Trakk
This was our first time riding the new indoor roller coaster, Laff Trakk, and we loved every second of it. It was an exciting, unpredictable and exhilarating ride. Although this ride is open year round, during Christmas Candylane, it is transformed into a holiday wonderland adorned with beautiful snowflakes and winter backdrops. It even has a giant Christmas Tree in the middle of the ride!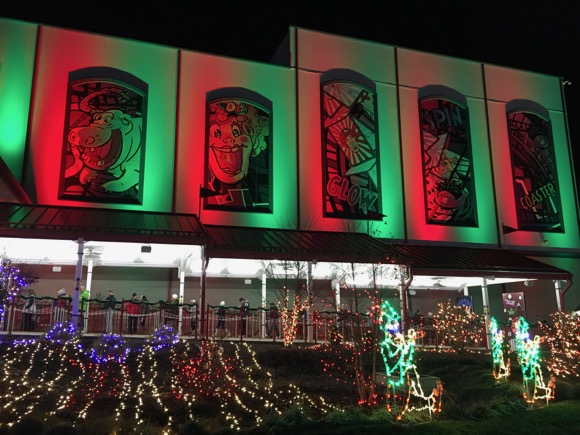 Bonus:
Visiting Santa (of course!)
Before or after storytime walk over to Santa's Candy Cottage to see the Jolly Old Elf himself. Kids will love sitting on Santa's lap and telling him what they want for Christmas. Families can take their own pictures or purchase ones from the staff photographers. Want to spend some more time with Santa? Make a reservation at Hersheypark Place for a fun-filled breakfast or lunch with Santa, Mrs. Claus and their friends. Families will also enjoy stories, songs and a special treat from Santa.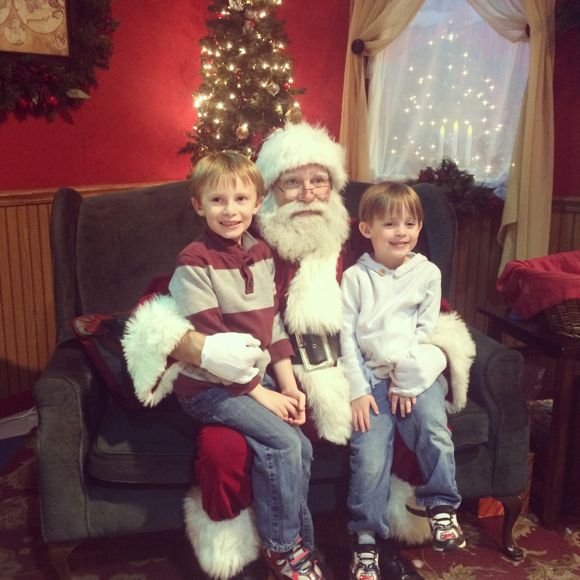 I hope you have enjoyed this holiday journey through Hersheypark's Christmas Candylane. Check out my Facebook photo album for more pictures. Make sure you share your #HersheyparkHappy during your next visit! For more information, visit the Hersheypark website.
*In full disclosure, we were provided passes to Hersheypark but all opinions about this magical holiday adventure are completely my own.
You may also enjoy:
10 Tips for Visiting Hersheypark with Kids
The Perfect Family Getaway at The Hotel Hershey