Mommy University is so excited to partner again this season with The Growing Stage: The Children's Theatre of New Jersey. They offer a family-friendly environment perfect for a child's first theatre experience as well as for children with some sensory needs. In exchange for tickets to each performance, we are so happy to be able to bring you all the entertainment this season as well as our honest review of each show.
Ever wonder how Peter Pan came to be the boy who never grows up? Ever want to know when the feud between Peter and Captain Hook really began? There are many theories, stories and even movies about this infamous story, but my new favorite tale is the one told in Peter and the Starcatcher!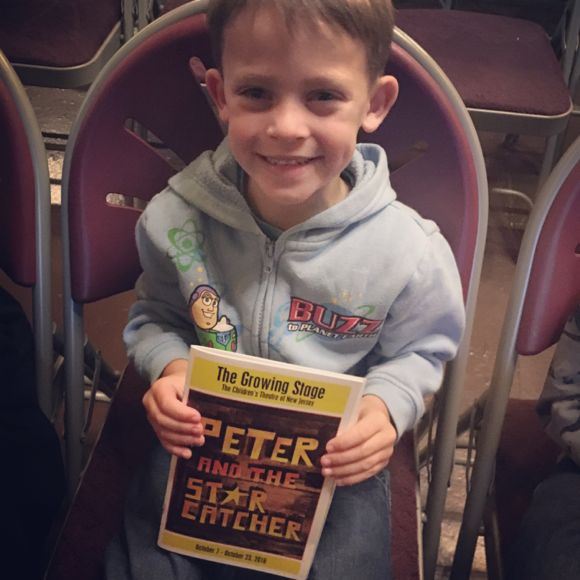 The Growing Stage presents an extraordinary depiction of the origin of this beloved story. Based on the novel by Dave Barry and Ridley Pearson, Peter and the Starcatcher is a magical, adventurous and engaging show full of belly laughs and "aha" moments. The adventure begins with 3 orphans on a ship that encounter a 13-year-old girl named Molly. With some apprehension and persuading, the boys allow Molly to become the leader of their little group. As they explore, they encounter a box of "star stuff" which is when we find out Molly is training to be a Starcatcher.
Along this journey, we also meet Black Stache, a mean and sinister pirate who longs to find treasure. It becomes apparent quite quickly that this evil yet hilarious pirate will soon be known as Captain Hook (one of the many "aha" moments of the show). Josh Carpenter, who plays Black Stache, stole the show for me. Everything about his acting from his mannerisms to his facial expressions to his voice was Captain Hook. He perfectly embodied this well-known character while also making him unique. I loved every scene with Black Stache and found myself belly laughing on many occasions.
One orphan, who begins the show without a name, steals the hearts of audience members. We follow him on his journey to find himself, not just the box of "star stuff." Davis Lemley does a wonderful job of playing this timid and vulnerable orphan who evolves into a strong and courageous boy. Can you guess who this boy becomes? Nikki Miller was the perfect choice to play Molly as she was full of sass and spunk along with having a heart of gold. I loved the interactions between her and the orphan. Each scene was heartwarming and believable.
As Molly and the orphans work to protect the "star stuff," we meet some interesting and memorable characters. From mermaids to pirates to island natives, the characters bring this show to life. The opening scene of Act 2 has to be one of the funniest scenes I have ever seen in a show at The Growing Stage. I won't give too much away because you have to see if for yourself, but I will share a picture!
I won't tell you how the story ends as I want you to see it for yourself but you will have many questions answered. You will find out how Peter Pan not only gets his name but how he becomes the boy who never grows up. You will also find out the real story behind Captain Hook losing his hand. Besides all the "aha" moments and laughs, there were wonderful themes intertwined in this spectacular show. Here are some I found particularly important:
Always Stand Up for What you Believe In
Throughout Peter and the Starcatcher, we see Molly and Peter stand up for what they believe in. No matter what anyone else says, they follow their heart and stay to true to what they believe is right. In life, it can often be hard to stand your ground but this show inspires others to follow their own path and never give up on what they believe in.
Girl Power
Molly is a strong, wise and tenacious young girl who never gives up. She symbolizes the rise of girl power and the importance of girls standing up for themselves. Molly does not let the boys make her feel inferior. In fact, she has the confidence to tell them she is better than them. She is a born leader and not afraid to show it. She is the ultimate symbol of girl power!
Everyone Needs a Hero
This is a theme that really stood out to me. Black Stache spoke about needing a hero to be complete. Without a hero to combat his wicked ways, what was the point? Now, I don't believe this means that people need a hero to justify being bad, but people need someone who inspires them to reach their true potential. For Black Stache, he wanted to be the best pirate he could be, but that was not possible without a hero. In life, we need people to look up to, role models we inspire to be like. We need people to call our heroes so we are motivated to work hard and reach our true potential. For some, their hero is an athlete while for others it is an artist or scientist. For many, it is a parent or grandparent. Heroes push us to be better people!
I absolutely LOVED Peter and the Starcatcher at The Growing Stage. It was the perfect choice to kick off their iconic 35th season. The show runs through October 23, 2016. Tickets are $15 for all audience members on Friday evenings and $25/adult and $20/child on Saturdays and Sundays. For more information, please visit The Growing Stage's website.