Fall is the Perfect Time for DiggerFest!

I have visited Diggerland in the burning heat of summer and the rainy days of spring, but recently my family was able to visit during the first weekend of fall. I have loved every trip to this construction themed magical destination, but I truly think that the Autumn themed weekends of DiggerFest might have captured my heart.
In addition to all of the fun of riding on the Argos, getting dizzy on the Spindizzy and scaling the rock wall, Diggerfest holds several activities that celebrate the season! Fall has totally taken over Diggerland. There are the bales of hay with ghosts and pumpkins appearing at each ride, but that's not all. When you come to the entrance, a massive Frankenstein head greets you as well as a ghost head and a pumpkin. Mommy University got a first hand look at what makes this a perfect time to visit!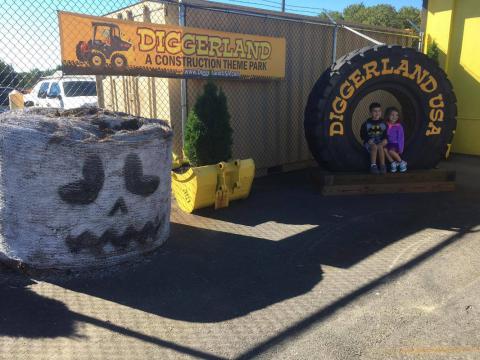 Falling in Love with Diggerfest
Launch a Pumpkin
Have you used an oversized slinghshot to hurdle a pumpkin across a field? Well at Diggerland you can! While this activity is not included in the admission price, it only costs 3 for $5 (in 2016). This is definitely a fun and unique challenge for your kids as they try to have the mini pumpkins land in containers. My kids loved trying this activity.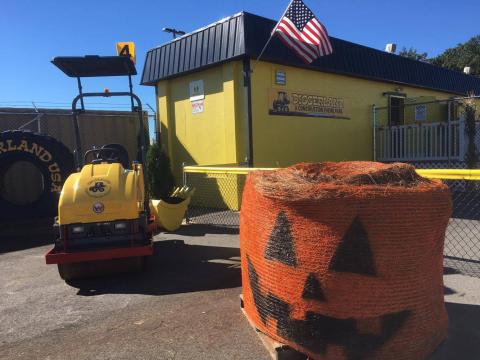 Pick a Pumpkin (children ages 12 and under)
Take a hayride to the pumpkin patch where children ages 12 and under can select their own free pumpkin. The hayride is for the whole family but young children can pick a complimentary pumpkin. Our ride included passing some oversized spider webs and a couple of scary creatures but in the daytime young kids will just enjoy looking at them.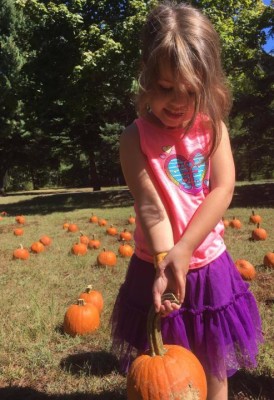 Taste Of Fall
Diggerland is bringing new fall treats with a twist!  Not only will there be s'mores and hot chocolate, but the sound of pumpkin spice funnel cake sounds and smells delicious.  To help warm up this season enjoy hot soup or hot cider!  This new element will be a perfect compliment to the activities.
Explore a Corn Maze
The Corn Maze is another feature of DiggerFest! While we did miss it for our first DiggerFest, we had such a wonderful time we will have to return to explore and practice our problem solving skills. Corn Mazes have amazing benefits so we were excited to this attraction at Diggerland.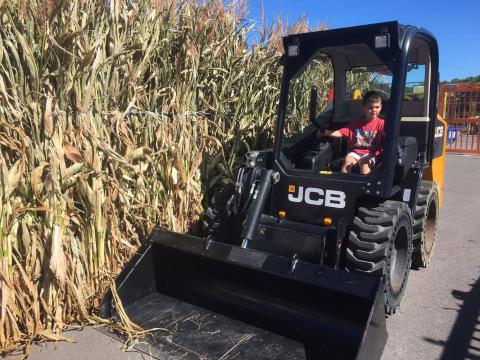 After visiting Diggerland several times, I enjoy that they move the rides around and add new items. I have to say with the cooler weather is a fabulous time to visit this special place. Whether you are tackling the ropes course or taking a tour on the Excavator, this is the perfect time to maneuver real construction vehicles.  The 2020 DiggerFest Dates are September 26-November 8.
You may also enjoy: