We are so honored to be chosen to be a part of the Safety 1st Blogger Program. This amazing opportunity allows us to try and share Safety 1st products with you. We are also honored to giveaway an ULTRAMAX AIR 360 car seat.
You know that BABY ON BOARD yellow badge that parents proudly hang on the windows of their cars? Believe it or not, but that sign was created in 1984. Yes, it was over 30 years ago that this iconic sign brought child safety to the forefront of everyone's minds thanks to Safety 1st. Known as the first and leading provider in child safety products, Safety 1st is always looking for innovative solutions for child safety. Not only do they make our families safer through new technology and better product testing, they also pride themselves on educating parents during this critical time in their child's life.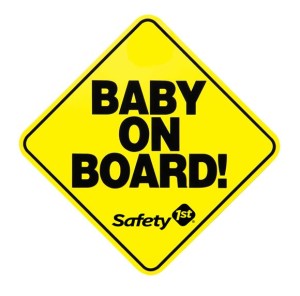 Safety 1st has recently released the ULTRAMAX AIR 360 4-in-1 convertible car seat that features 6 layers of safety! It is the only car seat you will EVER need as it follows your child through 4 stages of his/her life. It starts as a rear-facing seat for babies 4-22 lbs. then extends the rear-facing position for children 15-50 lbs. Once your child is ready to face forward, the ULTRAMAX AIR 360 with its 5-point harness can be turned around for continued protection for your 22-65 lbs. child. For the last stage, the belt-positioning booster protects your growing child up to 120 lbs. and 57″ tall.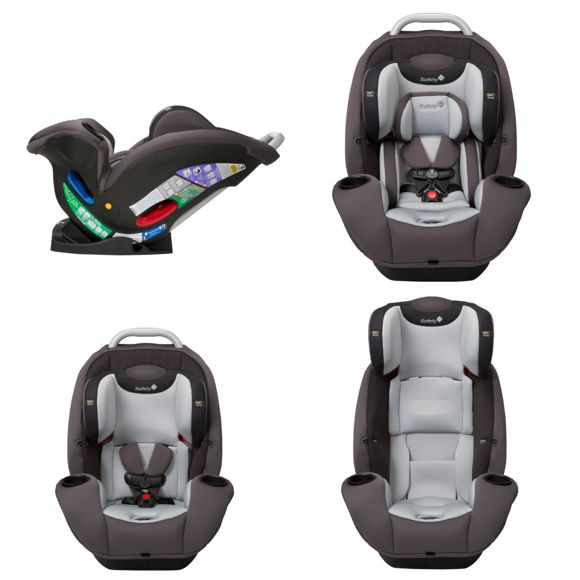 Now, it's awesome that the ULTRAMAX AIR 360 grows with your chid, but what makes it really amazing is its phenomenal safety features. Each seat is made with 6 layers of safety. What does that mean? The ULTRAMAX AIR 360 is made from the most innovative and safest materials around. Here is what each layer consists of:
A steel reinforced frame for stability
G-Cell HX energy absorbing foam (the same technology used in race cars!)
Air Protect which provides superior protection from side impacts
Deep seat structure
Soft foam throughout the seat for more comfort and safety
Motion control headrest
Another amazing safety feature of the ULTRAMAX AIR 360 car seat is that it was crash tested from every angle (rollover, front impact, rear impact and side impact). It even exceeds government standards with regard to front impact protection. Not only is this seat safe, it is also easy and convenient. The ULTRAMAX AIR 360 comes with 2 removable, dishwasher safe cup holders. Plus, the seat pad is ClickClean machine washable and dryer safe. It also has a one hand harness and headrest adjustment with the 10-position Quickfit system as well as a 3-position recline. Lastly, the ULTRAMAX AIR 360 comes in 3 colors (raven, blush pink and aqua mist) making it great for boys and girls.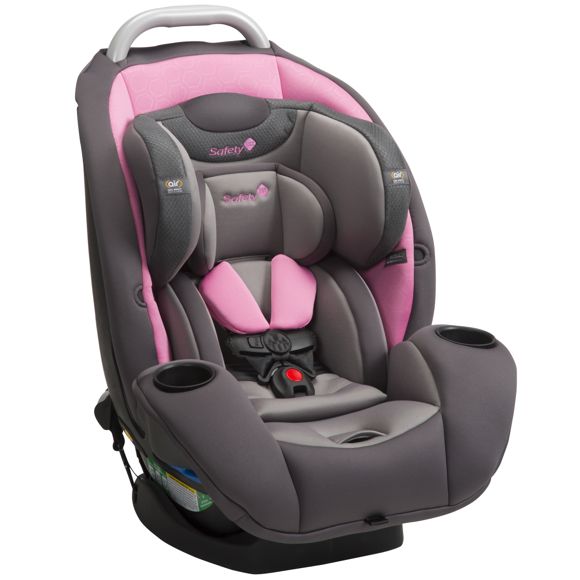 What I love about Safety 1st as a company is that they are always trying to better the lives of parents and children. Whether it is through their amazing safety technology, easy to use products or support of charitable organizations like Cradles to Crayons, United Way and March of Dimes, Safety 1st makes a difference in the lives of everyday people.
Safety 1st continues their commitment to keep families safe by offering the Tiny House Sweepstakes. From June 15, 2016 through May 1, 2017, Safety 1st is running the Tiny House Giveaway. Families will have the chance to win monthly prizes as well as one 3rd place, one 2nd place and one Grand prize. What is the grand prize you ask? Safety 1st is giving away a tiny house. Yes, you heard correctly. They are giving away a house which is a great place to use their new Outsmart line of locks and latches. It is a great way to protect your kids from in-home dangers they face each day while giving parents a peace of mind. It allows kids to explore, discover and learn while being safe!
Enter here: http://bit.ly//Safety1stWinTinyHouse.
Guess what? Mommy University is also joining the movement by giving away one ULTRAMAX AIR 360 car seat! That's right! We are giving away the amazing car seat we raved about above which has a value of $259.99. Don't need a car seat? If you win, you can choose from a list of other prizes equal to the same monetary value. Here are the rules: http://bit.ly/2cYPioZ. To enter just head over to our Twitter page (@mommyunj) and retweet the Sweepstakes Tweet pinned to the top. It's that easy!