We were so excited to be chosen to review the new Super Wubble Bubble Ball! All opinions expressed are our own.
I admit it, I like to plan too many activities for my kids. Incorporating "open ended play" is challenging for me; however, offering the opportunity for them to play on their own is beneficial. They create their own games and imagine new possibilities which invites them to think independently. Recently, I like the idea of providing them with a prop or toy for them to include in their play. Whether they take the opportunity to play with the toy is totally their decision.
This weekend, my children had the pleasure of playing with the Super Wubble Bubble Ball. The Wubble Bubble Ball was released in 2014 to rave reviews, and they keep making this massive ball even better! The Super Wubble Bubble Ball is now made with a special material called Xpandium which not only makes it more tear resistant but 4 times stronger than the original! (Be careful though, it's not indestructible so stay away from sharp objects like tacks and sticks.)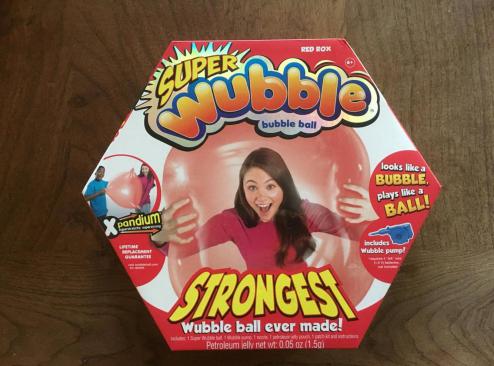 The Super Wubble Bubble Ball is packaged in a small-sized box that contains an electronic pump that requires four AA batteries (not provided). When you remove the Super Wubble Bubble, you will first be surprised by the soft and squishy texture of the ball. The nozzle of the pump is inserted into the hole and within a few minutes your children will be tossing the Super Wubble Bubble across the backyard laughing.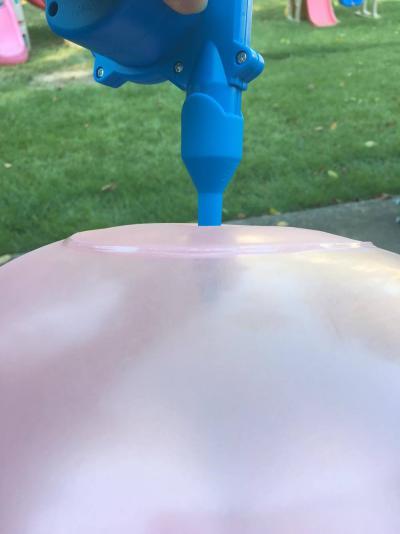 Introduce Super Wubble Bubble Ball For Open Ended Play
What I love about the Super Wubble Bubble Ball is that it is perfect for open-ended play. We recently brought it to a friend's house to see how the kids would play with this toy. Because it has this blend of squishy and soft texture that invites you to touch it, I was curious how the children would engage with this toy.
Immediately, the children explored the Super Wubble Bubble by throwing it to each other. They sat on the ball as well as kicked it to each other. Since we expanded it a little short of the full 36", the kids were able to grab the ball and twirl around themselves. The entire time they were developing their gross motor skills while laughing about what the ball did and their friend's reaction.
An hour later, all four children had taken turns playing with this tactile toy. My favorite moment was when my son pulled the Super Wubble Bubble Ball down on his head and released it so it catapulted into the air. This quickly transformed into friendly competition with no specific winner. That is the beauty of introducing the Super Wubble Bubble Ball into open-ended play, the kids will discover their own games!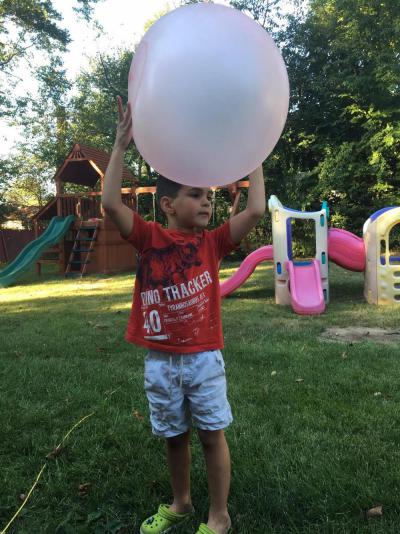 Want your own Super Wubble Bubble Ball?
Wubble Bubble Ball can be purchased online at wubbleball.com. It only costs $19.99 plus shipping! You can also learn more on Twitter (@WubbleBall) and Facebook (facebook.com/wubbleball).

You may also enjoy:
Play and Grow with Wubble Bubble Ball
4 Ways to Play with WubbleX Ball