I was so incredibly excited to be an invited guest at The Hotel Hershey Wine and Food Festival in Hershey, PA.
If you follow Mommy University, then you already know that I am a HUGE fan of Hershey, PA. So far I have brought you their many family adventures including experiences at Hersheypark and the Hershey Story Museum as well as amazing family getaways at The Hotel Hershey and Hersheypark Camping Resort. I have even shared my experience at the spa. In this article, I am going to share with you the amazing experience I recently had at The Hotel Hershey Wine and Food Festival.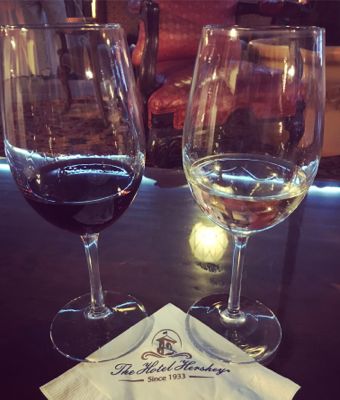 The 7th Annual Wine and Food Festival took place over the course of 3 days at the magnificent Hotel Hershey. With a variety of events to choose from, there was something for all interests and palates. We were provided tickets to Wine, Dine and Punch Lines which was the kick-off event for the festival. The event started at 6:30pm in the Fountain Lobby with a large assortment of cheeses, meats and other delicious hors d'oeuvres. As my husband I dined on brie with apple chutney, a variety of delectable cheeses, paella and amazing pasta dishes, we were also served glasses of wine which paired perfectly with the food provided.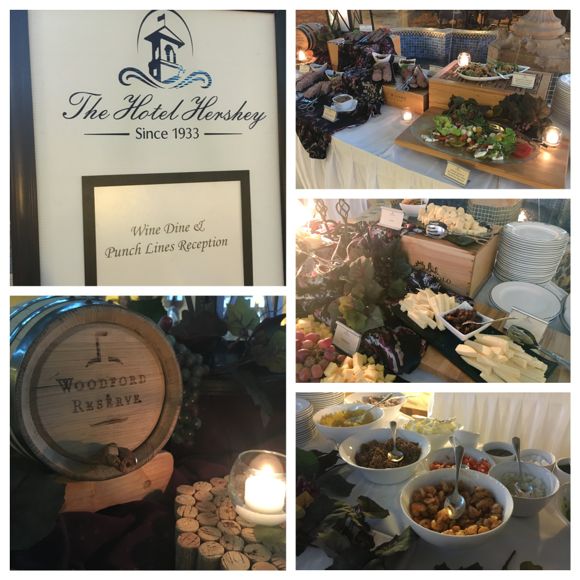 The wine sponsor for the event was Loveblock, a New Zealand wine founded by Erica and Kim Crawford. We were introduced to three amazing wines: Pinot Gris, Pinot Noir and Sauvignon Blanc. The Pinot Gris was a delicious wine with layers of flavor including pear, melon and almond. The Sauvignon Blanc was my favorite as I really enjoyed the taste of white peach and fig. My husband's favorite was the Pinot Noir which offered the smooth but rich flavors of berries with a hint of oak, herbs and mushrooms.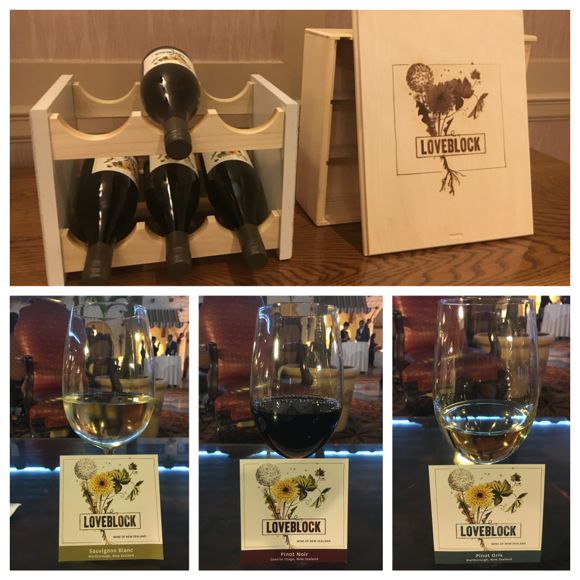 At around 7:45pm, we were seated at a table in the ballroom to get ready for the comedy show "Something to Wine About" and wine tasting with Laurie Forster, The Stand Up Sommelier. At each seat were 4 glasses of wine to be tasted throughout the show. Also on the table, in true Hershey style, was a tray of the most delicious desserts. The show lasted approximately 1.5 hours and had guests belly laughing as we all learned the art of wine tasting.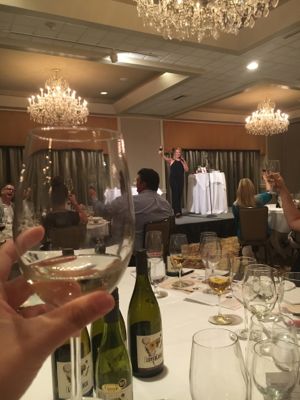 What I Learned at the Wine and Food Festival
I LOVE Loveblock Wine
I absolutely fell in love with Loveblock wine and not just because of its taste but because of its backstory. As described by Kim Crawford himself, a block is a piece of land in New Zealand. Kim and his wife fell in love with a block and had to have it. With a great deal of hard work and lots of love through good times and bad, this block is now creating amazing wine which they are proud to share with the world. What a beautiful story for a beautiful wine. The cover art also shows their deep love of the world as the sunflower represents the sun and the poppy represent the moon. The coming together of the roots represents the Earth. When speaking with the vintner, you can feel the love he has for his wine, people and the world.
How to Properly Taste Wine
I have to confess that I have never attended a wine tasting, and I had no idea how to tell if a wine was good or not. I always watched at restaurants as the waiter poured a small amount of wine in my friend's glass, then looked on curiously as they swirled it, smelled it and sipped it. They would then give the waiter a slight nod at which time he would then fill the glass. During "Something to Wine About," Laurie Forster explained exactly what my friend was doing and why.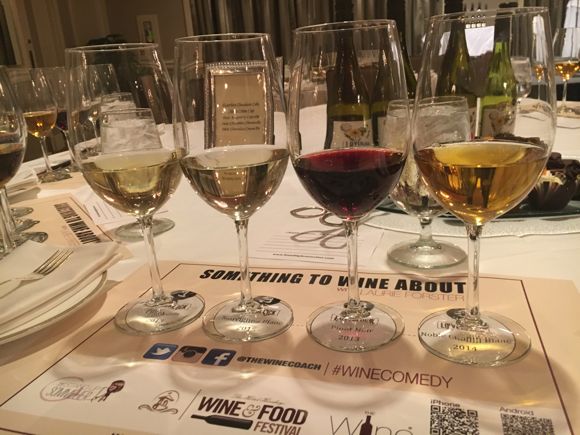 In a comical and relatable way, Laurie explained each step in tasting wine. Here is what I learned:
Look at the wine. Take note of the intensity of the color and the shade.
Swirl the wine. (I will explain why below.)
Smell the wine. Discover what scents shine through.
Sip the wine. Describe what you taste. Is it sweet, bitter, smooth, rich, fruity, nutty? But most importantly, do you like it?
Why You Swirl Wine Before Tasting It
As stated above, before smelling or tasting your wine, it should be swirled around the glass, but why? There are 2 reasons to perform this task. First, swirling vaporizes the wine allowing for a stronger scent so when the taster smells it, they get a better idea of its makeup. Second, when you stop swirling the wine, you see wine left on the glass which then slides back down to reach the remaining wine in glass. The wine left on the side of the glass is called legs. The legs tell you about the body and alcohol content of the wine. The thicker the leg, the greater the alcohol content!
The Best Way to Drink a Dessert Wine
Many find dessert wine to be very sweet. I tried my first dessert wine at the event. Although it was very tasty, it was a bit too sweet for me. I learned, however, there is a great way to cut that sweetness. Here is what you do: take a sip, take a bite of your dessert then take another sip. After eating a sugary dessert, the wine should now taste less sweet.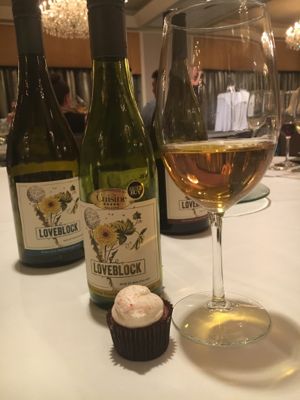 Wine Tastings Make for Great Date Nights
I am always looking for a new and fun date night experience. It is not easy to get out with two little ones at home, but when we have the chance, we want to take advantage of it. This experience has shown me how fun a wine tasting can be especially one with The Wine Coach, Laurie Forster. She puts on an amazing show that is not only hilarious but also very informative. My husband and I had fun trying different wines and learning about each other's likes and dislikes.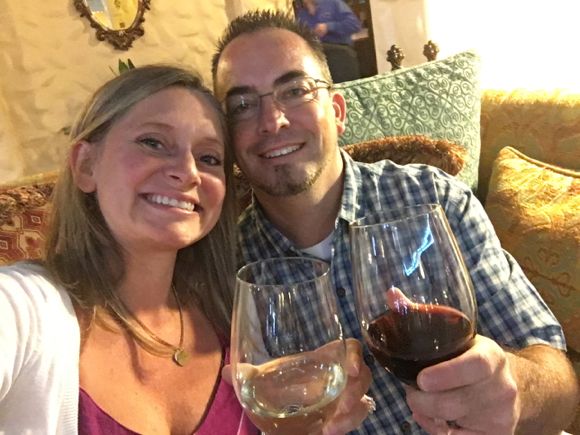 I had the most amazing time at Food, Wine and Punch Lines at The Hotel Hershey Wine and Food Festival! I cannot wait to come back next year!
You may also enjoy:
Dinner for Two at The Hotel Hershey
Relax, Unwind and Rejuvenate at The Spa at The Hotel Hershey