We are so unbelievably excited and honored to partner with the Crayola Experience. Mommy University was provided a membership in exchange for sharing with our readers all the amazing Crayola Experience adventures for the entire year. I hope you will follow us along this incredible journey!
Cradled in every memory of an artistic drawing is me holding a Crayola crayon. As my children explore their artistic endeavors, which currently hovers around rainbow whirlpools, Crayola is a name they love. As soon as the crayons hit the paper, they have already experienced the difference in quality. Their fingers will dig through the crayon box and skip the free crayons from restaurants in favor of the rich and diverse colors.
Crayola is a household name that has generational ties and in Easton, Pennsylvania, the Crayola Experience sits as an multi-sensory adventure the entire family will LOVE. It is easy to identify, driving from North Jersey is very convenient and the parking is just across the street. The bright yellow building invites children to enhance their understanding of art that aligns with Mommy University's philosophy of learning through play. Each member of my family chose their favorite space to highlight and recommend as cool spaces to visit at The Crayola Experience.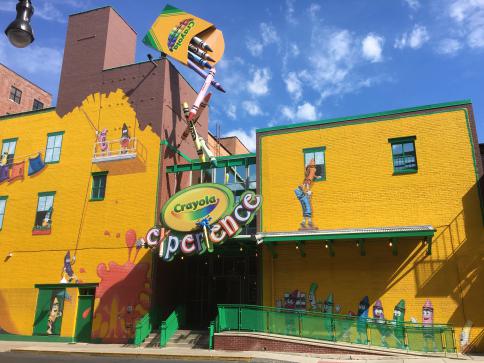 Mommy University Presents
5 Cool Spaces We Love At The Crayola Experience
Crayon Factory
Located on the 2nd floor, the Crayola Factory section of the Crayola Experience offers a theatrical presentation that gives a brief history of Crayola as well as an explanation of how the crayons are manufactured. It is offered several times throughout the day, and I would estimate about 15 minutes in length which was the perfect amount of time for my children.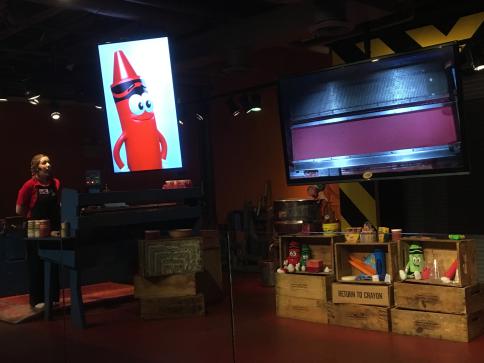 The presentation gives some interesting tidbits of information including that children have been naming colors thus the ever popular Mac and Cheese.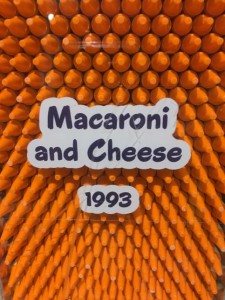 Colossal Caddy
When visiting, my daughter wasn't clear which space she had to visit; however, I can tell you she couldn't leave the Colossal Caddy without coloring for a half hour. At the oversized coffee mug (or tea cup) filled with gigantic crayons, is a table where children and adults can color different sheets. It is a fun hands-on artistic experience for all ages.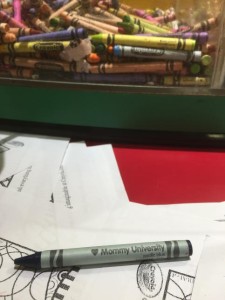 Water Works
My son remembered the boats at Crayola Experience from when he was three years old and insisted that was the space he wanted to visit. This space deviates from the others in that it doesn't have a focus on art. Children receive a boat-shaped like a crayon and maneuver it through a river across a 85-foot water table. This spaces requires children to manipulate levers, aqueducts and gears while learning about water transportation.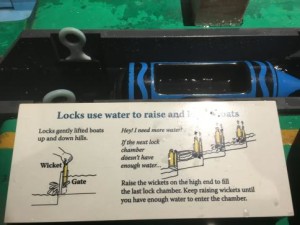 Be A Star
My husband's only request was to make a coloring page of our family at Be A Star. Next to Toddler Town, you can have your photo taken which converts to a coloring page. This is a phenomenal memento as you can take photos with loved ones or friends. There is usually a wait for this activity and don't be surprised if you see people taking a ton of photos.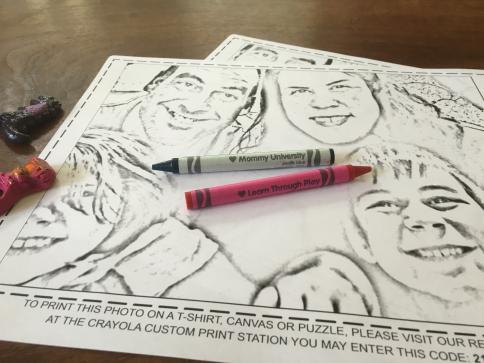 Color Playground
If you have a child that cannot sit still or just has that extra layer of enthusiasm that requires physical activity to calm down, then the Color Playground (on the third floor) is the perfect space for your family. Within the Crayola Playground are 3 areas for gross and fine motor play. First is the Crayola Climber where kids can climb, slide, and explore. It is a 2-story adventure they will not soon forget!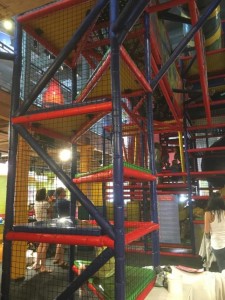 What makes Crayola brilliant is their ability to incorporate art in all capacities. For example, on the Chalk Walk, the ground can be colored with chalk, and in the Dry-Erase Safari, the sculptures can be adorned with dry erase markers. Surrounding the playground are table and chairs with an art project which was perfect because my son needed to climb and my daughter wanted to color.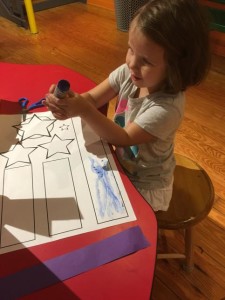 These are just a few of the many amazing spaces to explore at the Crayola Experience. We cannot wait to return and continue to color outside the lines!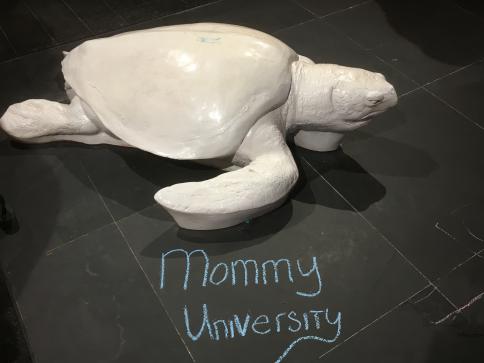 Here is what you need to know to visit The Crayola Experience:
It is located at: 30 Centre Square, Easton, PA 18042
Facebook page: https://www.facebook.com/crayolaexperience
Cost of attendance was $19.99 per adult. Click below for special prices for Mommy University readers!
Children under 2 years of age are free.
An Annual Pass is available of $31.49 per person.
Each individual who purchases a ticket is provided tokens which can be used to purchase the crayon wrapper, modeling clay, rainbow markers and other items. Please note, you can purchase more tokens or items if needed.
Parking: There is a parking garage across from the Crayola Experience; however, there is metered parking for $1 for each hour. Unfortunately, the meters vary by maximum time permitted.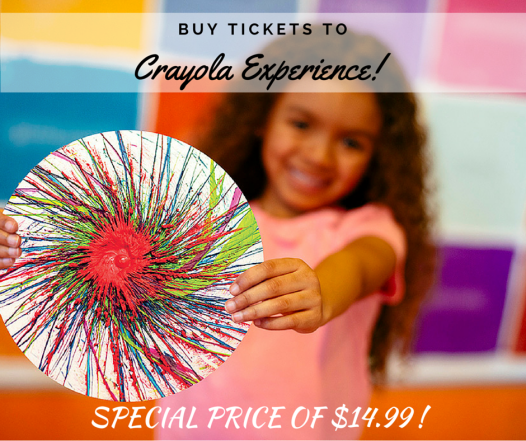 You may also enjoy:
How to Encourage an Appreciation for Art