While we (the parents) may or may not look forward to the beginning of the school year, our children get a lot of emotions thinking about this time period.  The range of what they feel can be excited, nervous to anxious and sometimes scared.  By incorporating books that address returning to school it opens the door to discuss what they are feeling.  We compiled a list of books that are great to include in the story time leading up to the start of school.  As well, some books (i.e. The Kissing Hand) do not directly address school so much as the loving support they receive from family.
Whether it is to read in the morning, right after school or before bedtime, reading is an important part of any child's routine. We hope this list can make your story time even more exciting. We have included Amazon affiliate links to make your shopping experience easier and more convenient!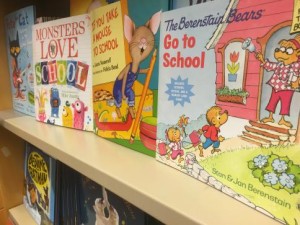 Mommy University Presents
10 Awesome "Back to School" Books
This is the classic book when we think of our children starting their first steps in learning.  Filled with a powerful message it promotes the belief in the positive of future possibilities and all done with Seussical rhythm.  Some parents have their children's teachers sign a copy of this book each year but it is a great addition to your child's library.
Our copy of The Kissing Hand was given to us by my son's daycare teacher and going on three years it is our go-to when things are stressful at home or during transition times.  The message reinforces to our children that they will always have our love and support.
Jessica really loves this book and it is no surprise with the positive message that it promotes to children.  Melvin is an average ogre.  Melvin is not extraordinary or excellent but he is confident in who he is as an ogre.  In a society that focuses on excellence this book encourages children to accept themselves.
The story of a young boy and the anxieties he faces from his perspective can open many conversations with your child.  While the main character may resist going to school, he identifies each of his concerns, develops a plan to tackle this fear, and then confronts his anxiety.  This story demonstrates resilience and will appeal to young children.
This is a great book especially for children starting school as it reviews positive behaviors for young children.  As a character struggles with the idea of going to school, the reader learns how quickly anxiety can transform into excitement.
The brightly drawn book addresses a fear that many children face which is will they make friends in school.  As well, this book does a great job of labeling words commonly associated with school so that children have more familiarity with school.
We are huge fans of this series and for several reasons including beautiful illustrations of unique dinosaurs.  However, the coolest feature of this series is it's ability to review what is socially acceptable behavior for young children who are just learning.
We are fans of Laura Numeroff's books about a curious mouse and If You Take a Mouse to School follows his next adventure.  The engaging illustration from Felicia Bond will keep children interested in the story.  Essentially, the mouse makes school a familiar place and makes it looks like fun.
The Llama Llama series is very popular with toddlers and preschoolers as children identify with the main character. This book follows Llama as he goes to school and the sadness he feels. It is not uncommon for young children to miss their parents and caregivers. This book opens up conversations about emotions for young children especially if they have difficulty identifying them.
It is time for Splat to go back to school and once again we are taken on one of his adventures infused with humor.  An interesting element of this story includes Splat being assigned work which he completes using problem solving skills.  This is also a great book for beginner readers.
If you like this post, you might like: