As soon as school/work ends and summer break begins, I ditch my pocket-book and dust off my summer bag. No matter where I go during summer break there is a list of items I need at all times. Whether it's a trip to the beach or lake, a visit to the zoo or a day at the park, my summer bag is always ready for a day of fun and excitement with my boys!
Depending on where I go, my bag will have certain items but there are a few staples that I bring with me everywhere during the summer. Since becoming a parent, efficiently packing a bag has always been really important. There is nothing worse than being on a day trip and realizing you forgot diapers, sun tan lotion, a binkie or, god forbid, their favorite blanket. I am no longer in the diaper and binkie stage but there are several things I have to bring or the day may not go as well as planned.
This summer I decided to put together a list of a few things that are always in my bag during the summer. I appreciate the support and partnership of several brands that provided the items highlighted in this post. Depending on the adventure, I will add more but these staples are a MUST! I have included some Amazon affiliate links to make your shopping experience faster and easier.
5 Summer Bag Must-Haves
Suntan Lotion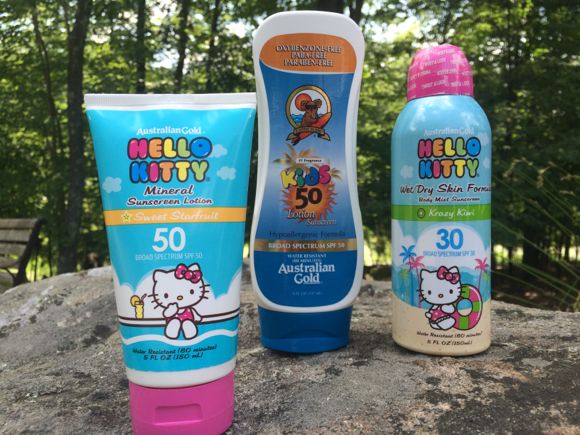 After recently losing a friend to melanoma I have become acutely aware of the importance of sunscreen. Now, I keep it in my bag at all times. Since my boys have sensitive skin I am always looking for lotion that is made with healthy ingredients. I was recently provided a sample of a new line of products from Australian Gold. The Hello Kitty Lotion is a safe and gentle mineral lotion formula made from Yomogi and Butterfly Bush extract. It is hypoallergenic, water resistant (80 minutes), PABA free and provides UVA/UVB broad spectrum protection. Also available are the Hello Kitty Wet/Dry Body Mists offering the same great benefits. The Australian Gold SPF 50 Kids Lotion is Paraben, Mineral Oil and Amine free. It uses an antioxidant rich formula that provides total protection while soothing and cleansing skin.
Sunglasses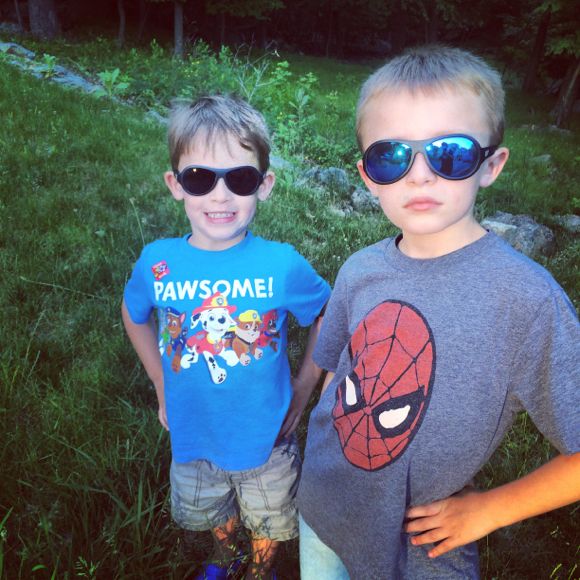 Like their skin, my boys' eyes are very sensitive to the sun. They are constantly asking for their sunglasses, and it's "the end of the world" if we don't have them. I was recently provided with the super cool Babiators Aviator Sunglasses (for ages 0-7) and Aces Aviator Shades (ages 7-14). Not only do my boys look adorable, they are also protecting their eyes as each pair offers 100% UVA and UVB protection. The flexible frames and shatter-resistant lenses also make them perfect for kids. They are well-made and durable which is wonderful since my boys drop their glasses all the time! Babiators come in a variety of colors so every child can find a style that fits them! Order your Babiators from Amazon today.
Bug Repellent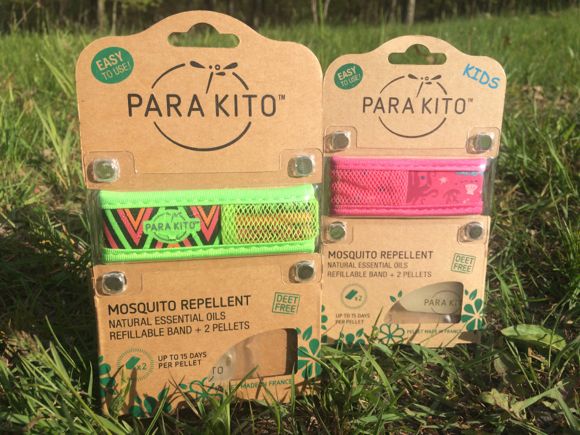 My son is allergic to mosquitos (just like me) which means having bug repellent at all times is so important. The typical spray repellent can work well but I recently fell in love with a new type of repellent, PARA'KITO. These refillable bands and clips use natural essential oils to keep these pesky bugs from ruining a fun day or night outdoors. Just insert the pellet into the band or clip for 15 consecutive days of mosquito free adventure. The pellet releases a pleasant smell which helps mask human odors that normally attract mosquitoes. The DEET-free repellent works in all climate zones and is waterproof making it perfect to bring on tropical vacations. The band is also comfortable to wear and stays on well making it great for outdoor adventures like hiking, fishing and camping. The clip easily attaches to a backpack, belt loop, diaper bag and stroller making it very versatile and perfect for all family activities. PARA'KITO can be purchased on Amazon.
Water Bottle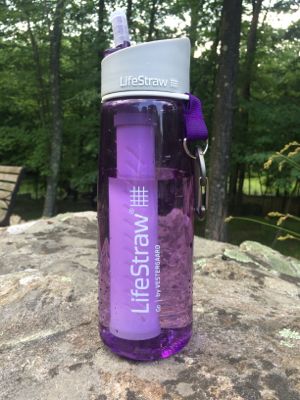 You can't go anywhere in the summer without water. My kids are always asking for water, and if I don't have any left, a meltdown ensues. I recommend the new LifeStraw Go water filtration bottle. I was recently provided a sample and I love it! This bottle ensures that we will never run out of water as we can refill it on the go and know the water is safe due to the 2-stage filtration system that removes bacteria and protozoa and reduces organic chemical matter and chlorine. I also love that this bottle is light-weight making it easy to transport to all our adventures. It even has a clip so it can be attached to the side of my bag or the kids' backpacks for quick and easy access. The LifeStraw Go is the perfect BPA free water bottle for families on the go this summer like mine. It's stylish too as it comes in a variety of bold colors! You can purchase your own LifeStraw Go on Amazon.
Lip Protection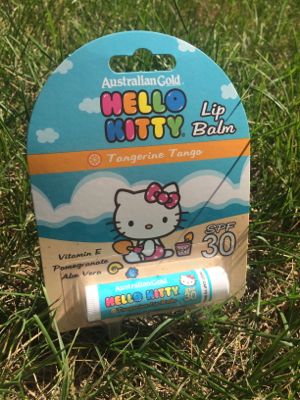 In my bag at all times for my kids (and myself) is lip protection. I have used a variety of lip balm, and I personally like the ones that offer a little pop of color. For my kids, however, a tint is not what I am looking for. This summer, we were provided samples of Hello Kitty Lip Balm from Australian Gold. This SPF lip balm helps prevent sunburn while protecting dry, chapped lips. It has amazing ingredients such as pomegranate, Vitamin E, Jojoba and sunflower seed oil, all which help soothe and soften lips during hot and dry summer days. It goes on clear which makes it perfect for my boys!
It All Starts with the Bag!
Now, it's great to have all these items, but what's the fun if you don't have a great bag to put them all in? I was recently given an absolutely gorgeous bag from my friends at Simply Chic in Baton Rouge. Being a mom doesn't mean you can't be stylish, and this bag is the epitome of style. It is the perfect size to fit all of the items above and much more. It hangs perfectly on your shoulder making it easy to transport to every summer excursion. It also hangs nicely on the back of a stroller. I am excited to use this bag all summer!
Try Amazon Prime 30-Day Free Trial