We are very happy to partner with Educational Insights as they offer amazing toys that inspire learning through play. 
My boys love exploring the world around them. We have a wide variety of brain boosting tools from Educational Insights that help them investigate nature and gain a better understanding of our world. They love to examine rocks, grass, bugs, plants and more. Recently, however, we have explored beyond our world thanks to My First Telescope.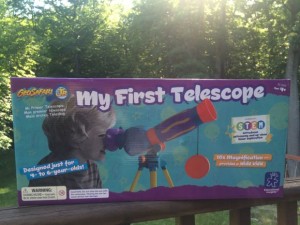 Like all Educational Insights scientific tools, My First Telescope offers an amazing hands-on learning experience for kids. Recommended for children ages 4-6 years old, this colorful and durable telescope lets kids see beyond the world they know. With a 10x magnification, wide field of vision and a focus-free lens, My First Telescope is the perfect way to introduce kids to astronomy. It is designed specifically for young children as it is easy to set up and maneuver. The soft eyepiece makes examining the world comfortable which allows kids to explore for longer periods of time.
At Mommy University, we LOVE toys that offer opportunities for kids to learn through play. My First Telescope is not only well-made and durable, it also encourages kids to discover, explore and learn. Your little scientist will love learning about space and the night sky. The telescope can also be taken off the tripod making it wonderful for exploring during the day time as well. There are so many reasons to LOVE My First Telescope!
Benefits of Playing with My First Telescope
Enhances Language Development
As kids explore the world around them and beyond, they begin to ask questions. They want to know what they are seeing, how it was created and what it is made of. Back-and-forth conversations are sparked between parents, siblings and friends. This not only boosts social skills, it also enhances vocabulary and comprehension skills. Kids are also encouraged to research objects in space which expands their overall knowledge and language.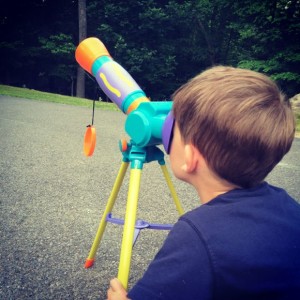 Sparks Creativity
As kids investigate the night sky, they begin to create stories about what they see. They wonder how they can get there and how long it would take. Kids may even build rocket ships and pretend their toys are going to the moon. Using their imaginations helps build important cognitive skills!
Encourages Collaboration and Cooperation
My First Telescope is the perfect way to get kids to work together. My boys had to take turns looking through the lens and naming what they see. My First Telescope is wonderful for a summer night with friends or family. It can be easily transported to your local park or outdoor movie. It can also be taken camping. This allows kids to take turns and talk about what they saw.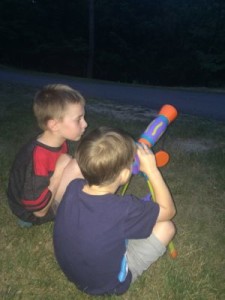 Introduces Children to Astronomy
My First Telescope is a wonderful introduction to the world of astronomy. It sparks children's curiosity about space and encourages them to learn about what is beyond our own universe. Kids can also learn all about the phases of the moon. A picture chart of the phases can be found in the booklet provided by Educational Insights. As kids witness each phase, have them draw a picture. Kids can also make hypotheses about what the moon will look like tomorrow, in a week or in a month.
My First Telescope is a wonderful toy that my kids will enjoy for years to come. You can purchase your own telescope using our Amazon affiliate link.
*In full disclosure, we received My First Telescope in exchange for our honest review.
You may also enjoy: