Experience the Magic of Mystic Seaport!
Children love the majesty of ships and the Mystic Seaport is filled with these historic transports. While I have always heard about Mystic Seaport, the explanations and descriptions do not fully capture the entire experience that will surround you. As guests of Mystic Seaport, we received complimentary tickets which enabled us to visit historical ships, experience learning through play and walk back in time.
Located in Historic Mystic, the Seaport consists of many outdoor locations that span over several streets. There are buildings that are reimagined such as a seafaring town, exhibits on maritime adventures, displays of historical items that are artistic, and spaces that encourage children to learn through play. As well, if you need a break you can sit down in many places to enjoy the serene beauty of the landscape. Mystic Seaport has many layers that will inspire every member of your family to enjoy the history of America and the sea.
Mommy University Presents
5 Reasons to Visit Mystic Seaport
Get on Board with History
The Tug Boat that greets all visitors as well as the anchor are quick signals that we are about see amazing ships. Mystic Seaport has historical ships that you are encouraged to stroll through and in some cases have overnight stays.
Our first ship was the Charles W. Morgan which is a historic whaling ship. Maintained in pristine condition, you can see the Captain's quarters and compare it to the tiny sailor's quarters. As we head downstairs, the taller individuals in our family realized how cramped the space was where the sailors would have worked on the whale pieces. On each ship you can read the signs that provide information but honestly Mystic Seaport has plenty of staff offering insight and details through talks and answering questions.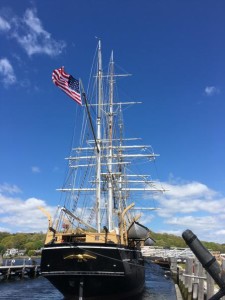 Our second ship, built in 1882, was the Joseph Conrad which is a Danish ship used to train sailors. We learned about the cadets lifestyle on this vessel and even marveled at the tiny cannon used for communication. By walking on these ships, my children now have a better understanding of the demands and challenges that faced sailors. After listening to stories of the Armadas, battles on the sea, and even fables, they now have concrete ideas of what this might entail.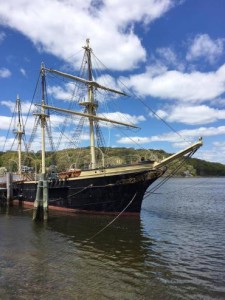 Sparks Scientific Curiosity
While scientific concepts may not be the first thought that emerges when considering visiting the Seaport, guests will be surprised at the huge connection between these concepts and innovations with sailing.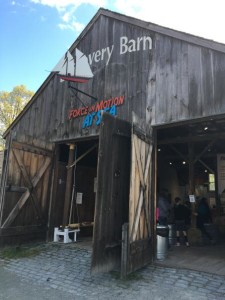 The Discovery Barn opens its door to children to learn through play. Whether placing different shapes in a stream to observe which gain the most speed to children investigating a pulley system and how they function on a ship, they are absorbing many concepts in this compact space.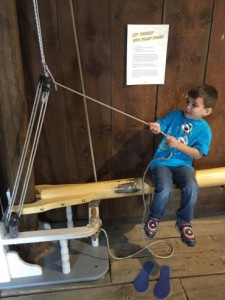 However, our favorite family activity was looking through the spyglass to see the flags hung across the yard to see what message was communicated that day.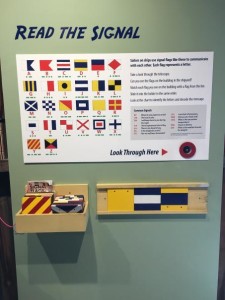 The second location that is perfect for young children is the Children's Museum which is housed next to the Planetarium. This building is perfect when parents need to sit and organize themselves while children play with everything! There is a play kitchen, old-fashioned puzzles, and a miniature ship inside where kids can pretend to fish. My kids could have spent hours in this one space.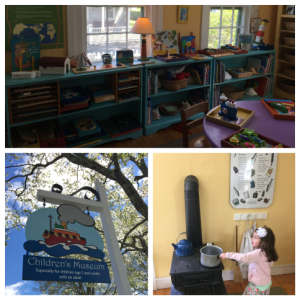 Walk Back in Time
One of the many highlights of Mystic Seaport is that you can wander through a 19th century seafaring village that has been recreated. It is a walk back in time through an old school, printing press, and other spaces that occupied a traditional town on the coast. When we strolled into Geo. H. Stone General Store it was brimming with antiques and vintage items, but it is the shopkeeper answering questions that really helped highlight life back in time.
Our visit to H.R. and W. Bringhorst Drugstore and Doctor's Office led to an interesting talk on medical theories from the past and a demonstration of pill making. In each shop is the opportunity to learn about American history which may impress how much we have progressed over the decades. As well, children can admire the innovations over time and how some techniques and philosophies are still applied today.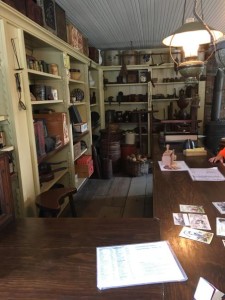 Gross Motor Fun
It is difficult for children to visit so many historical spaces before they need to run and Mystic Seaport realizes that and offers the perfect play space! We loved the three ships that offer kids the opportunity to run and climb all in an imaginative environment. The shouts and screams of pure delight as children imagined they were the captain is a great break in between talks and ships. Parents can relax at the bench and enjoy the epic stories that unfold in front of them.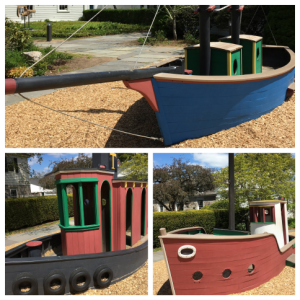 Navigate the Stars
The life of a sailor relied on signs from nature as a compass to manage the seas, and at the Treworgy Planetarium you can receive a lesson on how the stars were used by sailors to navigate the ocean. Throughout the day there are several showings and the planetarium offers more than one show!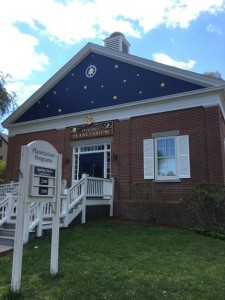 Some of the activities were not open yet for us to sample such as the Toy Boat Building which I believe is a great activity that promotes hand-eye coordination, gross motor skills, and artistic skills but most importantly makes a wonderful souvenir for the children to remember their visit. Toy Boat Building has a nominal cost of $5.  As well, there is a horse-drawn carriage ride which is seasonal. We also want to see the new Thompson Exhibition Building (which is scheduled to open in Fall 2016 but so far looks stunning).
I am not concerned about missing these experiences, however, as we have already determined that our family will return to Mystic Seaport in the very near future! Whether it is for another long weekend or to enroll my kids in the Ship to Shore Overnight, we can't wait to come back. The brilliant design of Mystic Seaport ensures that no matter the age, everyone in the family will walk away with a different experience that enriches their lives.
Recommendations
We dined at The Galley at Mystic Seaport and were thrilled with quality and portion size of the food. For example, my children shared a Grilled Cheese which was sufficient. However, the Shrimp Po'Boy was also a delicious option. The ambience is nautical and it is certainly spacious. The prices were reasonable and the food was delicious.
Mystic Seaport offers second day ticket validation! Have your ticket validated before you leave and you can return for a second day within seven days. Honestly, with the massive educational spaces this is phenomenal for families!
Dress in layers if you are visiting in the spring or fall! Since you are walking by the water it is a little bit cooler and those times of the year the weather is unpredictable.
Mystic Seaport is located at 75 Greenmanville Ave. Mystic, CT 06355.  Parking is free. To see more photos of our adventures, click here to see our photo album on Facebook.
We received complementary tickets to Mystic Seaport in exchange for our honest review.  All opinions expressed are honest and belong to Mommy University.
You may also enjoy: