Get Enchanted with Mystic Aquarium!
Mystic Aquarium encourages visitors to find the magic within nature. As much as we become amazed with special effects in movies, there is nothing compared to the wonder in aquatic life. From the wiggling and waddling African penguins to the surreal pink jellyfish, we love to watch them. Whether it is Seahorses clutching each other or the Sea Lions catapulting into the air, our curiosity is sparked. In each space at Mystic Aquarium, there is a golden opportunity to develop an appreciation for nature and thus a better understanding of the world that surrounds us.
Our family has visited a few aquariums so we were so excited to receive complimentary tickets from Mystic Aquarium! Located in charming Mystic, Connecticut, the aquarium is only a three-hour drive from our home in NJ which makes it the ideal long weekend getaway. Since tickets can be validated to return the next day, families that feel they have overlooked a space can return for a closer inspection or just come back because it is such a fun and engaging place for the entire family. It is a fantastic aquarium which is why we want to return again but allow me to elaborate on reasons you will want to bring the family to this location.
Mommy University Presents
5 Reasons to Visit Mystic Aquarium
Animal Observations
The first space that greets those who enter Mystic Aquarium are the Beluga Whales. Belugas are known for their pale appearance and shy nature; however, what the Beluga Whales at Mystic are known for are their curiosity and interaction with those who visit. The layout of the Arctic Coast enables many perspectives of these fun characters which also invites more engagement.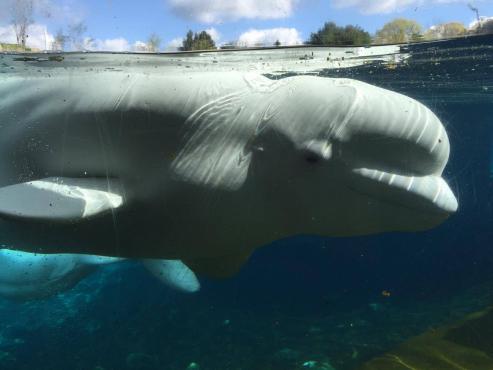 We even took selfies with the whales.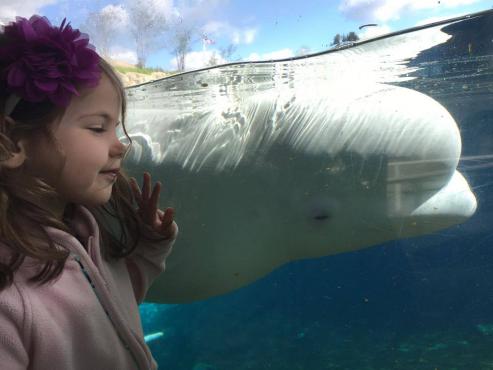 Even though most of the spaces are outdoors, Mystic also has indoor spaces which house barracudas, seahorses, loggerhead turtle, sharks and other aquatic creatures.  However, my personal favorite space is the Jellyfish room in the Main Gallery. While I realize that it must burn when a jellyfish stings, they are hypnotizing to watch float in the water. I always describe watching them as a moment of zen because it is peaceful to observe them.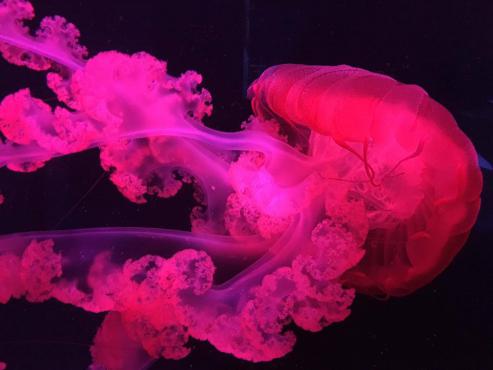 In all these instances we are developing an appreciation of how graceful aquatic life is!
Care of Animals
Next to the Birds of the Outback, we found announcements of animals recently released from the Seal Recovery Unit. While this was impressive what happened next, fascinated our entire family.  At Mystic Aquarium animals are brought to receive care. We witnessed three harbor seals receive medicine which became a catalyst for numerous questions and a great family discussion.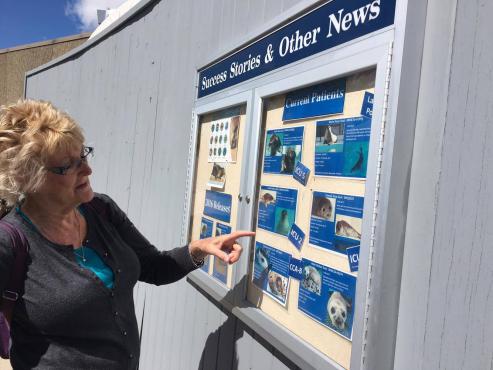 Academic Talks
Throughout our walk we encountered several employees offering information, via microphone, on the different animals.  Mystic Aquarium is one of the few holding Stellar Sea Lions in the United States. Astro has an interesting history that brought him to Mystic which is what inspired his own book (which is available for purchase in the main gift shop).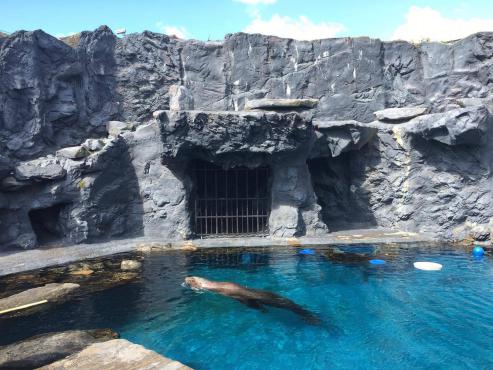 At the Penguin Feeding, we learned that the sex of a baby penguin is unknown and then verified via blood work.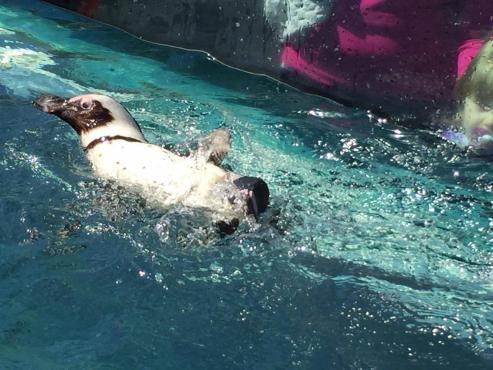 On our second return we learned about Juno and the other Beluga Whales. The impromptu talks increased our knowledge and awareness of the animals we observed.
Sensory Experiences
There are three touch tanks located in the aquarium. Two touch tanks are located in the Main Gallery which include the opportunity to touch sharks, and in the second are crabs and mollusks. It is always surprising to feel the diverse textures of the different aquatic creatures.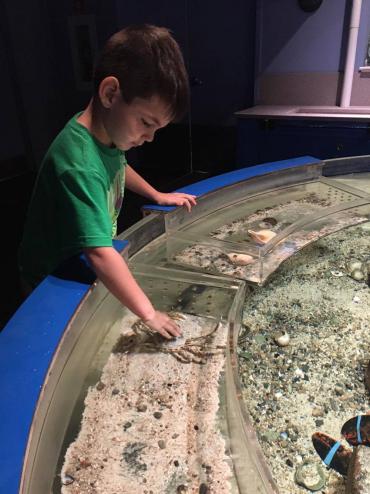 There is also the stingray pool where you can feed the rays or just touch them as they circle around the pool. We opted to feed the rays for a nominal cost of $3.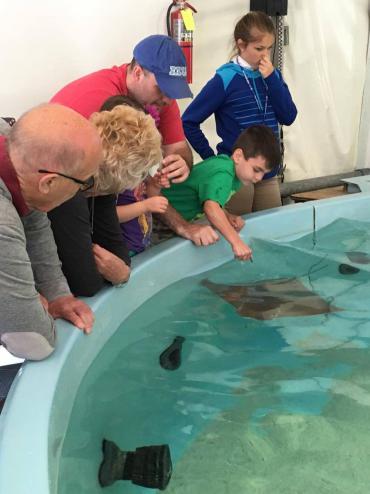 The Birds in the Outback is also another fun and engaging experience that children enjoy. For a nominal fee of $3, you can feed Cockatiels, Budgies and other birds. It is always a fun game to exert the right amount of time standing still and balance to invite the birds to sit on the feeding sticks.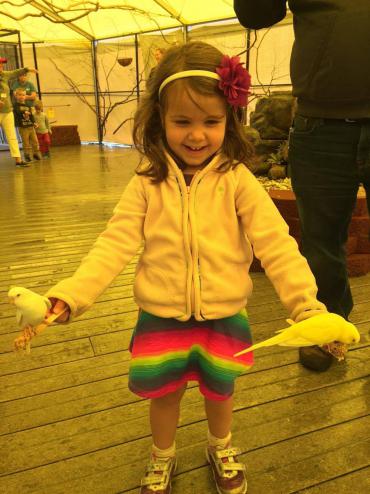 A highlight of our trip was my father-in-law experiencing his first 4D theater with his grandchildren. As we watched Ice Age: No Time For Nuts, we enjoyed an exciting sensory experience. We felt chilly air, smelled the woodsy forest, saw snowflakes, and felt puffs of air press against our legs. For a short movie, it is filled with lots of experiences.
Sea Lion Show
While the Sea Lion show is downright fun, humorous, and entertaining, it offers young minds the opportunity to appreciate these creatures while learning about their needs and care. We also learned the differences between seals and sea lions. The show is offered several times throughout the day so if you like it you can go back and see it again!
Prior to entering the show, there is an exhibit on Roger Tory Peterson, a well-known illustrator and ornithologist whose artwork is recognized in the book Field Guide to Birds. My children loved the two traditional canvas that had touch-screen tablets that allowed them to color birds. Mystic fills every space with a hidden opportunity to learn.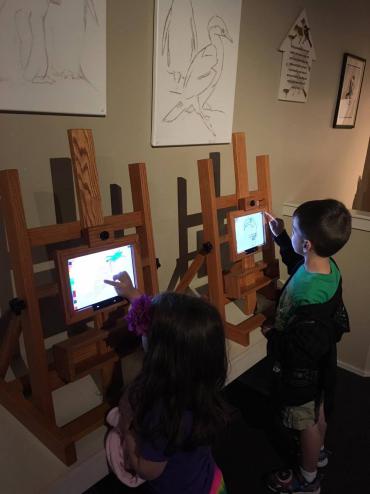 As a parent, I appreciate how well-organized the Sea Lion Show is. It is the perfect length of time to "wow" the family, learn about sea lions, spark curiosity about marine creatures, and develop an appreciation of sea life.
Mystic Aquarium enchanted my entire family! If you walk through this aquarium there is something new that you will encounter and experience every time. Whether it is flirting Beluga Whales, camouflage toads, witnessing the care of sick animals or digging up a dinosaur, there is so much of see, do and explore.
Recommendations
The aquarium is outdoors so make sure to bring sunscreen.
Have your ticket validated to return for a second day which is how we were able to see the Belugas one last time.
Mystic Aquarium is located next to Old Mistick Village, an outdoor shopping center, that can be walked to in several minutes. If you want to take a break, get your hand stamped and walk over to see the shops or grab a latte at The Vault Coffeehouse.
Mystic Aquarium is located at 55 Coogan Blvd. Mystic, CT.  Parking is free. To see more photos of our adventures, check out our photo album on Facebook.
We received complementary tickets to Mystic Aquarium in exchange for our honest review.  All opinions expressed are honest and belong to Mommy University.
You may also enjoy: