Your Family Will be Enchanted in Mystic!
As much as I love the Garden State, my family has traveling feet. We love to see and experience new locations that challenge our perspective and make us think. Mystic is located several hours from the heart of New Jersey which makes it an ideal destination for a long weekend or a mini-break.
Mystic is an actual area in Connecticut as opposed to one specific city or town. It was made famous by a Julia Roberts film, Mystic Pizza, which still exists in the downtown Historic Mystic, but it is also well-known for its seafood. A tourist destination it offers a significant amount of small town charm with amazing experiences that are scientific, historical, and inspired by nature.  Mystic is truly an enchanting experience that everyone can enjoy!
Mommy University Presents
5 Must Do Experiences in Mystic Country
Mystic Aquarium
The stars of the Mystic Aquarium are the Beluga Whales, and they are the only ones in the Northeast. You can watch YouTube videos of the Belugas and a mariachi band to see that these are truly engaging characters. The Aquarium also has many outdoor spaces to see African Penguins, Stellar Sea Lions (one of the few in the nation) and Seals.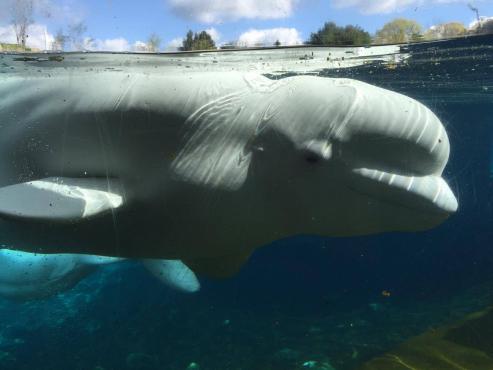 You can then head inside to see Jellyfish, Moray Eels and even touch sharks! A trip to the 4D theater is also a treat for everyone!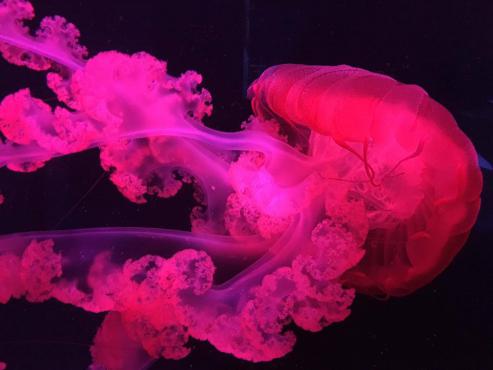 Mystic Seaport
Mystic Seaport, the museum of America and the Sea, is located in Historic Mystic. This is not simply one building that you walk through but rather several historic buildings and ships, recreations of shops, a planetarium, a children's museum and so much more. There is a daily schedule that offers suggestions of activities that take place which might interest your children or the history-loving family members.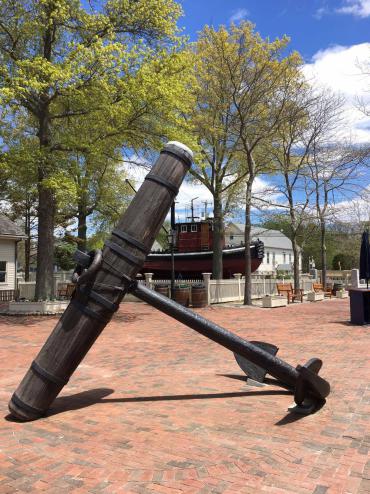 Seeing the historical ships is a highlight that truly humbles everyone who climbs aboard as you realize the size of a sailor's room or the working conditions aboard a whaling ship. There are Seaport staff and volunteers that offer talks about life on the sea as well as the history of the town.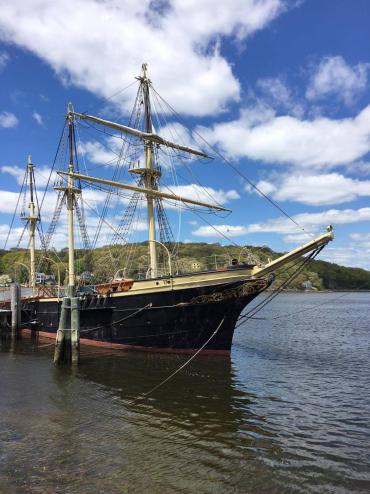 Mystic Seaport is not a destination for children, but rather the entire family. The opportunities to become hypnotized by the life back in time, the scientific concepts taught at the Discovery Barn, toy ship building projects or simply strolling down the street is what makes Mystic Seaport a Mommy University "Must Do" experience.
The Dinosaur Place
It may not exactly fit the definition of Mystic Country as it is twenty minutes outside Historic Mystic, but nonetheless a trip to The Dinosaur Place is a must-do. Part of the Connecticut Dino Trail it includes a park that the family can hike through where there are dinosaur statues stationed throughout. Children can learn about dinosaurs with a direct perspective of size as well as information about each one.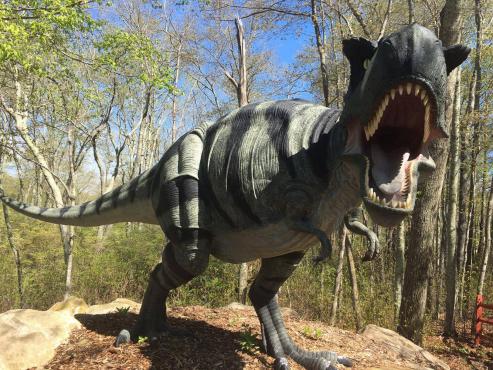 Dinosaur Place has some other features that will keep everyone busy. There is a splashpad that is open during the warmer months as well as a playground. Along the hike are "What Am I?" stations where children can use their sense of touch to guess what is inside the box.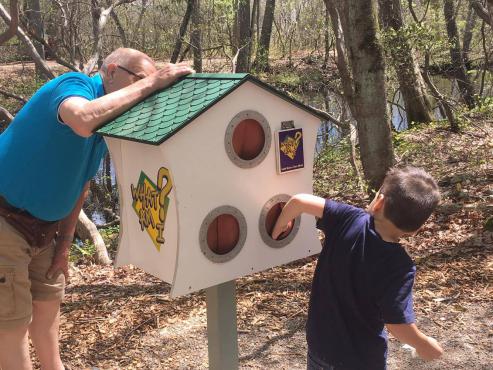 The A-Maze-Asaurus is an adult sized maze that children need to solve in order to go down the T. Rex slide. Prior to exiting, we were pleasantly surprised with a bounce house and two animated displays: each hour there is also an erupting volcano but my favorite was a spitting Dilophosaurus behind a cage.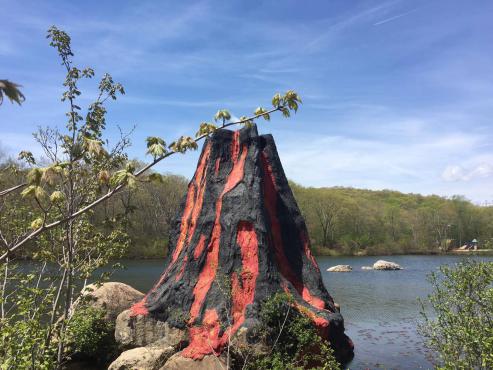 Denison Pequotsepos Nature Center
Traveling to Mystic you are inspired to walk around the Denison Pequotsepos Nature Center which offers visitors the opportunity to explore nature. From organized themed hikes to art outdoor programs, this Nature Center offers programs for all ages. Young children will enjoy the Outdoor Play at Coogan Farm while older members of the family might be intrigued by specific educational talks. I recommend checking their calendar prior to your visit to see what exciting events you want to participate in!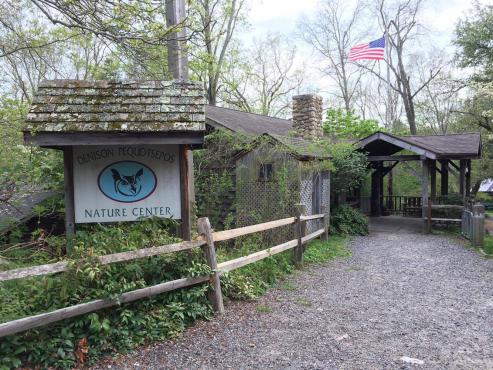 Olde Mistick Village
Next to Mystic Aquarium, Olde Mistick Village is an outdoor shopping center that is not only quaint, but the perfect stopover for many of the locations in this post. Parking is free and accessible, and, in the case of the aquarium, it is right across the street. At the center of Olde Mistick is a pond surrounded by benches where you can feed ducks. This is a perfect picturesque break.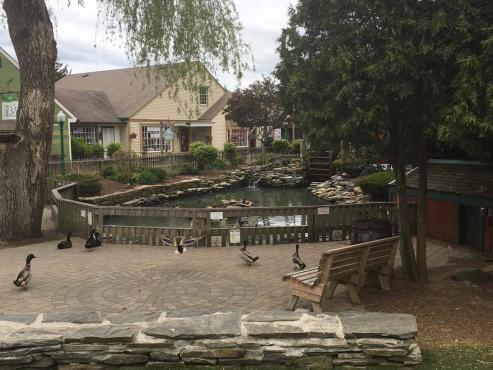 One of our favorite stops was Sticky Situations where we tried different flavored honey. How is it flavored, you ask? The bees feed on those specific flowers. My personal favorites were the Ginger Honey and Peppermint Honey.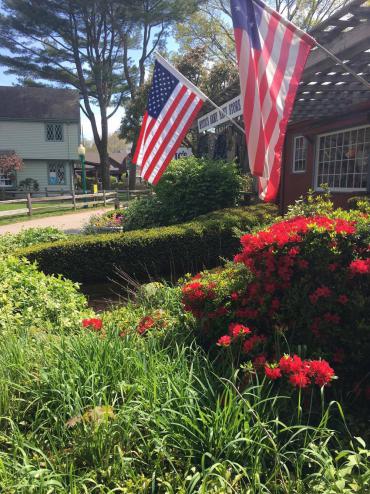 Bonus: Try the Local Cuisine
One of the best experiences with travel is tasting the local cuisine, and Mystic is all about seafood. My recommendation for amazing seafood is Abbott's Lobster in the Rough where we enjoyed meals two nights in a row! Abbott's is located in Noank through a residential neighborhood. After you place your order, you will pick it up at the counter which has an oversized sign saying, "Here is the large red counter." Then head to the table by the water (or indoors if it's raining or cold).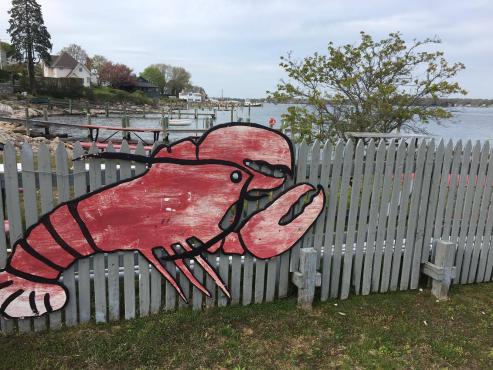 You can try the lobster, hot crab sandwich or the crab cakes all of which we enjoyed as well as the apple crisp which can be ordered at the dessert shed in the back.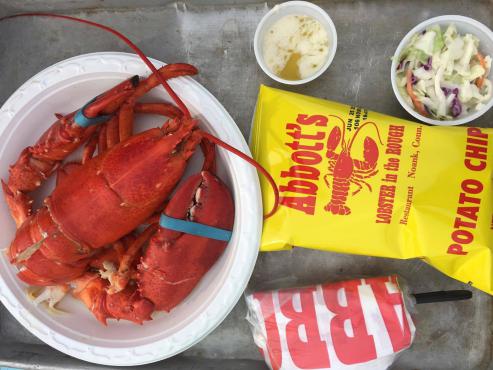 Sit down at the table and admire the view while your kids color the chalkboard.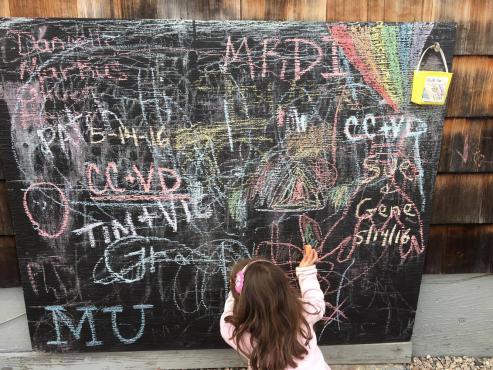 I hope you have enjoyed reading about the fun experiences you and your family can enjoy in Mystic, CT. Happy traveling!
You may also enjoy: