If you follow Mommy University, then you already know that my son loves to cook. Whether it's in a real or pretend kitchen, my son loves preparing meals. I love encouraging this passion by enrolling him in cooking classes, letting him help in the kitchen and getting him cooking sets that help enhance his skills. That is why I was so excited when Curious Chef offered me a kids cooking kit!
After reviewing what Curious Chef has to offer, I knew my son would love to start with the 5-piece pizza kit. We are big fans of pizza in our house so I knew this would be perfect for him. The set comes with:
Nylon Pizza Cutter
Nylon Pizza Server
Tomato Cutting Board
Large Nylon Plastic Knife
Large Silicone Mixing Spatula
Sticker Set
Shopping List Notepad
Cheesy Pepperoni Pizza Recipe
With this kid friendly set, children are invited to learn, create and cook. Each piece is made specifically for curious little chefs as they are safe and sturdy. The utensils each have soft, easy-grip handles making it much easier for kids to perform each cooking task. The pieces are also made with bold colors which increases kids' interest and engagement.
My son was beyond excited when his pizza kit arrived. He could not wait to make his own pizza. We decided to have  family pizza night so the entire family could be a part of the fun. We started by rolling out the dough.
Next, we used the Curious Chef spatula to spread the sauce around the dough. This tool made it so easy for my son to move the sauce around the dough. My 4-year old loved using it as well!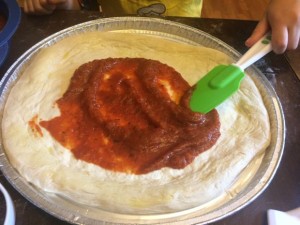 Once the sauce was evenly distributed, my son added cheese on top. Once complete, the pizza was placed in the oven.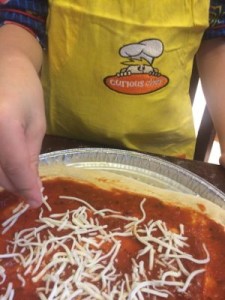 When the pizza was done baking, my son was so excited to use his new pizza cutter to slice up his pie. The Curious Chef pizza cutter cut the pie perfectly and was easy to use!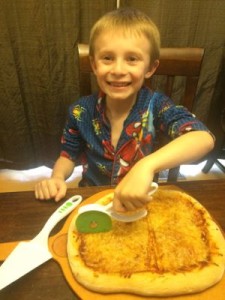 Once cut, my son used his Curious Chef pizza server to lift the slices and place them on his plate.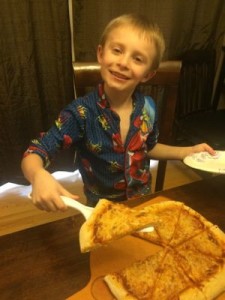 From start to finish, my son had a fun cooking experience thanks to the help of Curious Chef. What I loved is that not only does this set allow for a fun cooking adventure, it also offers wonderful benefits.
4 Benefits of Using the Curious Chef Cooking Kits
Enhances Independence
Since the Curious Chef set is designed specifically for kids, little chefs are able to follow recipes and create meals themselves (with adult guidance of course). This allows them to become more independent. As kids learn they can do things by themselves, their self-esteem and self-confidence increase as well!
Safety First
Just as parents do, Curious Chef puts safety first. Each piece to this set (like all Curious Chef kits) was made with safety in mind. All products have to meet very stringent safety standards, and every piece conforms to US Consumer Products Safety Commission requirements. I love that the pieces in the pizza set are able to cut the food, but are not that sharp which decreases the chance for injury. The pieces are very sturdy as well making it less likely to slip and hurt little hands.
Learning by Doing
At Mommy University, we focus on the importance of learning through experiences. Curious Chef aligns with our mission with their Learning by Doing tips on the back of the box. Kids learn best by doing things themselves, not just by watching their parents complete tasks. On our box, there were step by step directions on how to safely and accurately slice a pizza into equal parts. It also provided instructions on spreading sauce carefully onto the dough.
Encourages Healthy Eating Habits
"Learning to cook gives kids the ability to eat healthier their whole lives." This is the quote inside the Curious Chef catalog, and it is so true! When kids learn to cook their own meals, they become more aware of what goes into what they eat. They learn to use healthy ingredients and become less dependent on processed foods. They are also inspired to try new foods and experiment with new ingredients including vegetables they may have never considered trying before!
We absolutely LOVE our Curious Chef 5-Piece Pizza Kit. We cannot wait to try their other cooking tools for kids. This set can be purchased using our Amazon affiliate link. To learn more about the Curious Chef, check out their website.
You may also enjoy:
10 Benefits of Cooking with Kids