At Mommy University, we love to roar about Dinosaurs. While we know that New Jersey has plenty to boast about when it comes to dinosaurs we also know the importance of reading. Our children are fascinated by dinosaurs which is how we have come to learn of the books in our 10 Awesome Dinosaur Book list. After trips to Field Station Dinosaur, Academy of Natural Science and Morris Museum, we are hooked which is why reading books about these prehistoric creatures fuels our passion for learning.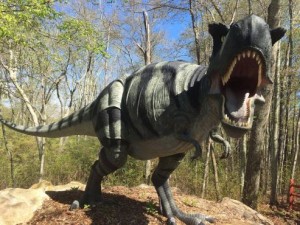 Whether it is to read in the morning, right after school or before bedtime, reading is an important part of any child's routine. We hope this list can make your story time even more exciting. We have included Amazon affiliate links to make your shopping experience easier and more convenient!
Mommy University Presents
10 Awesome Dinosaur Books
Receiving How Do Dinosaurs Clean Their Room opened up my eyes to the genius of this series which covers everything from saying goodnight to Chanukah to friendship. In each illustration, a different dinosaur is represented with the name written in a small font which depicts first how not to handle situations and then ending with the best way to act. Our collection has grown because it is a great series.
Introduced to my son at daycare, we had to pick this book up at the store immediately. It helps kids to learn how to count as they see pieces of the book missing (the dinosaurs were hungry and bit the pages).
My son received this book as a birthday present and we love it! The book is filled with bold graphics as well as a map in the back of the book. It is organized by size of the dinosaurs and offers small tidbits of information about each one.
Sandra Boynton doesn't bring facts to dinosaurs but rather her infectious humor through the illustrations as well as the words of the story. Toddlers will love how this books flows, and it will definitely make them laugh.
Dinosaur Train is a favorite show in our household, so having some Dinosaur Train books is a great extension for learning. Dinosaurs A to Z reviews different types of dinosaurs with our favorite characters from the show.
This is a great book for young readers at different levels. Young children will love the simple rhymes, and children who love to read will be challenged with more advanced information about the dinosaurs in small print.
Barton's books are perfect for little and rough hands but, honestly, it is the bold graphics and simple sentences that keep my kids requesting the books to be read over and over. Readers are taken through several digs and of course learn about dinosaurs.
I found this book at the American Museum of Natural History and immediately fell in love. It is a Step Into Reading book so this is better for children learning to read but the reason it came home with us is because it offers some interesting questions that promote critical thinking skills.
This book focuses on relating how big dinosaurs are in terms that children can understand. Children know how big a bus is but now they can understand how big certain species of dinosaurs are compared to everyday items.
The Cat in the Hat is back to teach children different facts about dinosaurs using rhyme, humor and bold graphics. I love that this series uses the actual vocabulary while also engaging kids in the material.
You may also enjoy these book lists: