I am so unbelievable excited to partner with Walt Disney World and MomSelect to host a Disney Kids Preschool Playdate. I have been provided with free products to host this event but all opinions expressed are completely my own.
As soon as I found out I was chosen to host a Disney Kids Preschool Playdate, I began brainstorming about activities the kids would love. (You can read more in my article Tips for Planning a Magical Party.) Now, if you follow Mommy University, then you know that we LOVE to incorporate learning into everything we do with our kids so planning this party was no different. I started thinking about how I could help my kids (and Monica's who were going to Disney for the FIRST TIME) learn about the parks at Walt Disney World as well as focus on their love of Disney Junior. I also wanted activities that would spark creativity, build language skills and develop problem solving abilities!
As part of our Disney Kids Preschool Playdate package, we received various games and activities for the kids to enjoy. I also came up with several ideas of my own based on my knowledge of the parks and Disney Junior along with items I had access to. In this article, I will highlight the games and activities we enjoyed at our Disney Kids Preschool Playdate.
Magic Bands, Costumes and Crowns, Oh My!
As guests arrived, they were each offered a magic band to wear throughout the party. Nothing says Walt Disney World like wearing a magic band! Each child was also given either a Sophia crown or Jake pirate hat. What I loved about these head pieces was that they were double-sided so kids could switch back and forth between being a princess or a pirate if they wanted. Lastly, the guests were encouraged to wear Disney themed shirts or costumes. One little girl came as Doc McStuffins while another dressed up as Ariel!
Play Stations
To start our party, I set up 4 play stations. Each area represented one park at Walt Disney World. For Epcot, I had the Epcot ball (Spaceship Earth), Miles from Tomorrowland toys and space figurines. For Animal Kingdom, I set out animal and dinosaur toys. For Magic Kingdom, the kids played with pirate ships and various Disney figures like Mickey, Minnie, Captain Hook and Jake. For Hollywood Studios, the guests enjoyed building their own Mr. Potato Head as well as playing with little green army men. It was a fun way to get the kids playing with each other while also learning about each park.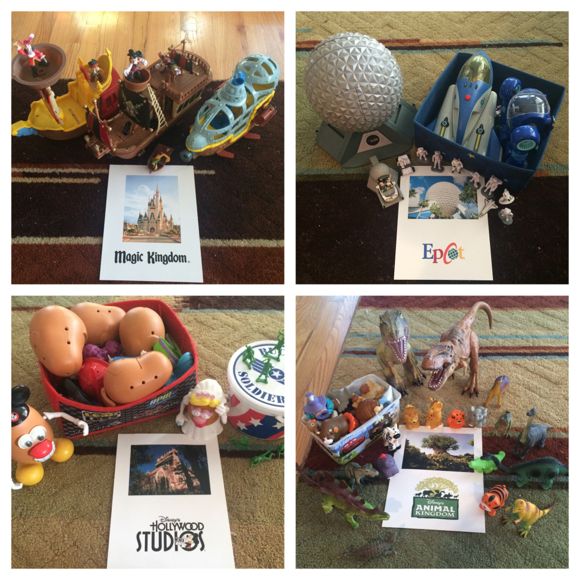 Decorate a Flower Pot
To celebrate the coming of spring along with my love of Disney's Flower and Garden Festival which is going on now, I decided to have the kids decorate their own flower pots. This is an activity we enjoyed last spring at the Flower and Garden Festival so I thought it would be a fun way to learn about the parks, spark creativity and build fine motor skills all while having fun. Each child was provided one plastic pot that I purchased at the dollar store. We used the paint provided by I Love To Create to adorn our pots along with stickers and markers. We enjoyed this activity first as to allow time for them to dry before the guests went home.
Bingo
In our package of activities, we received colorful Bingo cards with pictures representing rides and experiences at Hollywood Studios, Magic Kingdom, Epcot, Animal Kingdom and Disney Springs (formally known as Downtown Disney). It was such a fun way to not only enhance visual scanning skills but also help kids learn all about the Disney Parks. My kids loved seeing rides they had already experienced while our guests were excited to see what they will be riding on their first trip to Walt Disney World.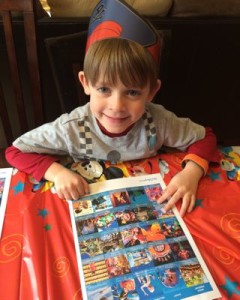 Animal Kingdom Safari Egg Hunt
As part of our package, we received animal figurines that symbolized the animals that can be found on the safari ride at Animal Kingdom. Since Easter is right around the corner, I decided to place the animals in Easter eggs then hide them around the living room. The kids ran around in excitement trying to find the eggs. Then, the kids took turns putting the animals back in the eggs and hiding them for their friends.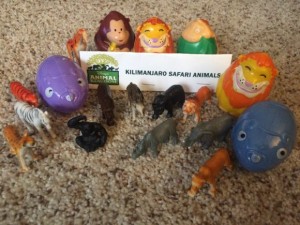 DIY Journals/Autograph Books
I have to give my son credit for this idea. He has been asking for a journal to take to Disney that he can not only write in but also add pictures from his trip. Every trip we take to Disney, I end up buying a new autograph book because I leave our old ones at home. For our playdate, I decided to combine the journal and autograph book into one great project! I provided each child with a small notebook I purchased at the dollar store. I then provided stickers and paint from I Love to Create so they could adorn their books. I thought this made not only a great party favor but also a wonderful project to bring on their next Disney World vacation!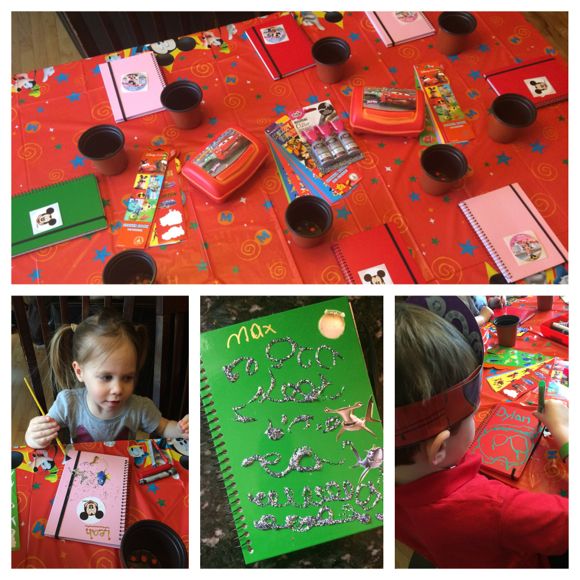 As you can see, the kids had plenty to do at our Disney Kids Preschool Playdate. They had a magical time learning all about Disney Parks while spending time with great friends. You can read all about our food and favors in Part 3 of our playdate experience!
*In full disclosure, we were provided products at no charge to help host this party. All opinions are my own.