It was an honor to be invited to the opening weekend of James and the Giant Peach at The Growing Stage in Newton, NJ. We are very proud to partner with this amazing organization that brings the love of the performing arts to individuals of all ages.
Since this was the second show my family was to attend at The Growing Stage this season, I knew my children would have a great experience. Watching my daughter dance in her chair to the music at the beginning of James and the Giant Peach and listening to my son ask questions throughout the show, reinforced my belief that this is a hidden gem in New Jersey!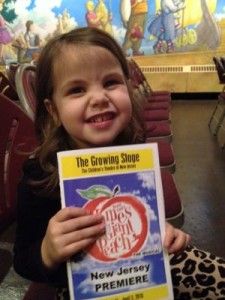 For those who are not familiar with Roald Dahl's beloved children's book, James and the Giant Peach, here is a quick summary. The main character James, portrayed by Danielle Becht, is an orphan who is given to his two aunts since they are "family." He is then essentially made to be an indentured servant.  A mysterious wizard, Ladahlord portrayed by Robert Allan, appears and shows James a magic potion which our protagonist ends up spilling on the ground to be consumed by a dead peach tree and some bugs.
Within a short period of time the peach grows to an enormous size.  James ends up exploring the peach right before it falls from the tree and encounters several bugs that have now also grown exceptionally large.  The peach rolls away through the land, off the cliffs, and into the ocean to travel to an unknown destination.  The pace of this play is fast, a majority of the music is upbeat, and the story carries several wonderful themes.
Mommy University Presents
3 Inspiring Themes in James and the Giant Peach
Overcoming Obstacles
Throughout this play, James is constantly thrown many hurdles. From the loss of his parents to living with his vile aunts, there are not a lot of good things that happen to this young man. Performing as Spiker and Sponge, the aunts, are Martha Harvey and Lori B. Lawrence respectively. We can easily loathe these characters as they inject fantastic comic relief, and their singing is fantastic. While at first, I didn't realize how many difficulties James faced because he was consistently optimistic and always focused on solutions. This is a wonderful message for young children, and the positive focus on resilience, tenacity, and focusing on solutions is inspiring!
Family of Friends
Families are changing in shape and form. When originally placed with his aunts he is told this is his family; however they are abusive and demeaning to James. Eventually, James creates his own family in Ladybug, Grasshopper, Spider, Earthworm, and Centipede, the bugs he encounters inside the giant peach. Towards the end of the play, James is confronted by the aunts at which time he identifies the overgrown insects as his family because for him what defined family was represented by these characters.
Acceptance
There is a theme within the play about differences. Centipede points out several times how humans kill insects like spider's fiancé and ladybug's family. His attempts to plant a seed of distrust never take hold because even the stunning Spider, portrayed by Casey Low, sees the content of James' character. A friendship is born because these characters do not get lost in superficial appearances but rather see each other based on their qualities.
James and The Giant Peach has everything you could want in a play. It has excitement, humor, amazing acting, great singing and inspiring story lines. I could have kept watching the performers all night. Izzy Figueroa as the Centipede captivates the audience as do his counterparts Cara Ganski as Ladybug, Robert Mintz as Grasshopper, and, rounding out the team, Jeremy Feight as Earthworm. It was an absolute pleasure to see this show, and I know your family will love it as much as we did!
James and The Giant Peach opened on March 11 and will be at The Growing Stage until April 3. Friday performances are at 7pm, while Saturday and Sunday performances are at 4pm.  Tickets can be purchased at www.growingstage.com
*In full disclosure, we received tickets to the show in exchange for our honest review.