All children like dinosaurs.  Whether it is a simple appreciation to the more sophisticated fascination, most children can name their favorite dinosaur without hesitation.  However, if your child's interest leans towards passion or extreme interest, then this list may be the one you are looking for as you think about upcoming birthdays or holidays.
Walking through Toy Fair, a few themes became apparent including that while the dinosaurs may be extinct, they are certainly forever a love to children and thus reflected in the toys being made.  Whether it is the traditional dinosaur figurine that supports imaginative play and academic learning to a board game that promotes positive interactions to the dinosaur meets robot, dinosaurs are definitely being heard as they roared their presence at Toy Fair.
Mommy University Presents
5 Toys that Will Make You Roar
 Giant Volcano with T Rex (Schleich)
Schleich has been making hand painted figurines that range from fairies to horses and most importantly for this post Dinosaurs!  This year, they are launching themed play worlds and the dinosaurs are roaring up a storm with the Giant Volcano set.  The background for this world includes bubbling lava, skeletons, and the most impressive T. Rex.  Children will have a fabulous three dimensional diorama for battles amongst these massive creatures.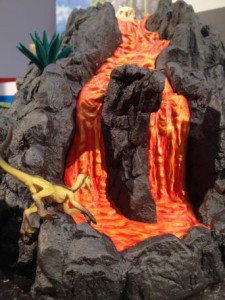 Dinosaur Escape Board Game (Peaceable Kingdom)
This new release from Peaceable Kingdom is part of their cooperation game series that encourage young children to work together to solve a problem.  In this case, children are asked to save the dinosaurs before the volcano erupts.  If you have a dinosaur fan in your home this game will invite them to build taking turns and improving collaborative skills.
Meccasaur (Spin Master)
For the older dinosaur fan in your home, check out Spin Master's Meccasaur.  Recommended for children ages 10 and older, Meccasaur is great exposure to robotics and is an innovative building toy.  After they are done constructing this creature, it becomes fully interactive.  As we were able to firsthand witness it's personality at Toy Fair as he roared at us.  Apparently, it can also purr if you pet it and respond to Yes/No questions.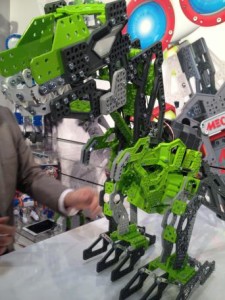 Walking Dinosaur (Magformers)
We are huge fans of the building toy Magformers, and the new release of the Walking Dinosaur has us intrigued.  Children can build 15 different types of walking dinosaurs which includes T. Rex, Triceratops, Stegosaurus and more.  The bright and bold colors of the Magformers invite children to play, and this set is compatible with other Magformers which translates to an increase of possibilities if you have some sets at home.  Building the Jurassic creatures will be transformed as children can now have it walk.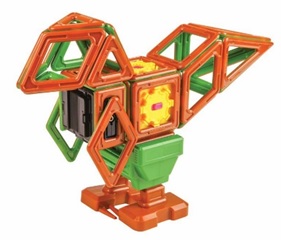 Dino X-Team Prehistoric Safari (Uncle Milton)
We already were fans of the Dino X-Team product line from Uncle Milton, so the release of their new Virtual Explorer Line takes their cool toys to a whole new reality.  Children will be able to dig up the skeleton of a dinosaur which improves fine motor skills and visual spatial awareness, but now with the addition of the goggles children will be transported to a prehistoric time to see the dinosaurs!  We tested out this product at Toy Fair and it is super cool! This toy will be available in the fall but we think this will be a hit for the holiday lists.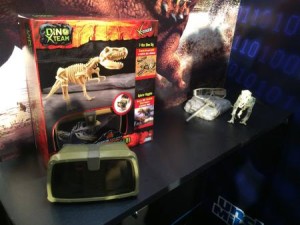 This is not a sponsored post. We believe is learning is achieved through play and we love toys.
 You may also enjoy:
Brain Boosting Toys From Toy Fair: 5 Toys That Inspire Kids to Tinker