"Kids learn best through play." Now if you follow Mommy University, you know this is a statement you can find all throughout our website. What you probably don't know is that this particular quote comes directly from the Smugglers' Notch website. That's right! On the children's ski and ride section, parents will find that Smugglers' Notch doesn't just teach kids how to ski; the Snow Sport University programs teach them to ski in a fun, playful and safe environment.
At Smugglers' Notch, children beginning of at age 3-years-old can participate in one of their award-winning all-day children's programs. Smuggs believes that you are never too young to learn how to ski. In fact, some children who attend Treasures Daycare will be introduced to skiing at age 2.5! Skiing helps kids build important developmental skills such as balance, coordination, motor planning and problem solving. It also helps build confidence so why not get them on skis as soon as possible?!
Our family recently had the pleasure of winning a weekend getaway at Smugglers' Notch. As part of our package, my kids were able to participate in full day ski camps. From the moment we arrived, I knew they would have fun. The teachers were friendly and engaging. They immediately took an interest in my boys and made sure they were comfortable before we left. Yes parents, you get to leave your kids for the entire day! What I loved is that both of my boys were each provided a Flaik GPS which allowed me to follow their movement throughout their day at camp.
Camp takes place from 9:00am – 4pm. At the start of camp, kids are provided with various toys and encouraged to play. This not only made them comfortable but encouraged them to socialize with other kids in their group. It was a great ice breaker! Kids are also provided breaks throughout the day including a healthy lunch. I snuck in during lunch and noticed my son had even eaten all his carrots. I guess it takes a fun day on the slopes to get my son to eat all his veggies!
At around 2:30pm, the campers are all brought back to the lodge for afternoon entertainment. Parents can pick their kids up then or choose to have them stay for the show The entertainment varies each day and can include a movie, science show, magic show and more. On the first day of camp, I decided to let my boys stay until 4pm because they were going to see a science show. Since my kids LOVE science, I knew they would want to see the show (and I was right!)
Smugglers' Notch offers full day camps for children ages 3-15. The groups are broken up by age which usually correlates with ability as well. My 4-year-old was in the Discovery Dynamos program (guided discovery with care for preschoolers) while my 6-year-old participated in Trail Blazers which focuses on the development of Kindergarteners and 1st graders. Other groups include Adventure Rangers (ages 7-10) and Notch Squad (ages 11-15).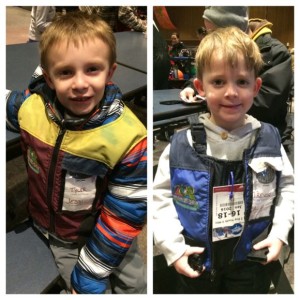 Each group explores parts of the mountain that are suitable for their ability levels. Since my boys were novice skiers and in the younger age group, they spent a majority of their time at the new on-snow playground and Sir Henry's Learning Hill. Since the playground is conveniently located next to the lodge, I was able to take a sneak peek at my little one's lesson. I loved the attention he received from his instructors. They were patient, kind and encouraging which made the experience even better for my son. I loved watching him smile and laugh as well as beam with pride as he went down the small hill.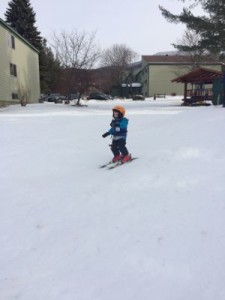 When I picked up my boys from camp, they were so excited to share everything they had seen, done and learned. What I loved is that they didn't just talk about skiing. They talked about their new friends, their cool instructors and the fun activities they did during their camp day. My son loved telling me about a fun game he played where he had to ski through the black hole then stop before he got "sucked in." Of course I loved the science reference in this learning to ski experience. My son also loved telling me about a snowman he had built.
While listening to my kids boast about their day, I knew they had an amazing learning experience. I knew that the Smugglers' Notch ski instructors really get it. They understand that kids learn best through play and having fun. Kids learn best by being engaged and feeling important. Through play kids build confidence along with many other important developmental skills. By turning a ski lesson into a game or making it feel like a day of playing, kids will be able to truly learn. Thank you Smugglers' Notch for a learn to ski experience my kids will never forget!
For more information, visit Smuggs.com!
In full disclosure, we were provided ski lessons as part of our ski weekend package. All opinions are completely my own.
You may also enjoy:
Our Winter Adventure at Smugglers' Notch
10 Educational Winter Experiences at Smugglers' Notch Resort
5 Reasons to Take a Snowshoeing Adventure at Smugglers' Notch