Young Padawans to Jedis will enjoy Wonder Forge Star Wars Games!
No Spoilers in this Review!  We have been celebrating the iconic Star Wars this year with a May the Fourth Be With You Party, visiting Discovery Times Square, and, most recently, by having a Star Wars Game Night! The Star Wars products are out in full "force" and while this pun may never grow tired at Mommy University, we were super excited to receive a line of Star Wars games from Wonder Forge to review. Wonder Forge produces phenomenal board games that encourage family and friends to gather around the table for fun, humor and bonding.
For our Star Wars Game Night, it was a quiet Sunday afternoon where the kids were able to wear costumes from the various movies reenacting the different characters they have grown to love. After they tired themselves out, we had some snacks in themed cups and plates from Costume Supercenter as we tried out games for the youngest in our group. The kids loved playing the different games and there was some definite competition which all became opportunities for teachable moments.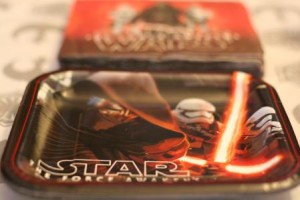 What makes this review different from others is that it will focus on three of the Star Wars board games that vary in the target age range. While there is Star Destroyer Strike and Galaxy Hunt for the young padawan, there is Pictopia for the Jedi Master. Each games offers unique invitations for children to learn through play.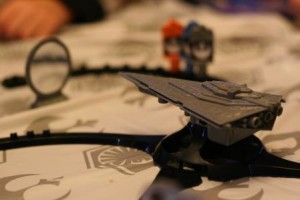 Mommy University Presents
Star Wars Game Night
Star Destroyer Strike
This fast-moving game is designed for 2-4 players who are at least six years old. The Star Destroyer sits at the center of this uniquely shaped board game and is spun each turn as it attempts to destroy each character. Each player has four characters from the Star Wars universe that they need to move to safety before they are destroyed. This is a competitive game thus the other players are your opponents and they can position the Star Destroyer to fire at your characters.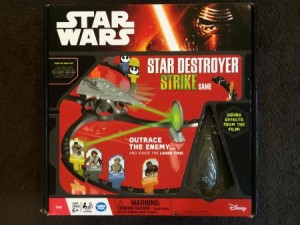 This game encourages children to maximize time management skills as well to use strategic techniques. Our children had to quickly decide between two different actions which impacted the survival of their characters. The game also promotes physical dexterity and deductive reasoning. However, one of the most interesting benefits we noticed with our children was learning sportsmanship. As our children are beginning to learn how to compete against each other, they are also learning how to lose graciously.
Children will enjoy taking the Star Destroyer for a spin in this Wonder Forge game.  This game is available on Amazon (affiliate link) for under $20.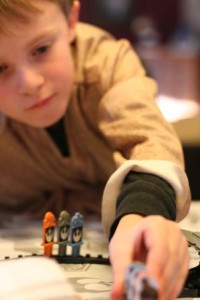 Galaxy Hunt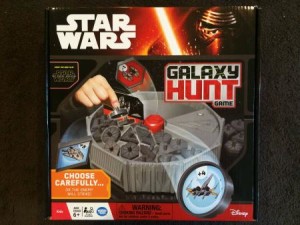 A suspenseful game, Galaxy Hunt, has double pressure. As you spin the board which determines what shaped piece to select you might pick a negative point piece. In addition, when a piece is removed the Star Destroyer, that is the red bar, might move thus causing you to lose your piece. Each player needs to remove a piece and find out if they have recruited more assistance from allied starships.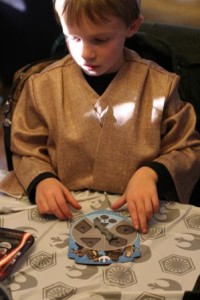 We enjoyed the introduction to geometric shapes as our children identified circles, triangles and hexagons. However, for children ages 6 and older, they will enjoy this game as they have to use deductive reasoning to win. As children spin the board they are given the option of a shape to select so now they are challenged to pick a piece that will not cause the bar to move. They have to use deductive reasoning to determine which piece to select.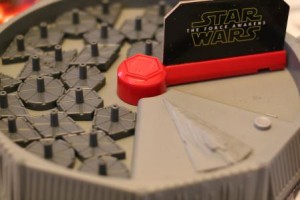 A lesson that our children struggled with is patience while taking turns which is another skill they do need to master in order to achieve good sportsmanship.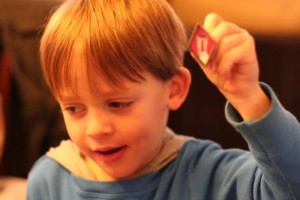 For the target range of this game, they will be practicing their math skills as they tally their pieces to see how many points they have at the end of the game.
If you are hunting for a great game for the Star Wars fan ages 6 and older, then check out Galaxy Hunt.  This can be purchased for $14.99 at Amazon (affiliate link).
Pictopia
If you think you are a Jedi master of Star Wars trivia, then invite some allies over for game night with Pictopia. Overflowing with 1,000 questions you will be surprised by the depth and diversity of knowledge needed to be the winner of this game.
While my husband and I played this game, we felt more players would have increased the fun. As we often think of board games for children, they serve adults benefits such as bonding, improving memory and relaxing (unless of course you lose).  Since we are both fans of this genre, it was interesting to learn what we have paid attention to in the movies.
While this game is designed for children 7 and older it might be more appropriate for older kids unless they are already a Star Wars guru.  Pictopia can be purchased on Amazon for under $25.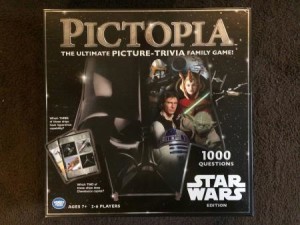 The beauty of the Wonder Forge board games is that it is perfect for the young padawan that has been inducted into Star Wars universe meanwhile reinforcing concepts that we have reviewed. At the same time, the lifelong fan can demonstrate their Jedi proficiency with games like Pictopia and form bonds with family and friends. Have fun at your next Star Wars Game Night!
You may also enjoy: