We all LOVE the first snowfall! The peacefulness of the snow falling, the beauty it brings as it blankets the ground and, of course, the excitement in our kids' eyes when they realize they have a snow day. It's all the storms afterwards that become daunting!
If your kids are anything like mine, then they take 20 minutes to put on all the snow gear then decide they are done playing after only 5 minutes of being outside. Now, this doesn't happen every time, but enough to make me wonder what else can we do with the snow besides the traditional sledding and snowman building. One winter, after having more snow storms than I would like to count, I came up with some fun science and art activities using snow. My kids love doing science experiments and art projects so why not use the fresh snow to engage in some fun learning activities!
Brain Boosting Activities Using Snow
Snow Volcano
Making a snow volcano is so easy, and it is a lot of fun! All you have to do is form the snow into a shape of a volcano leaving a hole at the top to place a cup. Then add baking soda and food coloring (we used red to make it look like lava) into the cup. Last, pour vinegar into the hole and watch it explode! This is an activity that can be done over and over again. To add another learning element, have the kids make hypotheses about what they think will happen, then have them document the results.
Sugar On Snow
If you have ever visited Vermont especially during maple sugar season, then you have heard of Sugar On Snow. To make this yummy treat, you will need real maple syrup, not the Mrs. Butterworth. Most recipes recommend Grade A Light Amber. First, you boil the syrup to 234 degrees farenheit. Then add snow to a large bowl. Once the syrup has reached the desired temperature, you can pour it over the snow. Have the kids predict what they think will happen before you pour it. They will love how it turns into a delicious taffy-like candy! For more help, check out this video from the Food Network.
Snow Experiments
After learning about Sugar On Snow, I thought, "What happens when you pour other household ingredients on snow?" That's when our snow experiments were born. First we gathered some basic household ingredients such as OJ, baking soda, honey, vinegar and salt. Then the boys filled cups with snow, one for each ingredient. I wrote the name of each ingredient on the cup so we wouldn't forget what we used and to keep a record of the results. My kids and I made predictions on what would happen when we added the ingredients then watched in awe. Check out our YouTube videos of some of our results!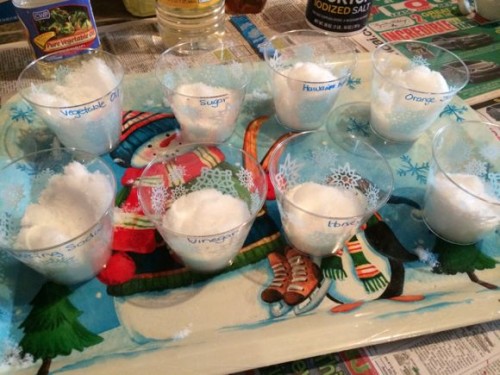 Color Mixing
After adding all the household ingredients, we decided to add food coloring next. This was a fun way to introduce my kids to art! We added single colors then combined colors to see what would happen. It was a great lesson in color recognition and color mixing. This is a fun activity for your budding artist!
Painting Snow
I am sure you have seen and heard about painting snow. It is an easy and fun activity using snow that all kids will love! All you have to do is add water and food coloring to a squirt bottle and paint away. Don't have food coloring? You can also use powdered Hawaiian Punch mix. This is a fun activity that builds fine motor skills while also enhancing creativity!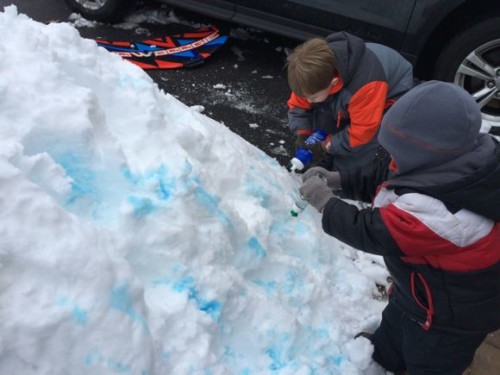 I hope you find these activities using snow fun and will add them to your snow day traditions!
You may also enjoy: