Toy Fair is where adults become children again. Every toy company has booths to present their collection of toys and new releases for the upcoming year. In fact, some toys are so new that the companies only have the prototype available for display. As a courtesy we ask if photos can be taken because yes, sometimes the releases are top-secret.
As parents and educators and, let's be honest, children at heart, it was amazing to see what each company's toy selection included. It gave me such insight to see the passion the creators of the toys have for their products. To listen to the Creative Director explain why a toy functions the way it does and the research that was compiled that drove those decisions was fascinating.
In this article, we have compiled a list of toys that sparks the imagination and encourages pretend play. When children engage in imaginative play, they boost important developmental skills such as language and social awareness. We hope you enjoy our list!
Brain Boosting Imaginative Toys at Toy Fair NY 2015
New Sprouts (Learning Resources)
Learning Resources produces amazing products from science kits to educational games, but we selected the New Sprouts collection because of its recent expansion which includes a watermelon fruit bowl, campfire (with s'mores) and waffle set to name a few. The colors are beautiful but there is little pigment used so no concerns about paint coming off as let's be honest some children will still put play food in their mouth.
My First Magic Set (Alex Toys)
Not only is Alex Toys a Jersey based company which gets an online high-five from us, but they produce a huge amount of toys. From Science Kits that we have used on snow days to play camping toys to the infamous Slinky which is celebrating 70 years of engaging children, Alex has toys from everyone. It was the My First Magic Set that really captured our attention at Toy Fair. It might have been witnessing Ryan Oakes demonstrate how easy this set is for the fledgling magician that made us so excited. This is the perfect set for your child that longs to be the next Houdini or David Copperfield. It offers fun tricks and illusions that children ages 4 and up can do! It even comes with an instructional DVD.
Super Max (Cloud b)
Cloud b makes incredibly soft and huggable creatures that have been helping babies, toddlers and children fall asleep for years. The Sleep Sheep has been a staple present for new moms every year because of the research behind it plus its quality design. We selected Super Max because of the story that sparked its creation. Max Wilford, a 7-year-old patient battling brain cancer, found comfort in the green stars projected from his Twilight Turtle. It helped him so much that he wanted all kids in the hospital to feel the same way. To honor Max, Cloud b created this small, portable and non-plush turtle for children to enjoy anywhere including a sterile hospital room. You can read about the story here but be prepared to have a tissue because it made us tear up listening to the story at Toy Fair.
Watering Can (Green Toys)
Personally, I not only love the philosophy that established Green Toys but I deeply enjoy their products in my home. I was so impressed to meet the owners of the company and learn about the new products such as the Watering Can. Green Toys has many toys for imaginative play and this is the perfect one as summer approaches. You can have your child pretend that they are growing their own plants, and when they are old enough or you feel comfortable enough, it can transition to a useful gardening tool.
Food Stand and Carts (Melissa & Doug)
I have always loved the toys offered by Melissa & Doug. They provide hours of learning through play for children of all ages. At Toy Fair, we were introduced to adorable food stand and carts that any kid would love to have. From selling ice cream to making hot dogs to running a farmers market, the pretend play options are endless. While playing, kids are also able to learn life skills as well as build basic math skills!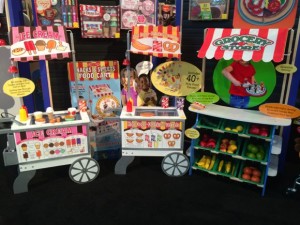 You may also enjoy:
Brain Boosting Academic and Cognitive Toys from Toy Fair 2015
Brain Boosting Art Toys from Toy Fair 2015