We are so excited to work with Disney On Ice to bring you all the magic Disney has to offer families!
Disney on Ice travels the United States offering families mesmerizing performances retelling brief pieces of classic stories that children have fallen in love with over the years. In 2015, the show has a central theme highlighting 100 Years of Magic. The show does not tell an entire story but excerpts from the early tales like Pinocchio to the modern stories such as Frozen. The hosts of the production are Mickey and Minnie Mouse who navigate the audience through the different presentations. Families will be entranced by acrobatic ice skating, stunning special effects, and breathtaking costumes.
Mommy University Presents
The Magical Lessons of Disney on Ice:
100 Years of Magic
The Magic of Family
A friend had attended the show with us and admitted to not seeing Frozen. After you get past the shock that there is actually someone in New Jersey that has not seen Frozen, I can report that it is a beautiful experience to see interpreted for ice skating. Within this abbreviated version remains the core of this story which is about family. Two sisters separated by a secret, they are reunited through their love of each other. The special effects for Frozen are stunning with falling snowflakes, a fabric ice palace, and the freezing of Anna.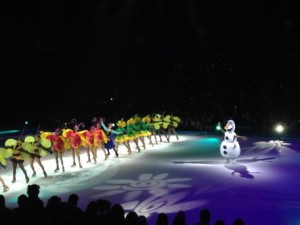 The Magic of Friends
There is nothing like the ultimate film about friendship like Toy Story as Buddy and Woody learn that not only do they accept each other but they are wonderful complements to each other. Toy Story has a wonderful message about friendship and embracing those that are different from us. However, children may just love seeing the little toy soldiers coordinated movements on ice which is amazing!
The Magic of Love
Disney is well known for its love stories that have stood the test of time. While, there was no specific romance story highlighted in this show, Disney brought out all the princesses for a performance. If anything, Disney On Ice emphasizes the love stories within friendships and family. For instance, the love that transforms Pinocchio from a wooden toy to a real boy is highlighted as he loses his strings in this show.
The Magic of Being Yourself
Surrounding the story of Mulan, is a young girl who has many dreams. Mulan defies old beliefs and along her journey finds herself. Within her challenges, finding her own voice and self-awareness enables her to achieve unchartered success. If that doesn't grab your attention, there is a dragon in the show that certainly will!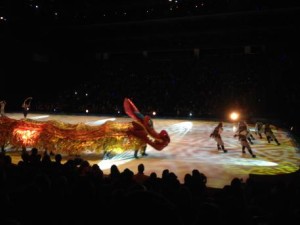 The Magic of Magic
Aladdin is my favorite Disney movie and to see it on the ice is breathtaking. While last year's show focused on the romance between Jasmine and Aladdin, 100 Years of Magic focuses on the friendship between Aladdin and the Genie. Seeing a line of Genies as he is often imitated but never duplicated had everyone clapping.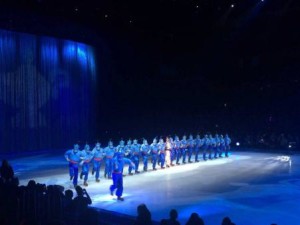 This has been my third Disney on Ice performance and it is always a first rate production. The ice skating is acrobatic and gravity defying, the costumes are captivating, and the sets are awesome. Your children will not be disappointed after watching this show and it is a phenomenal family experience.
Disney On Ice will be heading to Philadelphia December 24 to January 3, 2016.  For the full schedule as well as the Disney Live schedule, you can go to the website www.DisneyOnIce.com.
You may also enjoy:
30 Day Educational Disney Countdown Part 1, Part 2 and Part 3
10 Educational Experiences at Magic Kingdom