*Splendiferous is a fancy way to say magnificent, sparkly, and joyous!
As the holidays are approaching there are so many family friendly Christmas shows to enjoy as a family. We were so excited to be invited to attend a performance of Fancy Nancy Splendiferous Christmas at WP Presents. It is a wonderful show for young children that will keep them engaged and enthralled. The music is fun, the stage sets are inviting and the humor will keep you laughing.
Nancy Clancy is a precocious young girl that is about to celebrate the fanciest time of the year: Christmas! She prefers to see all the sparkle, shine and magnificence of getting fancy, which is ironic since her parents tend to be a little plain. Rounding out her family is Jojo, her younger and charismatic sister, and her sweet grandfather. As they are preparing for the holidays, Fancy Nancy wants the perfect tree topper, and along her adventure to acquire it, she learns that the meaning of Christmas is more than achieving perfection.
On the campus of William Paterson University is the home of WP Presents! which hosts a diverse quality of programs including family friendly shows. We were guests of the WP Presents! performance of Fancy Nancy Splendiferous Christmas which was performed by Vital Theater, on December 5, 2015 at 2pm in the Shea Auditorium.
As a parent of a young girl, I struggle to find books and shows that I think meet my definition for quality. Thanks to WP Presents, however, I am now adding Fancy Nancy books to my daughter's library. I want to elaborate on why Fancy Nancy is such a phenomenal show.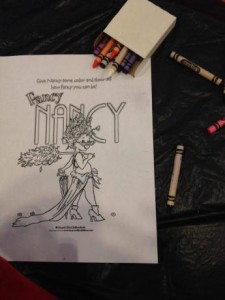 Mommy University Presents
Reasons Fancy Nancy is Splendiferous
Encourages Music Appreciation
The show runs an hour in length and within every few minutes there is a song that will keep your toes tapping. My daughter and her friend sat quietly with smiles on their faces from the first song to the last. The music was upbeat transitioning each scene perfectly.
Encourages Art Appreciation
One of the unique features of the WP Presents! family friendly programs is that there are craft projects that relate to the shows shortly before the performance. The art project that was designed for Fancy Nancy was a decorative pen that we can imagine the heroine of this show using. Children picked a pen already adorned with a feather, and then we were able to select washi tape to finish decorating it. Let's just say, I cannot use the Fancy Nancy pen as my daughter is the only one allowed to use it in our home!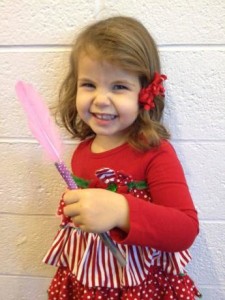 Promotes Children's Literacy
As an avid reader, my favorite aspect of this show is the incorporation of strong vocabulary words. Since Nancy loves to be fancy, she is always introducing synonyms. In the first scene, she informs Jojo, "perusing is a fancy way of saying looking." From aroma to heirloom to joyeux noel, the words keep flowing and I love it! Her introduction of these words is done in a humorous and engaging way that had my daughter now saying the word delectable.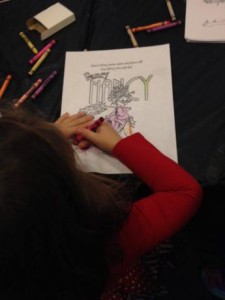 Upholds Authenticity (and not Perfection)
Within Fancy Nancy's journey to acquire the ideal tree topper that fits her definition of perfection, Nancy realizes that you don't sacrifice the happiness of someone you love. She is taught a valuable lesson from her grandfather which is important because it tells the audience that although Fancy Nancy wants everything to be brilliant and splendiferous, it is not achieved with hurting others. This story communicates beautiful and small lessons for this audience that conveys a strong message about the meaning of Christmas.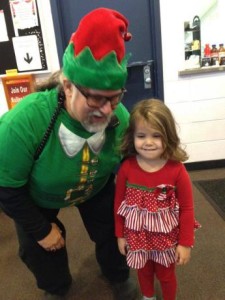 The next WP Presents! show will be the New Jersey Symphony Orchestra on March 18, 2016, at 8pm.  This is a FREE event! For a full schedule of family friendly shows click here!
Mommy University received tickets to see Fancy Nancy in exchange for an honest review.  All opinions expressed belong to Mommy University.