A review of The Flying Ace from Wonder Forge
When Charles Schultz created his characters in the Peanuts comic strip, one of the messages that came across that resonated with audiences was to Dream Big. One of the most iconic and America's most loved Beagles Snoopy conveys this idea frequently. As the charismatic companion to Charlie Brown leaps up on his red doghouse, he transforms into the pilot of The Flying Ace who battles his nemesis the Red Baron. Wonder Forge has transformed this story into a family game that encourages strategy, fine motor skills and visual identification.
At Mommy University, we were happy to receive a complimentary   sample of The Flying Ace game for our family to play with, learn from and share with you. The Flying Ace, designed for 2-4 players ages 4 and older, has some unique rules because it is a unique game. Each player picks a color and receives playing cards and chips. The board sits at the center of all the players so that they can access the spinner which consists of The Flying Ace on one end and the Red Baron on the other. When spun, it flies around the Eiffel Tower.
As players take turns spinning Snoopy, every player flips cards that they have one at a time. When there is a matching image of a Peanuts character, the players must quickly place their colored chip on that character's image on the board. Only one player's chip can reside in that space. If the Flying Ace lands on a Peanuts character that is occupied by a chip that is the winner for the game! The game offers suggestions for how to make it more challenging if you have older kids, and we even designed a few of our own methods.
While this game does help children expand on developmental benefits like fine motor and visual skills, I want to focus on social and emotional developments we noticed when Mommy University's kids took the game for a spin.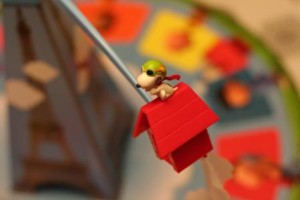 Mommy University Presents
Benefits of The Flying Ace
Increases Patience
Whether there are two or four players, every player gets to spin. For some reason our children thought turning the spinner offered an advantage while in fact, there was no benefit for he player to moving the Flying Ace spinner other than it was fun. For preschoolers, waiting their turn to spin Snoopy takes patience. With each game, they were learning through play to develop this quality.
Enhances Turn Taking Behavior
Since this game moves very quickly as the spinner only lasts a short period of time, each player gets a turn to spin the Flying Ace numerous times. This is a very interactive game which I thought made reinforcing taking turns perfect. Players must pay attention to their peers so they know when their turn is next. They also have to patiently wait until their turn is up.
Kids Learn It's Okay To Lose
Our children, ranging from 3-6, are becoming very adept at playing board games yet not good at losing games. The Flying Ace moves quickly and so many turns can happen in a short period of time, but there was still whining on who won or lost the game. Since there are many chances to win AND lose, kids learn that it is okay to lose. They also learn the art of defeat as well as congratulating a peer for winning.
When all of these items are wrapped up together, it reflects skills needed to be a strong team player. Often times we refer to this as good sportsmanship; however, these are good qualities we want our children to acquire for all aspects of life. My son has asked to play this game every night after playing it for the first time at a friend's house. It takes only a few minutes to put together and clean up, and it is a game that operates at young children's attention span. The Flying Ace from Wonder Forge is a great addition to our family game nights as well as before watching a Peanuts film.  It can be purchased on Amazon for $16.99.
Mommy University was provided The Flying Ace by Wonder Forge in exchange for an honest review.  All the opinions listed in this review belong to us.
You may also enjoy: