Mommy University is very excited to partner with Paper Mill Playhouse this holiday season to bring you an honest review of their holiday show, A Christmas Carol: The Musical.
One of the most loved and cherished holiday movies of all time is A Christmas Story. In many households it's a family tradition to watch this movie at least once before Christmas. I'm sure you can think of at least 3 of your favorite scenes before you even finish reading this sentence!
This season, Paper Mill Playhouse located in Millburn, NJ offers a comical, heart warming and witty theatrical interpretation of this Christmas classic. From now through January 3, 2016, families can see these beloved characters and iconic scenes come to life on stage.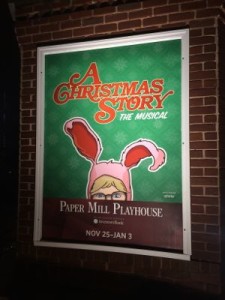 With a Book by Joseph Robinette and Music and Lyrics by Benj Pasek and Justin Paul, A Christmas Story is a wonderful way to get into the holiday spirit. Directed by Brandon Ivie, this funny and engaging musical captures the magic of Christmas. Producing Artistic Director Mark S. Hoebee along with Managing Director Todd Schmidt, Music Director Ben Whiteley and Choreographer Mara Newbery Greer will make A Christmas Story: The Musical a show you will want to see over and over again.
For those who don't know, A Christmas Story is comedy about family, love and holiday spirit. The musical is narrated by Jean Shephard (adult Ralphie) played by the amazing Ted Koch. We follow him as he reminisces about a particular Christmas season that holds a special place in his heart. We immediately become invested in Ralphie's journey to obtain his ultimate Christmas present, an Official Red Ryder Carbine-Action 200-shot Range Air Rifle. You will find yourself laughing, tapping your feet and cheering on Ralphie during his quest for the gift no one else thinks he should have.
With an unbelievably talented cast, amazing choreography, festive costumes and a gorgeous set design, you can't help but fall in love with this production. I was especially impressed with the group of incredibly talented young actors. The singing, acting and dancing ability of these tiny performers was astounding and inspiring.
I loved seeing my favorite scenes like Randy wearing the snowsuit, Flick getting his tongue stuck on the flagpole, Ralphie wearing the bunny pajamas and the family's Christmas dinner at a Chinese restaurant. I also loved sharing these moments with my son. Even though we have watched this movie at home, my 6-year old was definitely more interested and emotionally invested in the play version. He still talks about the BB gun that Ralphie wanted for Christmas, and every time we pass a flagpole he asks if his tongue would get stuck to it.
Besides being funny and engaging, what I really loved about this play was how relatable it was for all ages. Every audience member can relate to at least one character, one relationship and one interaction. I was really able to relate to the song entitled "What a Mother Does." Through these touching lyrics, Ralphie's mom highlights all the hard work that is put into motherhood. From cooking to cleaning to reading bedtime stories, moms are alway busy. She also focuses on her mission to make this the best Christmas ever despite trying times. It is the dream of every mom to provide their kids a memorable and magical experience for Christmas.
My son was able to relate to the dream of having the perfect holiday present. The scenes showing Ralphie's incredible imagination also captured my son's interest. Kids often have wild imaginations and unique perspectives on situations so watching the young actors bring these ideas to life on stage helped my son understand this story at a child's level. For a parent, I enjoyed a night out with my son and watching him smile and laugh!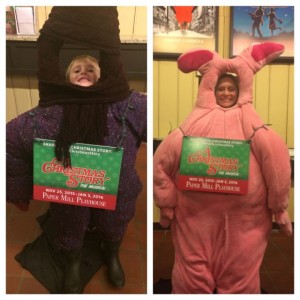 If you are looking for the perfect holiday show for the entire family, then A Christmas Story: The Musical is for you! It is running through January 3, 2016 with shows available Wednesday through Thursday along with special holiday performances. Tickets can be purchased online or by visiting or calling the Paper Mill Playhouse Box Office.
The Paper Mill Playhouse prides itself on offering performances for all theatre goers. On December 19-20, 2015, there will be audio-described performances of A Christmas Story: The Musical. There will also be a sign-interpreted and open captioned performance on December 20, 2015. On December 28, 2015 Paper Mill Playhouse will host a free open house, Meet Your Seat, where children who are new to the theater experience along with children with developmental delays can visit the theater making for an easier and more comfortable transition. A special autism-friendly performance will take place on December 29, 2015 at 1:30pm. For this performance, the theater will be transformed allowing for a sensory-friendly experience including adjusted lighting and sound.
In full disclosure, we received 2 tickets to a performance of A Christmas Carol in exchange for an honest review.