We are so excited to bring you this year's Play and Learn Stocking Stuffer Guide. We are thrilled to partner with Crayola, Educational Insights, SmartGames and Creativity for Kids who provided some of the brain boosting toys on this list so we can share them with you this holiday season.
Ever since I was a little girl, my favorite part of Christmas morning was digging through my stocking to see what treasures Santa (a.k.a. mom) had left me. Don't get me wrong, I loved opening the presents under the tree too, but there was just something exciting about looking through a stocking.
This season, fill your kids stocking with toys that are not only fun but also educational. As I stated in our Play and Learn Holiday Gift Guide, toys should serve a purpose and encourage growth and development. What you put in your child's stocking should be no exception! Here are some suggestions for brain boosting stocking stuffers!
Mommy University's Play and Learn
Stocking Stuffer Guide
IQ Blox (SmartGames)
IQ Blox by SmartGames is an exciting thinking and reasoning game that will keep kids (and adults) entertained for hours. It is a multi-level logic game that helps boost cognitive development while having fun! IQ Blox is perfect for traveling or even just playing in the shopping cart. IQ Blox is only $9.99 on Amazon.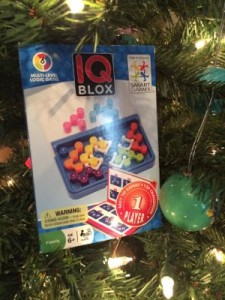 Dream Catcher Bracelets  (Creativity for Kids)
If you are looking for a craft project that has kids developing their fine motor skills while being creative, then the Dream Catcher Bracelets from Creativity for Kids are for you. These projects take time but at the end your kids will have jewelry that they can wear and show off their own personal style. The recommended age for this kit is 7 years and older. Dream Catcher Bracelets are under $10 on Amazon.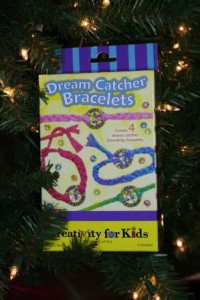 Puppets on a Stick (Educational Insights)
Puppets on a Stick are the perfect addition to any stocking. These adorable and durable puppets provide hours of fun while boosting kids' imagination and creativity. Language skills are also enhanced as kids create their own stories and imaginary worlds. The Sea Squad Puppets (4 included) sells for around $35 on Amazon. Puppets on a Stick are also available as pens in a wide variety of styles including seasonal selections. The larger puppets come in a variety of colors and designs including dinosaurs and unicorns.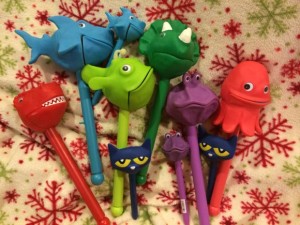 Crayola Art Supplies
Crayola offers a wide variety of art supplies that are perfect for your child's stocking. They are amazing art products that kids can use year round. Art helps kids increase imagination, boost fine motor skills and enhance visual-spatial awareness. I recommend the Crayola Creativity Tub or the Creative Color and Paint Kit.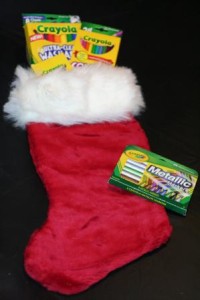 Creativity Cans (Creativity for Kids)
Creativity Cans offer a fun and unique STEAM experience. They come in 8 designs: Motion, Music, Art, Critters, Stories, Build, the original Creativity Can and the Big Creativity Can. Each can comes with anywhere from 30 to more than 100 pieces that kids can use to develop their own creations. Creativity Can not only sparks the imagination but it also boosts children's knowledge in engineering, science, literacy, architecture and much more!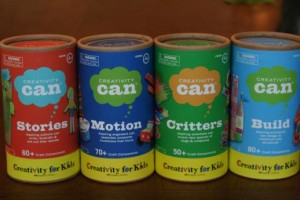 Toobs (Safari Ltd.)
Safari Ltd. Toobs including dinosaurs, farm animals, butterflies and insects are perfect to include in sensory bins. They add texture and a pretend play aspect to sensory learning. They also help increase vocabulary and general knowledge. You can place the entire Toob or just the individual pieces in the stocking.
Play-Doh (Hasbro)
This is one of the best sensory learning toys around! It allows kids to use their imagination and creativity while boosting their fine motor skills. I recommend the Play-Doh Mega Pack which you can open and place the individual containers in the kids' stockings!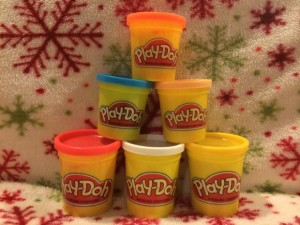 Color Alive (Crayola)
Crayola never ceases to amaze me. Color Alive introduces kids to the world of digital animation and design. With Color Alive Action Coloring Pages, kids can turn their artwork into 3-D creations just by using a FREE and easy to use app. It combines art and technology to create an amazing experience that kids can enjoy for hours! Color Alive is available in a variety of styles on Amazon that appeal to girls and boys.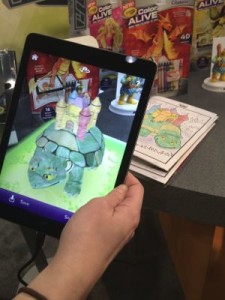 Pop and Stacker Cracker Games (Learning Resources)
These games are fun and exciting ways to help kids learn academic skills such as sight words, letter sounds, colors, counting, math calculations and more. It also involves cooperative play which improves social skills! Pop and Stacker Crackers are the perfect addition to any stocking this season.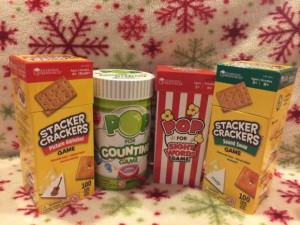 Tiggly Shapes, Counts and Words
Tiggly offers a fun and interactive learning adventure that works with your iPad. Tiggly Shapes comes with 4 colorful shapes: circle, triangle, square and star, while Tiggly Counts comes with 5 colorful counting rods. The newest addition is Tiggly Words which comes with vowels that are used in learning to decode, sound blend, spell and more. Each game comes with 3 iPad apps the kids will LOVE!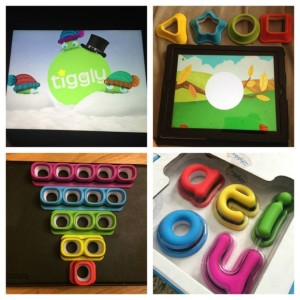 Playskool Heroes Transformers Rescue Bots (Hasbro)
Kids love Transformers. For them it is 2 toys in 1. As a parent, I love how it helps enhance fine motor, visual-spatial and problem solving skills. It also encourages creativity and imagination as kids engage in pretend play independently or with friends. The Rescue Bots come in a variety of styles and prices on Amazon.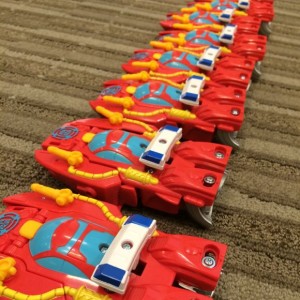 Spot It (Blue Orange Games)
You can never have enough high quality games such as Spot It. This is a simple card game easily contained in a small tin which is the perfect size for traveling. Players have to find the matching symbols (letters, images, numbers; the option depends on which version you have) on two different cards. I have Spot It for my son to help reinforce letter identification but any version helps develop cognitive skills and the ability to compare and contrast. Most Spot It games are under $10 on Amazon.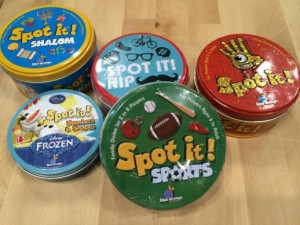 Fun Felt Kits  (Creativity for Kids)
We loved putting together the Fun Felt Safari animals this past summer, so when we learned that Creativity for Kids released additional lines in this collection our house cheered! These kits are the perfect size to fit in stockings but more importantly they are wonderful to pull out on a rainy day or for learning about dinosaurs, animals and more. Children can easily assemble these projects and apply colorful adhesives in a pattern or design they imagine.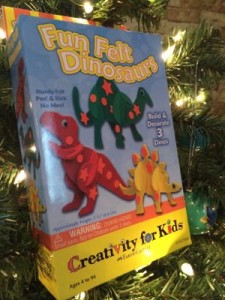 Have fun stuffing those stockings this year with wonderful learning toys!
Also check out these fun guides:
Play and Learn Holiday Gift Guide