Hot, cold or in between, my kids love playing outside. We take out the sidewalk chalk, bubbles and bikes and have a blast. Recently, however, their new obsession is the PlasmaCar from PlaSmart. After reviewing the Kick Flipper, we were provided a sample of the PlasmaCar to play with and then share our views with our readers. I knew it would be fun, but I never imagined it would be a toy the entire family would enjoy!
The PlasmaCar is a unique and innovative ride-on toy for ages 3 and up (including adults). It does not have a motor, does not require batteries and does not need to be charged. Once put together, kids can enjoy the PlasmaCar for hours of uninterrupted play!
So how does it work?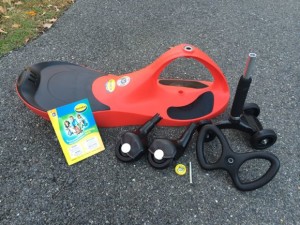 The PlasmaCar must be put together, but don't worry, it is only a few pieces. Make sure you follow the directions exactly, however,  as doing certain steps out of turn can cause some problems. For example, DO NOT tighten the nut in the steering column until AFTER you have aligned the steering wheel. (I know this from experience. Thank goodness for my handy husband!)
Once the PlasmaCar is assembled, place it on a smooth, flat surface. It is not recommended to ride on a hardwood floor, however, as it can scratch it. We played with our PlasmaCar on the driveway. Even though it has a slight incline, it was the perfect spot for us to play. To ride the PlasmaCar, the rider sits on the seat and rests his/her feet on the footrests. The PlasmaCar does not have any pedals and does not need to be pushed to move.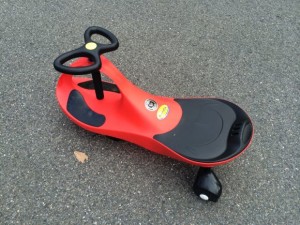 No pedals? So how does it move? According to the website, the PlasmaCar "harnesses the natural force of inertia, centrifugal force, friction and kid power." Now that's a great lesson in physics! To move, the rider simply grips the steering wheel and moves it side to side. Riders can spin around and change direction by turning the steering wheel all the way around.
My boys had so much fun learning how to use the PlasmaCar. Let me honest, I had a blast riding this amazing toy as well! We had a great time zipping down the driveway, figuring out how to get back up the driveway and spinning in circles. We played for hours!
Like all toys we review, the PlaSmart PlasmaCar offers wonderful opportunities for learning through play. The benefits are endless but I will discuss a few I found highlighted as we played with this fun toy!
Benefits of Riding the PlasmaCar
Gets Kids Outdoors
These days kids like to stay inside and play video games. Now I have not exposed my kids to video games but they do love television so introducing them to a new outdoor toy gets them excited about going outside to play. It's also a nice change from sidewalk chalk and scooters. Playing outside keeps kids active and healthy which is an added bonus!
Enhances Motor Skills
Although the PlasmaCar is not propelled by the rider's feet, motor skills are still involved. Believe it or not, moving that steering wheel side to side definitely builds upper body strength and enhances gross motor skills. Kids also have to learn which way to lean in order to get the maximum or minimum speed as well as not to fall over when spinning.
Introduction to Scientific Concepts
As stated above, the PlasmaCar uses scientific principles for it to move. Talk to your kids about these forces and reactions such as centrifugal force and friction. Ask them other times these principles are used. You can also create hypotheses about how long it will take to get down the driveway and who will go down the fastest.
Promotes Family Bonding
The PlasmaCar is not just for kids! It is a toy that can be enjoyed by the entire family. (Riders cannot weigh more than 220 pounds.) Each time we take the PlasmaCar out, we have so much fun playing together. My kids learn to take turns as well as cheer each other on. We also race down the driveway with other toys such as scooters and bikes. It's a great way for families to spend time together. My husband even loved riding it!
The PlasmaCar is a durable toy that I know we will be playing with for years to come! You can get your own PlasmaCar in a wide variety of colors for under $60 using our Amazon affiliate link.
In full disclosure, we received a sample of the PlasmaCar in exchange for our honest review.
You may also enjoy: