Dora & Diego Let's Explore Invites Adventure
We were so excited to be chosen to not only explore the Liberty Science Center, but also offer 4 tickets to giveaway to one lucky family. It is a privilege to partner with the Liberty Science Center as they offer amazing opportunities for families to explore, play and learn!
Hola! Dora and her brother Diego ushered in an era of bilingual learning and fun for young children across the United States.   Dora accompanied with her trusty backpack and map overcome obstacles and encourage problem solving skills to young children as well as introduce Spanish.  Diego rescues animals in his voyages and promotes respect for the environment.
The recent exhibit, Dora & Diego Let's Explore, has occupied every space available in the feature exhibit hall on the fourth floor of the Liberty Science Center (LSC). Mommy University was recently invited to attend a special event organized by Jersey Mom Blogs to investigate Dora & Diego's universe which invites children to learn through play.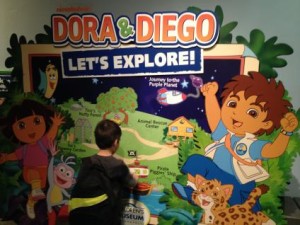 Mommy University Presents
5 Activities Your Kids Will Love at
Dora & Diego Let's Explore
Navigate through a Rainforest Maze
The rainforest maze is perfect to encourage children to run, jump, climb, and maneuver themselves while developing gross motor skills.  From climbing across the rock wall of Jaguar Mountain to getting across the Bobo Brothers' monkey bars to even crawling through a fallen log, active play is key at this station.  However, there are also the little breaks where children can lift hidden doors to reveal animals that live in that habitat.  It was not uncommon to hear children laughing as they made a new discovery or overcame a challenge.
Save an Animal
Just like Diego is out to rescue animals, children are invited to practice caring and helping rainforest animals.  By placing animals on the scanner bed, kids can diagnose the problem and then provide the appropriate treatment at the First-Aid Station.  This pretend play activity encourages children to develop an appreciation of nature as well as become empathetic towards animals.
Plant a Flower in lsa's Flowery Garden
One of the best examples of multi-sensory learning takes place at Isa's Flowery Garden which is also the perfect space for pre-crawlers and early walkers.  The circular space has many fabric flowers that have bendable cords inside which invite children to pluck, plant or even just bend.  In the center of the space is a simple shape puzzle.  Parents can sit outside the space and there are holes in the surrounding fence that invite parents to interact. My favorite part of this space, however, are the three plastic flowers that actually smell likes posies.
Ride on a Rocket Ship
As a parent, I appreciate multi-layered approaches in exhibits that invite different ages of children to play together in the same space.  Within each space there are multiple opportunities for children to be engaged which means children are not competing for the same exact items.  At the head of the ship, there are many buttons so children can select their destination.  In the middle of the ship are wood puzzles that encourage problem solving skills.  At the back of the ship is a matching game that helps develop memory skills. What a fun and engaging area to explore!
Sail on a Pirate Ship
At Dora & Diego's exhibit, children are invited to be an animal conservationist, astronaut, and yes, a pirate.  In the Pirate Ship, their imaginations can set sail as they dress as buccaneers and steer the ship while raising Pirate Piggies' flag.  As well, children can look through telescopes to see land ahoy or spot a treasure chest.  Children will enjoy pretend play especially when they can divvy up the coins and store them in the treasure chest.  In each instance at the Pirate Ship, there is also the opportunity for children to learn how to take turns.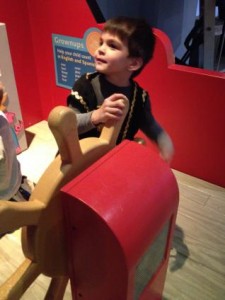 While I highlighted five big spaces within the Dora & Diego Let's Explore exhibit there are actually several more that were not discussed in this post.  Within each corner, wall, and floor, there are hidden spaces that encourage problem solving skills, motor skills, and many other developmental benefits.  Whether it was grabbing a star, acorn, or ladybug, my children were constantly playing which is the greatest form of learning for young children.  Over an hour of playing and we still did not conquer all these opportunities but the great thing is that this exhibit will be here until January 24, 2016 which means we will be back!
Dora & Diego Let's Explore is open from now until January 24, 2016 at Liberty Science Center which is located at 22 Jersey City Boulevard, Jersey City, NJ 07305.  The fall hours are Tuesday through Friday 9:00 am – 4:00 pm and Saturday & Sunday from 9:00 am – 5:30 pm.  For more information please visit Liberty Science Center website.