Capturing our imagination since humans began critically thinking about the sky, the concept of outer space is a perennial favorite for young kids.  We teach babies to wish upon a star, and as they get older, they learn how the solar system functions and the technology required to put a man on the moon.  Outer space intersects with many interests at Mommy University; science, history and literature.
Whether your child loves Miles from Tomorrowland or Star Wars, whether they want to be an astronaut or build a rocket, or just dream about endless possibilities, we have compiled activities focusing around outer space that engage different skill sets and are designed to encourage a love of space!
Mommy University Presents
Create Your Own Outer Space Day
Bake Earth Cookies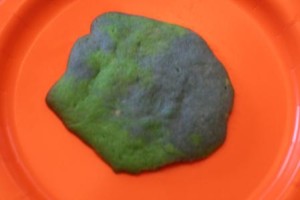 Using a basic sugar cookie recipe split the dough in two parts (one section in 2/3 and the second into 1/3).  Apply blue food dye to the larger portion of the sugar cookie dough and green food dye to the smaller section of dough.  Scooped one larger spoonful of blue cookie dough and a smaller scoop of the green dough on a plate and let your kids mix as much as they want.  Bake for the recommended time and, VOILA, Earth cookies.  Cooking captures children's imagination and mixing is great for building motor skills.  The best part is that children can enjoy eating an out of this world treat!
Solar System Sensory Bin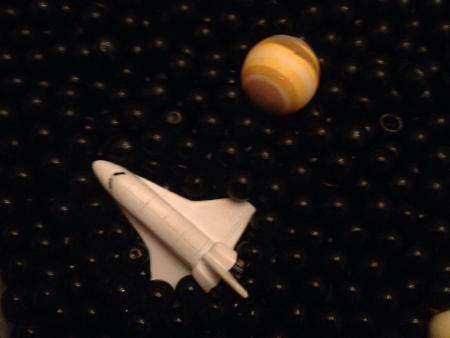 We are fans of sensory bins and to create a themed one around outer space invites children to play and to think.  A simple recipe of black water beads, Safari Toobs Space and Safariology Solar System, and Glow in the Dark Stars enables this sensory bin to reinforce academic information the kids are learning as well as engages their senses.  With the addition of glow in the dark stars, this activity can be done in the dark which adds another sensory level to the exploration. Check out our guide how to create your own sensory bin here!
Build a Rocket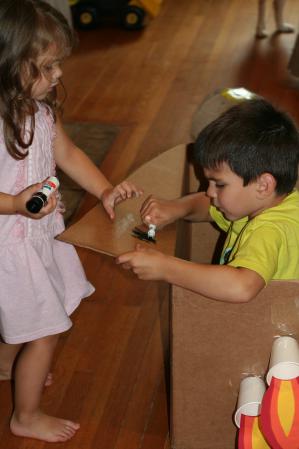 Kids love to imagine themselves as astronauts blasting off in a rocket ship, so why not make one?  An oversized box can be converted into a rocket ship with a few targeted cuts with scissors.  Using paper cups and cutting red, orange, and yellow construction paper, you can add pretend flames to your rocket.  Having the kids decorate the rocket ship is the perfect art project for a space day.  Our follow-up activity for several days after was to watch videos about outer space as the children sat in their own rocket ship.
Build a Constellation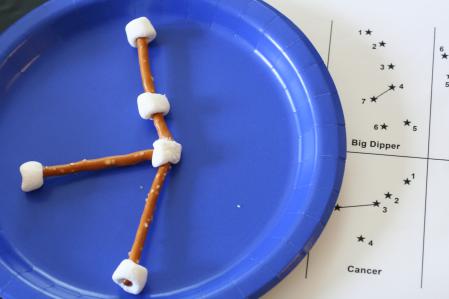 Equipped with marshmallows and pretzel sticks, we were ready to created constellations from printed images.  The kids drew lines connecting the stars which helped them with the next step.  Children grabbed a marshmallow for each star in their selected constellation and a pretzel stick for each drawn line.  Making their own constellations out of marshmallows and pretzels is so much fun because they can eat their mistakes.  This activity is great for visual spatial reasoning and imagination.
Read Books
As always, reading is a favorite activity on our themed days.  There are several books that reinforce a fascination with the solar system.  Check out our post on Awesome Books that are Out of this World!
Visit a Planetarium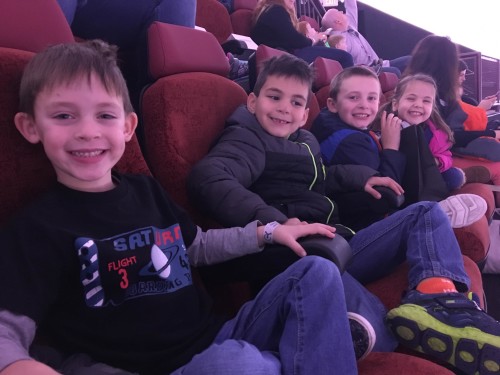 There are many planetariums in New Jersey that have shows about space, the solar system and constellations.  Check out one which offers another visual reinforcement of the information your kids are learning!  Check out thorough list of Amazing Places to See the Stars in New Jersey!
Explore Social Media
We mentioned that our children sat in their home made rocket ship to watch videos on YouTube that included rocket ship launches and taken from outer space.  Here are a few recommended Twitter sites:
Curiosity Rover @MarsCuriosity
International Space Station @Space_Station
NASA @NASA
The Hubble @Nasa_Hubble
Astro Pic of the Day @apod
Take a Road Trip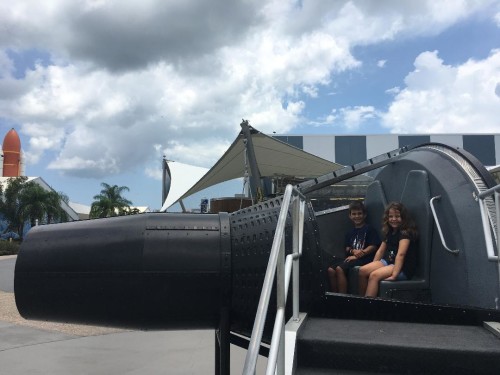 A day trip or an extended weekend, there are a few places that can help expand our child's ability to touch, feel, and see space which helps foster their imagination and understanding.  Here are a few key locations:
Rose Center for Earth and Space at American Museum of Natural History, New York City
National Air and Space Museum, Washington D.C.
I hope you have enjoyed these fun out of this world activities! These activities can also be used for a space theme birthday party, rainy day fun or for planning a themed camp day. Enjoy!
More Ideas?
Check out our space themed Pinterest Board for more ideas, activities, printables and coloring pages!
You may also like: