In full disclosure, we received the King's Royalty Package from Medieval Times at Lyndhurst, NJ in exchange for our honest review.
Calling all Lords and Ladies from across the land. The King and Princess have invited you to a grand feast where you will be amazed by spectacular feats of bravery and skill!
What am taking about? Medieval Times of course. With 9 locations across the country, families will be amazed by this breathtaking show. We had the honor of being the King's Royal guests at the Lyndhurst Castle. Yes, it is really a castle! From the moment we arrived, my kids were in awe. The adventure begins before you even enter the castle when guests are greeted and invited in by the King and Princess. It was such an exciting way to kick-off our journey back in time!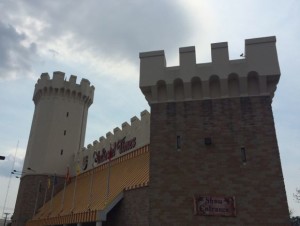 When we entered the grand castle and into the magnificent lobby, we each received our crown and photo pass. We also received a "Behind the Scenes" DVD. In addition, as part of the King's Royalty package, we were able to take a family picture at a replica of the King's throne. We were then provided 4 copies, each of which were placed in a sturdy Medieval Times folded frame. What a fabulous souvenir! We then walked around a bit to view all the relics, pictures and souvenirs. There are some amazing swords and shields to choose from along with figurines and steins. After finally deciding on 2 wooden swords to purchase, we were off to our next adventure.
What was unique about our experience is that prior to the show, children ages 5 and up were invited to participate in the Junior Knight Training. It was an unforgettable experience where my son was able to join other children on the floor and learn knight moves from several of the Medieval Times' knights. They were provided with wooden swords to replicate knight moves and skills. At the end, each child was knighted. It was an amazing experience that I hope they do again!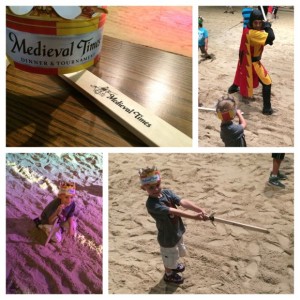 Once the training was complete, we found our seats in the red and yellow knight section and awaited our journey back in time. As part of the King's Royalty Package, we had commemorative programs and knight's cheering banners waiting for us at our seat. Every aspect of the experience made us feel as if we had entered the Medieval Era. From the costumes to the metal plates to even eating with our hands, it was a wonderful hands-on (pun intended) approach to learning about history. Once greeted by the narrator, introduced to all the knights and making a toast with the King, the feast and entertainment began.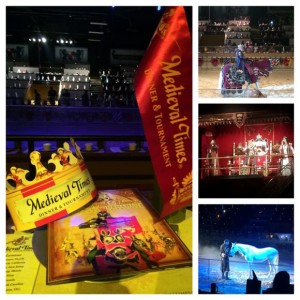 We had so much fun watching the magnificent horses show off their amazing skill. The falconry was breathtaking as we could not keep our eyes off the falcon as he gracefully yet swiftly flew around the arena. Then came the games. We loved watching the knights compete in various challenges such as jousting. It was especially exciting when our knight was victorious and then threw a flower into the crowd! What made this experience even more unique is that we enjoyed all of this while eating an amazing four-course feast which we got to eat with our hands!
The most exciting part of the show was the battles between the knights. We sat on the edge of our seats as swords, sparks and knights flew through the air. It was a breathtaking show full of skill and bravery. Seeing all the different Medieval battle equipment added to the experience. Plus my son was able to see the knight moves he learned earlier put into action.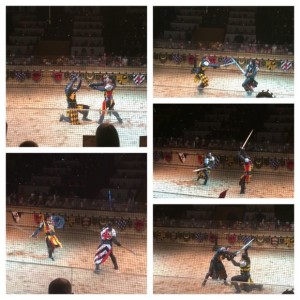 As always, at Mommy University, we look for the developmental and educational benefits of attending an event or performance. It is clear to see that Medieval Times offers a fun brain boosting experience for the entire family. Kids are learning from the moment they enter the castle until the moment they leave. I am so happy my family was able to experience this together!
5 Benefits of Attending Medieval Times Dinner and Tournament
Introduction to Historical Facts
From the moment you enter the castle, you step into the Middle Ages. Kids become immersed in history from the costumes to the relics on the wall to the way the entertainers speak. Immersion into a culture is a wonderful way to learn which is why people enjoy studying over seas. Since we can't travel to the Medieval time period, experiencing a show at Medieval Times is the next best thing! It allows children to better understand and grasp the historical importance of this period in history. This knowledge can then be carried over to school!
Interactive
Medieval Times is a fun interactive adventure through history. From the moment you put on your crown, you immediately feel like part of the show. Every time your knight successfully completes an activity, a sense of pride comes over you as if it was you in the ring. It's also exciting when the knight throws a flower into the audience which I was lucky enough to catch! Another hands-on experience, literally, is the feast. Families can eat with their hands and drink soup from metal bowls. I love how this dining experience sparks conversations about how different cultures eat and what life was like prior to modern day conveniences like forks and spoons.
Enhances Language Skills
As kids watch and interact with the show, they are learning new vocabulary terms as well as enhancing their listening skills. In addition, each performance is a story with a characters and plot line. Kids have to pay close attention to follow along and understand what is happening. This helps enhance their receptive language and comprehension skills. Another way to enhance language is to ask your kids questions during the show like: What will happen next? Why were horses so important during the Medieval era? How would you rule a kingdom if you were King? This also helps enhance creative thinking.
Introduction to the Performing Arts
Not sure if your kids are ready for the theatre yet? Medieval Times is an excellent first theatrical production. Since it is interactive, there is less pressure to be quiet and sit still which is often hard for kids. It also exposes them to the performing arts as well as spark the conversation about the arts and what being an entertainer means. Who knows, maybe your child will play the role of a knight one day!
Boosts Academic Knowledge
From the moment your kids enter the castle, their knowledge increases. For little ones it can be as simple as increased color recognition when identifying their knights as well as their allies and enemies. Counting, grouping and one-to-one correspondence skills are also enhanced as kids count the number of horses on the stage, how many rings are used in the competition, seeing how many times your knight won a challenge and so on. Plus, as stated above, kids are learning about history!
My family and I really enjoyed our learning adventure at Medieval Times at the Lyndhurst Castle. We cannot wait to return! This particular location has shows available on weekdays and weekends with some days offering multiple shows. Prices vary based on time and packages. For more information and to purchase tickets you can visit their website.