In full disclosure, we received the costumes and accessories used in this post from Wholesale Halloween Costumes in exchange for this article.
Wholesale Halloween Costumes has done it again. They have provided us with durable and comfortable costumes that have allowed for hours of fun and learning. Since my kids LOVE superheroes and have a small obsession with the Avengers, we decided to get the following costumes: the Hulk, Hawkeye and Iron Man. We also received Iron Man's gloves, Thor's hammer and Hawkeye's bow and arrow. We were so excited to start playing!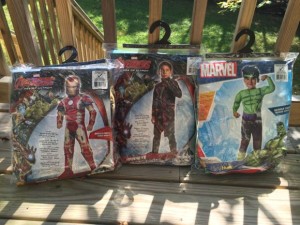 From the moment my son put on his Hulk costume, he loved it. He even kept on the hat which, as a parent, you know how difficult it can be to get your kids to keep on the hat or mask. I have to say he made for the cutest "mean" Hulk!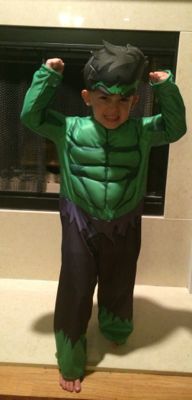 My older son was so excited that he didn't know which to try on first, Iron Man or Hawkeye. He ultimately loved both costumes. The Iron Man costume was a comfortable one-piece with soft padding used to give the facade of muscles. The mask was durable and fit his head with ease. My son also loved wearing the gloves as they really added to the feel of being the real Iron Man.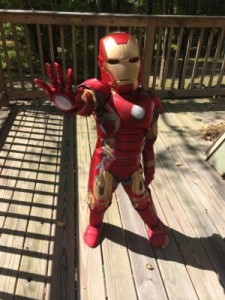 The Hawkeye costume was a two piece costume: pants and a shirt. I liked that the shirt can be worn open or closed allowing for two looks. The pretend bow and arrow completed the look. My son loved how "cool" he looked in this costume!
My boys immediately started playing, but as they played, I started to think of some additional fun ways to use these adorable costumes. As you already know, we love teachable moments and learning through play so of course I was thinking of new ways to play and learn. Of course we love traditional pretend play. One child is the Hulk, the other is Iron Man and they work together to save the world. I often play the bad guy who they must defeat while other times I get to be the Black Widow and work with them to conquer the evil doers of the world. The boys use their bow and arrow or super power gloves to win the battle. We play inside and outside and sometimes run back and forth.
Kids, however, love new ideas and new challenges. They love to use their imaginations especially when engaging in play. That made me think, how can we use these costumes in a new way? That's when it came to me, a Superhero Mash-Up! Mash-ups have been used in music, literature, television and even with toys. I first heard the term mash-up when watching Glee. It's when you take 2 songs and mash them together. More recently I was introduced to the mash-up concept when I saw the Hasbro Superhero Mashers. So how can it be done with costumes?
3 Ways to Play Superhero Mash-Up
Let The Kids Decide
The first way to play is to just let the kids use their imagination. Lay out all the superhero materials on the floor or place them in a costume bin. Then allow them to decide which costume to wear, which hat to choose and which accessories to use. They can create their own superhero name and power. As they play, they can switch out their arrow for the Thor hammer or wear the Captain America mask instead of the Hulk hair. The possibilities are endless.
Random Drawing
On a piece of paper write the names of each item you have. Then place the costume papers in one hat, hats/masks in another and accessories in another. Let each child pull out a paper from each hat to see what they will get. This will eliminate kids fighting over costumes but it also adds a level of anticipation and excitement. Let the kids play for a specified amount of time then you can do it all over again. This can lead to hours of fun!
Trivia
Create a list of trivia questions about the superheroes you have costumes for. Ask questions to the group and the first person to answer gets an item that relates to that superhero. For instance, if the answer is Captain America, the child can choose his shield, full costume or just his mask. Another way to play is to allow the winner to choose his own mash-up item. Think asking the group may cause some problems? Then let each child pick a trivia question out of a hat. If they answer correctly, they get to pick an item. If incorrect, the next child can answer that question or pick a new one. This fun game not only enhances superhero knowledge but also boosts language skills and creativity.
I am sure you can see how fun this activity can be! It helps spark imagination and creativity. It also helps enhance children's story telling ability and thinking skills. In other words, it allows for learning through play! So have fun creating your own Superhero Mash-Ups! Feel free to post pictures on our Facebook page!
You may also enjoy:
Get Cookin' with the Chef Costume from Wholesale Halloween Costumes
10 Benefits of Pretend and Imaginary Play