In full disclosure, we received Backyard Safari products from Alex Brands in exchange for this article. Affiliate links are also included.
My boys love being outside. They love walking through the woods, going on nature scavenger hunts and finding cool bugs. What I love as a parent is that they are introduced to math and scientific concepts while exploring. My boys are learning through play outdoors which not only builds academic and cognitive skills, it also encourages a healthy and active lifestyle.
At Mommy University, we are always looking for toys that encourage learning through play. We want toys that will help kids explore, discover and investigate the world around them. Since my boys love playing outside, I wanted to find toys that offer this experience in the great outdoors. My research brought me to a brand called Backyard Safari. With a name like that, of course it offers everything I was looking for and more!
I have purchased Backyard Safari toys as birthday gifts for friends in the past and we recently saw their products at Toy Fair NYC, but we had not explored this line ourselves yet. Since we are going camping this summer, I felt it was the perfect time to see what they had to offer. Backyard Safari, which is under the umbrella of Alex Brands, is the perfect line for your little camper, explorer, scientist and nature enthusiast! They have a wide variety of outdoor gear that kids will LOVE. In this article, I would like to focus on the products I feel help encourage a love of camping and exploring the great outdoors!
5 Backyard Safari Toys Perfect for Camping
Field Binocs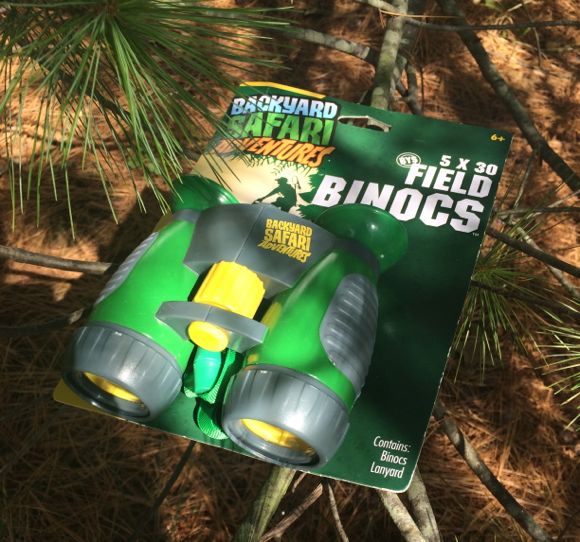 You can't explore the great outdoors without a good set of binoculars, right? Backyard Safari offers the Field Binocs that have 5 x 30 power optics and rubberized hand grips. The eye cups are also soft and flexible making it easier for kids to use for hours of adventures. The attached lanyard allows kids to wear their Binocs which decreases the chance of losing them. The Field Binocs are adjustable and waterproof making them perfect for any outdoor adventure. Whether it's in your backyard, campground or the park, these binoculars will allow kids to see nature in a whole new way! You can purchase your own Field Binocs using this Amazon affiliate link.
Field Canteen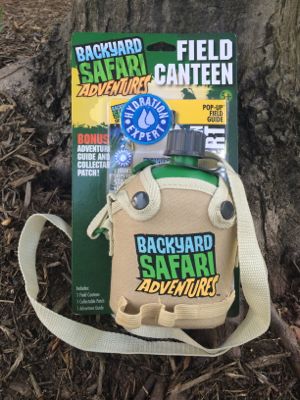 Exploring nature involves physical exercise. Whether its hiking through the woods, climbing over rocks or kayaking through a river, kids (and parents) can work up a sweat. It is very important to stay hydrated while exploring so the Backyard Safari Field Canteen is the perfect thing to take on your journey. With an extra long carrying strap, kids can keep their canteen close during long journeys through the wilderness. It holds 22 fl oz of water so they will always be hydrated, and the "no-lose" cap means they won't be spilling their water with each step they take.
What's even cooler about the Field Canteen is that it comes with a Pop-Up Field Guide and special patch (Hydration Expert). The guide focuses on "5 Essential Steps to Stay Hydrated." This offers an additional learning piece that helps kids become safer and more successful explorers. Let the fun and learning begin for your explorers by purchasing your own canteen using this Amazon affiliate link.
Campfire Glow Lantern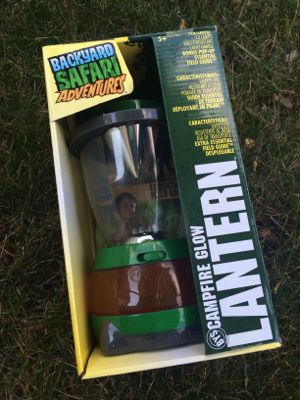 Hiking, swimming and fishing are fun daytime adventures, but the nighttime offers a whole new set of experiences. What camping trip would be complete without ghost stories? With the Backyard Safari Campfire Glow Lantern, families can sit around and tell stories while roasting marshmallows over the fire. The lantern is also perfect for finding your way to the bathroom or nighttime activities at the campground. Want to see what critters crawl around at night? Use your lantern to light the way during your late night nature walk!
The Campfire Glow Lantern features LED lamps and a carry handle for easier transport. It is also water-resistant making it a great addition to your camping and hiking gear. The Campfire Glow Lantern comes with a Pop-Up Field Guide for even more learning fun! So light up your adventure by getting your own Campfire Glow Lantern on Amazon.
Camo Jungle Vest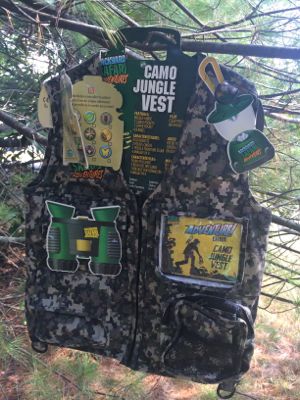 Now you need a place to carry all this gear so why not try out the Backyard Safari Camo Jungle Vest? It's perfect for a day of hiking through the woods or fishing by the river. The vest features 2 cargo pockets, 1 zipper pocket and clear pocket. It also has 4 D-rings perfect for holding a small Backyard Safari Mini Lantern, Field Tools and Field Compass. The Camo Jungle Vest comes with an Adventure Guide with 6 steps for a fun exploration. Kids can also find important safety tips. You can get your own Camo Jungle Vest for under $30 on amazon.com. The vest can also be found in the Cargo and Desert styles.
Base Camp Shelter

No camping trip would be complete without a cool shelter, right? This Base Camp is great for camping in your backyard or placing it next to your big tent in the woods. Base Camp Shelter comes with one shelter, one carry bag and 3 poles. It is a sturdy and weather resistant structure so kids can enjoy hours of outdoor fun and exploration. Inside the tent there are 4 expandable storage pockets where kids can store their additional gear like the Field Binocs mentioned above. There are also clips to hold a lantern to light up the shelter at night. The shelter is easy to assemble and made to withstand the elements. It is also great for creating shade on hot days.
This set also comes with a Pop-Up Field Guide and collectible patch (Base Camp Expedition). The guide offers 5 Missions for Setting Up Base Camp. Each mission helps kids develop different survival, academic and life skills. It also encourages kids to explore nature as well as take care of any critters they collect. What I love is that the Base Camp comes in an easy to transport case making it possible to bring the learning with you! You can purchase your own base camp for under $50 on amazon.com.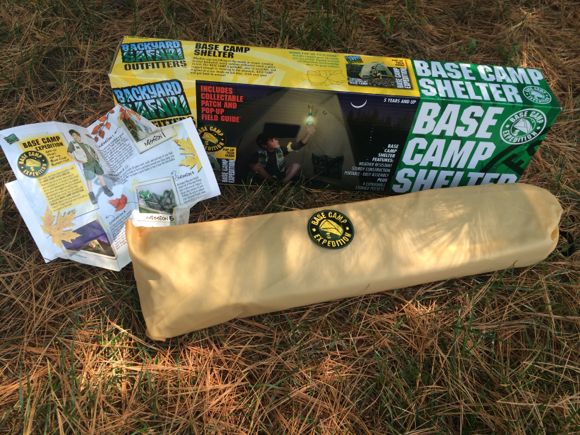 Backyard Safari gear is well-made and perfect for year-round exploring. What I also LOVE is their Patch Program. As you may have noticed above, certain Backyard Safari products come with pop-up field guides and collectible patches. Once your little explorer completes the mission, you can iron the patch on to his cargo vest. If you don't have the vest, you can also iron them onto a shirt or blanket! It is something they will show off with pride!
We are so excited to play with all our new outdoor gear. Although we wanted this gear for our upcoming camping trip, I know it will also be perfect for nature walks, exploring the woods and just playing in the backyard. We can't wait to get outdoors and explore!
You may also enjoy:
Play and Learn Outdoor Toy Guide