Two weeks after starting my blog, Mommy University, I attended one of the biggest events in the blogging world, Sweet Suite!
What was I thinking? I didn't know what to say, how to act, what to wear. I was scared, nervous and outside my comfort zone. I knew this would be pivotal for my blog so I had to find the courage to make this the best experience it could be. I packed some cute outfits and off I went. Who knew it would change my life forever?
I attended Blogger Bash and Sweet Suite with fellow bloggers. What's funny though is that we had never actually met in person. Would they like me? Would we get along? Are they nervous too? I quickly learned there was NO reason to be nervous. We clicked immediately. In fact, Julia and I felt as if we had known each other forever. Within the first 5 minutes, I knew I had made a new best friend!
The anticipation and excitement rose as we waited on line outside the venue to enter. I could not believe that I was going to such an amazing event. What made me important enough to get a chance to meet all these incredible people and brands? I did not let anyone know my fear and entered that building full of confidence and a big smile on my face. I was ready!
I learned so much from my experience at sweet suite. Not only did I learn about toys and brands, I also learned a great deal about myself. In true Mommy university style I wanted to share with you some tips I learned as a newbie blogger at Sweet Suite.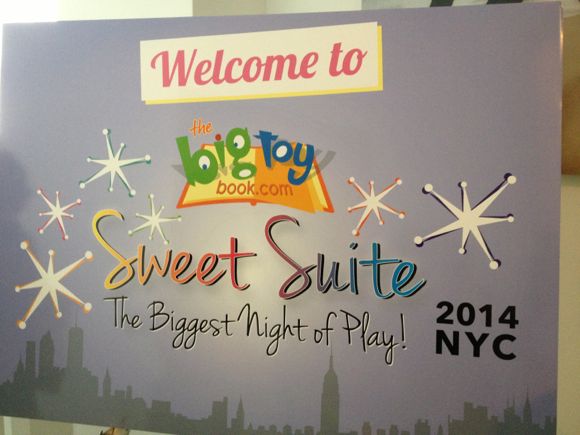 5 Tips to a Successful Sweet Suite Experience
Be confident! Despite how nervous and afraid you might be, be confident in who you are and what you have to offer. Smile, make eye contact and shake hands with everyone you meet. (Advice: there's a difference between being confident and being cocky. Don't be the latter!)
Know your brand! You might be a new blog but I'm sure you had a purpose behind throwing your hat in the ring. It's important to be able to explain to toy reps what your blog can offer that is different or unique from others. It's also important to stick to your purpose. Although it might be fun to review a cool scooter but if your blog is called Indoor Fun with Kids then that may not be the best pitch for you. Stay true to who you are!
Soak it all in! Many veteran bloggers attend Sweet Suite with a mission. They already have relationships with some brands and know exactly who they want to meet. Newbies, however, should keep an open mind and soak in as much information as possible. Be open to new ideas and concepts as you might be surprised what can fit within your brand.
Take Notes! Whether it's on your cell phone or in an old-fashioned notebook, taking notes is essential to a successful experience. You will meet so many people it is almost impossible to remember everything. Write down the company, rep name and product you're interested in when visiting each booth. You can also take a picture of their business card next to the products you want to review.
Get Organized! It's great to take notes but what's the point if you can't find them later? I recommend bringing a bag with you to keep your notebook or iPad in. Don't use the Blogger Bash bag for storing it because, let's be honest, that will be filled with swag so finding your note taking device will take forever! I also recommend a small bag or wristlet for your business cards. You can attach it to your bigger bag or even your belt buckle on your pants. Just make sure you can access it quickly and easily. You will be handing out a lot of business cards!
So there you have it! Those are my 5 tips to help make Sweet Suite a successful experience. For another 7 tips check out my friend Julia at Wine in Mom Blog.