In full disclosure, I was provided with a Cocoa Massage in exchange for my honest review.
All moms need a break. We need time to ourselves to recharge our batteries and regain some semblance of what we were before we had kids. We need to feel pampered and appreciated. Face it, we want to feel like a princess. Wait, let me rephrase that. We want to feel like a QUEEN!
That is exactly what happened from the moment I stepped into The Spa at The Hotel Hershey. Each staff member was friendly and welcoming, and the atmosphere was calming and inviting. My visit began in the Ladies Locker Room where I was provided with a locker to safely keep my belongings. I was also provided with a soft and cozy robe along with a pair of slippers. These items were mine to use throughout my visit. The locker room was beautifully decorated and very clean. It included showers with chocolate mandarin bath products that smelled divine. There was also a steam room to enjoy at my leisure.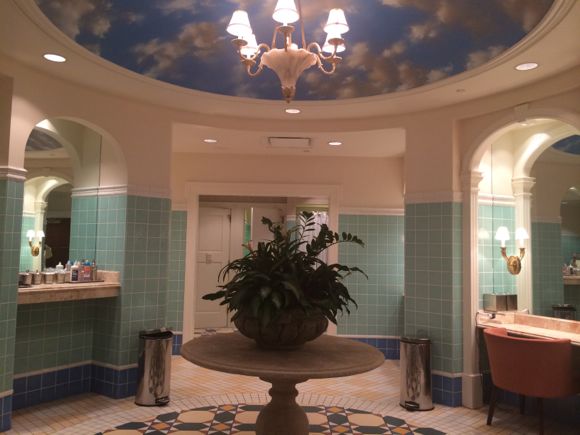 After changing into my robe and slippers, a very friendly staff member gave me a tour of the facilities which included a Quiet Room, Silent Room and Aromatherapy Room. Each room offered a serene and tranquil environment that could be enjoyed before and after my spa treatment. The stairway to the Quiet and Silent Room was adorned with a gorgeous window which provided an amazing view of the hotel fountains. It was breathtaking. Here are some more details about each room:
Silent Relaxation Room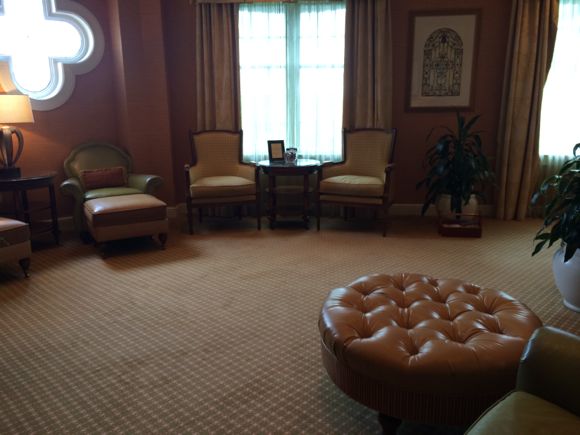 Adorned with comfy chairs and ottomans, this room offers a space to relax and unwind in complete silence. Seriously, no talking is aloud! Water and trail mix are available for guests as they kick up their feet and rest in this great space.
Aromatherapy Room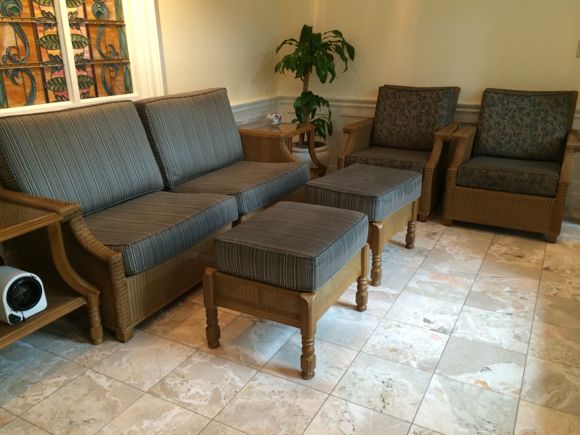 In this space, guests can engage in friendly conversations, read magazines or just relax while taking in the scents of green tea and lemongrass. It was very refreshing and uplifting. I also loved the gorgeous stained glass window located behind the couch.
Quiet Room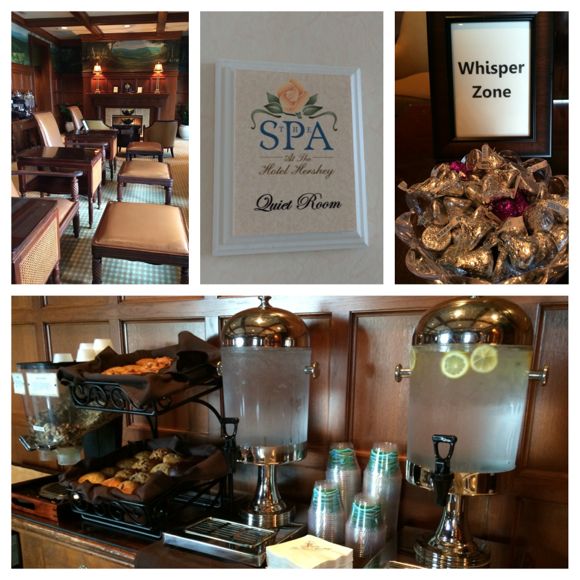 This was my favorite room. The decor was inviting but gender neutral making it a great space for men and women. The fireplace made the room warm and welcoming (even in the summer). The Quiet Room also boasted a balcony that overlooked the gorgeous hotel fountains. While in this room, Guests can help themselves to coffee, tea, hot chocolate and water as well as an assortment of delicious muffins.
To start my day of relaxation, I poured myself a hot cup of coffee, grabbed a chocolate muffin and sat out on the balcony of the Quiet Room. I instantly felt a sense of calm while admiring the amazing view of the fountains. My masseuse picked me up right from the balcony and we took a short walk to the massage room.
The spa treatment I chose was the Cocoa Massage. When in Rome, right? The massage table was warm and comfortable, and my therapist was friendly and knowledgable. From the moment the session began, I felt at ease. The smell of the chocolate infused oil was amazing and made the experience even "sweeter." For 50 minutes, I was transported to a world where nothing mattered and there were no more worries or stress. It was a wonderful experience.
When my massage was over, I returned to the Quiet Room to enjoy another cup of coffee and chocolate muffin. I sat in a comfortable chair in front of the fire and relaxed. I didn't feel rushed or anxious. I didn't wonder what was going on in the world or worry about what needed to be cleaned at home. I just sat, sipped my coffee and watched the fire. It was a serene experience that I did not want to end. I rested for quite a while before deciding to take advantage of one of the spa amenities, the hot tub.
With every spa service, guests are given access to the hotel indoor pool which consists of a nice sized swimming pool and hot tub. I carefully tested the pool water temperature and was delighted to find it quite warm. I then entered the hot tub and enjoyed another relaxing moment with no care in the world. There were few people in the pool area so it was fairly quiet and definitely relaxing.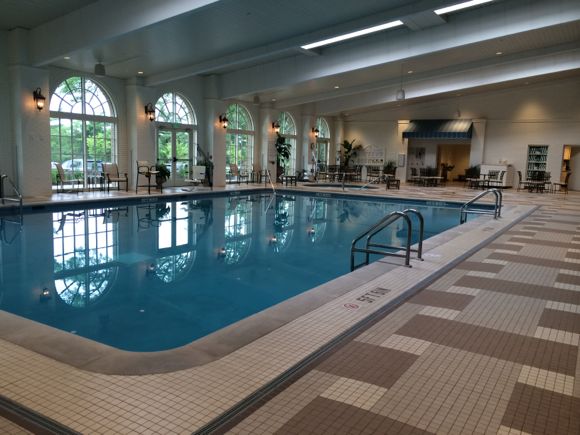 After enjoying the jacuzzi, I returned to the ladies locker room to test out the shower. To be honest, I was most excited about using the chocolate mandarin shampoo, conditioner and body wash. After my shower, I took my time getting ready in the locker room using the provided supplies such as lotion, a hairdryer and brush. It was nice to not be rushed or have a child interrupt me every 5 seconds!
After the refreshing shower, I decided to check out the Aromatherapy Room. The smell of green tea and lemongrass was very refreshing. Next, I wanted to explore the Oasis Lounge. The buffet lunch which included wraps, salads, soup and more looked delectable, and the desserts were divine. The lounge was beautifully decorated and offered a zen space to enjoy a meal, sip a cocktail and spend time with friends. There was also an outdoor space with a view of the fountains.
To provide a little history, the design and decor in the Oasis Lounge pays homage to Milton Hershey's love of traveling. He especially loved to travel to Cuba which was the inspiration for this amazing space. Several spa treatments such as the Mojito Sugar Scrub and the Green Coffee Body wrap are also inspired by Mr. Hershey's travels to Cuba.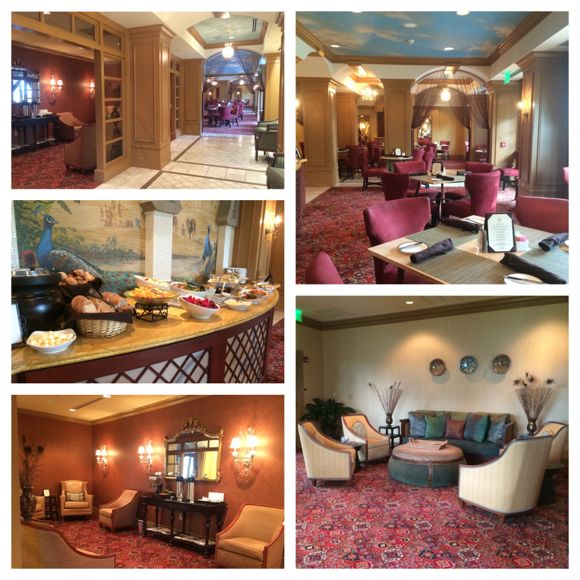 By this time, I had spent about 4 hours at the spa. I had truly enjoyed my time there, and although I knew I could stay until closing, I had to get home to my boys. I sadly returned my robe and slippers and met my husband outside the entrance. I did not want to leave as this was honestly the most relaxed and calm I had felt in months. In fact, when walking through the hotel and out to our car, I even walked at slower pace than usual. I told my husband to relax and take in the sights. For the first time in a long time, I felt like life was not rushing by. I was able to enjoy the moment.
Now I know we can't live life like this each day but it was so nice to be able to slow myself down. We all need to empty our minds, slow down and take in what life has to offer. For one day, parents need to remember that they are more than just a parent or a spouse. They need to feel pampered and important. Thank you The Spa at The Hotel Hershey for making me remember what it's like to be me. That will only help me be the best parent I can be!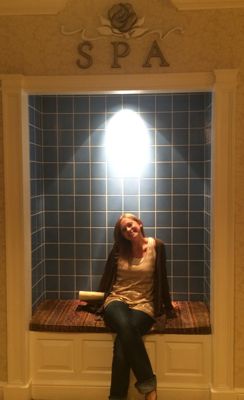 To learn more about The Spa at The Hershey Hotel please visit their website. Also check out more pictures in our Facebook Photo Album!