In full disclosure, we were provided the Giant Slide Bouncer from Little Tikes in exchange for our honest review.
Let your kids run, jump, climb, explore and pretend. For play is the greatest form of learning!
Kids love to jump, climb, slide and play! They are full of energy which needs to be released in a fun and safe environment. Plus, as Albert Einstein said, "Play is the highest form of research." At Mommy University, we believe play is the most important part of development. It is through play that kids learn, grow and develop into healthy individuals.
This summer let your kids grow and develop right in your own backyard with the Little Tikes Giant Slide Bouncer. My kids LOVE bouncy houses at fairs and festivals so I knew they would love to have their own. I also knew that this particular bouncer would offer amazing opportunities for my kids to learn through play. Not only does it have a bouncy house component, it also has a climber and slide. How cool is that?!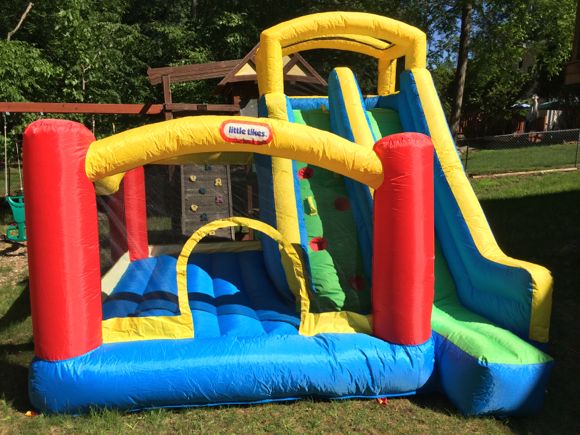 The NEW Little Tikes Giant Slide Bouncer is perfect for children ages 3-8 years old. It comes with an easy to use heavy-duty blower, repair kit, stakes and storage bag. The bouncer is simple to set up in the backyard and does not take much time to get situated before inflating. Since we have a lot of rocks and sticks in our yard, we put old carpets underneath to help prevent any damage, but this is not required. The bouncer inflated in seconds just like the box advertised which was great because I don't think my kids could have waited much longer to begin playing.
With its highest point being about 9 feet tall, my kids were in awe with the Giant Slide Bouncer before they even entered the bounce house section. Once I yelled "GO," they were off, and I could not slow them down for hours! They had so much fun jumping in the bounce house and making up new "tricks," climbing up the climber and sliding down the slide. They even had fun relaxing and catching their breath at the top before they started their adventure again. As a parent, it was so much fun to watch!
The Little Tikes Giant Slide Bouncer is not only fun though. It also offers many opportunities to develop important skills. My kids had so much fun and had no idea they were learning and growing!
Benefits of Playing with the Little Tikes Giant Slide Bouncer
Sparks Creativity
As soon as the bouncer slide was inflated, I could see the wheels turning in my boys' heads. Their imaginations went wild as they came up with stories, games and "amazing tricks" (as my son would call them). They chased each other up and down the slide and pretended a monster was after them. You will have so much fun watching your kids create their own worlds full of adventure and excitement.
Enhances Gross Motor Skills
As your kids jump and bounce, they are building motor strength, balance and coordination. As they climb, they are enhancing their motor planning and hand-eye coordination. Each time my kids played on the bouncer, I could see them become stronger and faster. The skills enhanced while playing in the bouncer will help kids be successful in gym class and sports!
Builds Confidence
Ever watch a child try to climb a bouncy house at a fair and get stuck in the middle? Did your child ever shy away from a giant slide because they were scared? My son did! With this Giant Slide Bouncer my kids can build confidence and gain the skills needed to be successful in the comfort of their own home. Both of my boys showed such pride in their ability to climb the ladder quickly. They also slid down the slide despite it's height which enhanced their confidence even more. This helped increase their independence as well! Greater self-confidence will help kids in school and in life!
Encourages Cooperative Play
Kids need to learn to play well with others. The Giant Slide Bouncer offers wonderful opportunities for kids to build social skills including turn-taking, patience and cooperation. Kids also learn to cheer each other on and support each other as they successfully complete a new trick. Playing with others in the bouncer also helps kids understand socially appropriate behaviors such as following the rules, being safe and understanding personal space.
Introduces Scientific Concepts
Now you might be wondering how a Giant Slide Bouncer could introduce science to kids, but in fact it is a wonderful way to help kids understand various concepts such as friction and static electricity. Other concepts such as gravity, motion and speed can also be discussed while playing. For my boys, we had fun talking about why their hair stood straight up after they slid down the slide. Like we always say at Mommy University, there are teachable moments everywhere!
It is clear to see how amazing the Little Tikes Giant Slide Bouncer is for kids! This amazing brain boosting outdoor toy retails for $399.99 on the Little Tikes website. It can also be found on amazon.com. So what are you waiting for? Get your Giant Slide Bouncer right now!