At Mommy University we have always been really big fans of Educational Insights. Their toys spark curiosity, boost academic knowledge and enhance cognitive development. Many toys also encourage a love of science and nature. So when Educational Insights asked Mommy University to be an EI Insider, of course we said YES! As an EI Insider we will be provided with educational toys throughout the year that we will happily share with you! We will also be offering amazing giveaways. (Reviews are not required but appreciated.)
In this article, we are so excited to share two amazing products from the GeoSafari Jr. line. The BugOpticals and Sneak and Peek Periscope offer hours of outdoor adventure and fun. The opportunities for learning through play are endless! These exciting toys can be used together or separately, and they are perfect for a nature walk, hike or even a camping trip! They both also offer wonderful developmental benefits!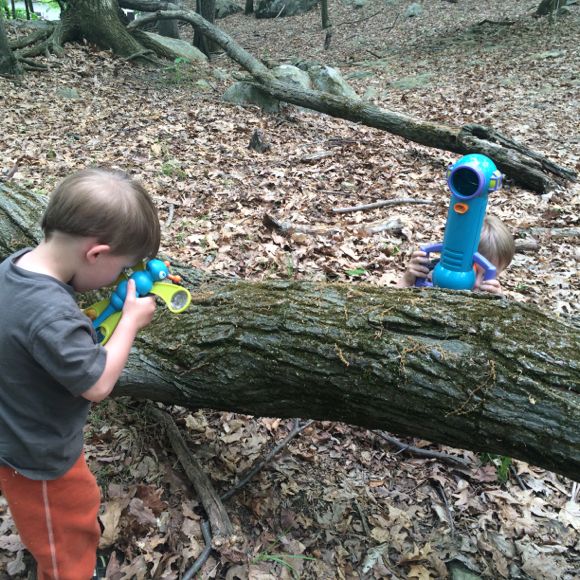 The BugOpticals is a fun way to get your little one to see the world in different ways. With a shape like a dragonfly, kids can't help but love to play with the BugOpticals. There are 2 different magnifying lenses so kids can truly explore nature. There is also an insect lens that allows kids to see the way an insect sees the world. Lastly, there are 3 colored lenses (yellow, red and blue) that encourage learning and creativity.
My boys loved using the BugOpticals during a recent hike and a trip to a local arboretum. They offered a wonderful multi-sensory and interactive approach to learning. They encouraged my kids to experiment with and explore the world around them. They are light weight and easy to manipulate which makes them perfect for bringing on a long nature walk.
3 Benefits of Playing with BugOpticals
Encourages Hands-On Learning
The GeoSafari Jr. BugOpticals allows kids to truly explore their environment. It offers kids the opportunity to engage in interactive hands-on learning that uses all their senses. The easy to grip handle makes playing and learning easy and fun. Kids will have a blast exploring their backyard, gardens and playground.
Sparks Curiosity
Playing with the BugOpticals made my children even more curious about the world around them. They loved looking at the moss on the trees, the shapes of the leaves and colors of the flowers. They really looked closely at everything around them and had fun seeing things they had never seen before. It encouraged them to really explore their environment to see what they could find.
Enhances Color Recognition
The colored lenses are perfect for teaching kids about colors. They start with learning the primary colors, but then learn what happens when colors are combined. They can also see what color a flower will look like when another color is placed over it. For instance, kids will see that when you place the blue lens over a red flower, it will look purple. This is also a great introduction into the world of art!
The Sneak and Peek Periscope is another perfect tool for kids to explore and observe nature. It has easy to grip handles and soft goggles making the experience comfortable and easy.  It also has a LED light making it perfect for nighttime discoveries. Due to its light weight, it can be held upright or sideways for varied observations.
There are so many fun uses for the Sneak and Peek Periscope. My son loved hiding behind a fallen tree in the woods and peeking over the top. He also enjoyed peeking out the side of an upright tree. My kids had a blast pretending to be explorers looking for animals. They even created stories about searching for Big Foot.
3 Benefits of Playing with the Periscope
Boosts Language Development
The Periscope offers wonderful opportunities to boost language development. As kids explore, they can label what they see in their environment. They can also explain what is happening and try to figure out what will happen next. In addition, kids can create stories and scenarios which also enhances language skills as well as comprehension skills.
Encourages Exploration and Discovery
Using the Sneak and Peek Periscope really encourages kids to truly see and understand the world around them. They will love exploring their environment and learning about nature. Kids will have fun experimenting with their periscope as well. They will want to see what they can see at different angles, heights and locations.
Sparks Creativity
The Sneak and Peek Periscope is a great toy to help spark kids creativity and imagination. They can pretend to be wildlife biologists looking for animals such as lions and tigers or researchers trying to find Big Foot. Kids can even be pirates on a ship looking for a lost island with buried treasure. The possibilities are endless!
Want to purchase your own GeoSafari Jr. toys from Educational Insights? You can get your own BugOpticals by clicking on this amazon affiliate link. It retails for only $12.99. For your own Sneak and Peek Periscope which retails for only $19.99 click on this amazon affiliate link. Now get outside and explore!
We received these toys as part of the EI Insiders program. A review on Mommy University was not required.