For months, I have been following the growth and development of the new Camelback Lodge and Aquatopia Indoor Waterpark in Tannersville, PA. Being a resident of Sussex County, NJ, my family and I frequently visit the Poconos throughout the year. Each new photo and each exciting Tweet about Camelback made me more excited and intrigued.
When I was invited to the media day event at Camelback Lodge on April 23, 2015, I think I may have stopped breathing for a second. This is the opening I have been waiting months for and now I was going to be there when it all starts! It was like a dream come true.
From the moment I arrived at Camelback Lodge I was in awe. The staff was welcoming and friendly as each door was opened for me as I entered this amazing hotel. I was greeted with smiles and "Hello, Welcome to Camelback!" I just kept thinking, "I can't believe I am finally here!" After catching my breath and being offered a delicious mimosa, I explored the lobby.
The main lobby exuded sophistication and adventure with its gorgeous decor which included artifacts from around the world. The gorgeous fireplace and comfortable seating made it okay that it was snowing (in April). It was a warm and inviting atmosphere that any family would appreciate. To the right of the fireplace was the check-in desk full of smiling employees, Hemispheres restaurant serving amazing buffet style meals, the gift shop, World Bazaar and Coffee Shop that offers homemade fudge, pastries and drinks, and the hallway to the rooms. To the left was an adventure center with a rock climbing wall, mini golf and ropes course, Neptunes restaurant serving craft beers, amazing cocktails and delicious small plates and the staircase to Aquatopia and the arcade.
The theme of Camelback Lodge centers around the amazing adventures of Kartrite, an explorer who traveled the world. Throughout the lodge you will find artifacts from Kartrite's journeys. Kids will have fun exploring and discovering new worlds as they play in each area of the resort. They are able to create their own magical journey as well. What's even more amazing is that the journey can change with each visit!
As I walked around Camelback Lodge and learned all about the activities and adventures they have to offer, I thought about how much fun my children would have here. I thought about how we could build memories to last a lifetime while creating family bonds that could never be broken. I thought about inviting extended family and friends for weekends full of excitement. I even thought about visiting with just my husband for a weekend filled with both relaxation and adventure. It's amazing how one place could offer so much for so many!
5 Amazing Camelback Lodge Adventures
The Ascent Rock Climb
To the left of the main lobby you will find Arcadia Skills Center, an area full of adventure and excitement. The first adventure that awaits in this area is rock climbing. Families can choose from 3 different walls to climb depending on skill level or interest. Which wall would you choose?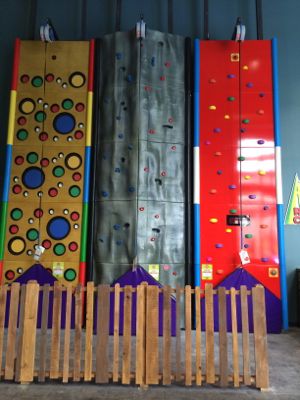 Meh-Tah's Not So Mini Golf
This fun course centers around the legend of Meh-Tah, also known as the Yeti. Families can improve their golfing skills while venturing through the Himalayas. This area is great for family bonding or taking a break from the water park action.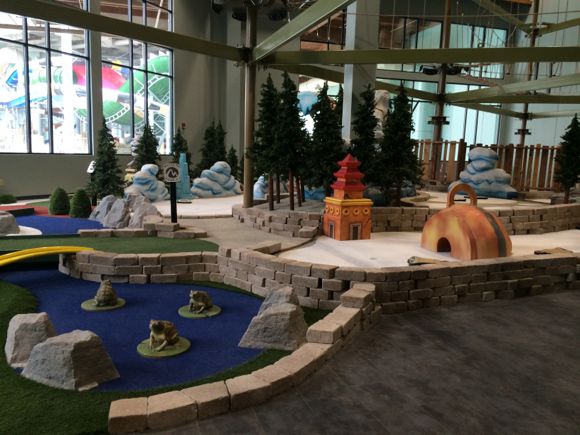 K-2 Climb
K-2 Climb is a 3-story indoor adventure course for explorers of all ages. Face your fears and find your adventurous side by taking on these amazing ropes courses. Kids will build confidence and independence while also enhancing motor skills!
Arcadia Mega Arcade
Camelback Lodge offers an exciting arcade with games for every member of your family. From a game that resembles beer pong to fishing to driving a car, kids and adults will have a blast playing games and earning tickets. What I really loved was how spacious this area was making it easy to walk around and play without bumping into people or games.
Aquatopia
Of course I saved the best for last! Aquatopia offers 125,000 square feet of indoor water park fun making it the largest indoor waterpark in the Northeast. With 7 pools, 13 water slides and thrilling water attractions, Aquatopia will be a hit for every member of your family. Staying at a comfortable 84-degrees year-round, this innovative waterpark is perfect for every season of the year.
Adults will LOVE Flyboys, an amazing swim-up bar with 30 in-pool stools, swim-up cocktail tables and multiple televisions. This adults-only area is perfect for enjoying a drink with your spouse, spending time with friends or catching up with co-workers during a company retreat.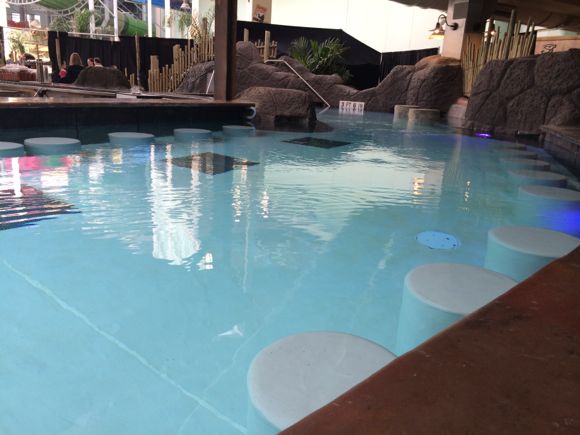 The littlest ones in your group, on the other hand, will have a blast exploring Penguin Play Bay, the ultimate water playground for kids. Children 48 inches and under will spend hours swinging, sliding and splashing.
The thrill seekers in your group will have a blast trying two premiere attractions, Venus SlydeTrap and Storm Chaser. Venus SlydeTrap is a family raft ride that involves heart-pounding drops, thrilling speed, 90-degree turns and Zero-G oscillations all before being spit out into the plunge pool below. The Storm Chaser is a thrilling slide measuring 756 feet long making it "North America's longest indoor uphill water coaster." Boasting five drops and four breathtaking curves, riders will never forget this experience!
My favorite area, and one the ENTIRE family can enjoy together, is Kartrite's Quest. This multi-level AquaPlay structure offers endless fun and excitement including 84 interactive water effects. Who doesn't love to get other people wet? Kartrite's Quest also offers multiple slides varying in length, height and speed making it easy for every member of the family to find the perfect slide for them! My favorite part of this exciting play area is the 1000 gallon dumping bucket located 52 feet overhead making for an awesome sight when the water is released. Waterpark goers of all ages will have a blast running under (or running away from) the waterfall!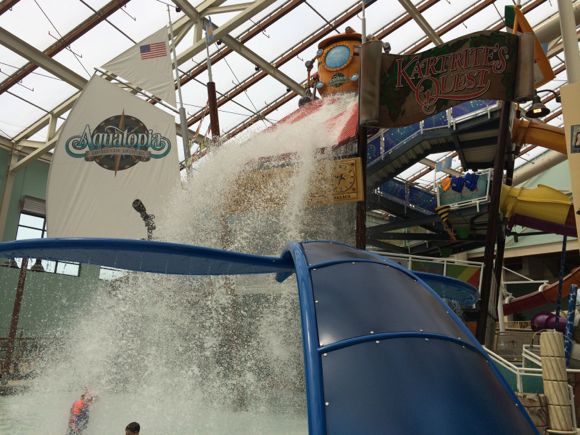 Camelback Lodge offers endless adventures for guests of all ages, and the adventure begins on May 1, 2015! What's even more exciting is that from May 11 – June 14, 2015, Camelback Lodge is offering day passes for Aquatopia which will be exclusively for hotel guests beginning June 15, 2015. This limited-time offer is perfect for exploring Camelback Lodge to find out what everyone has been talking about!
To learn more about Camelback Lodge and Aquatopia Indoor Waterpark, check out their website. You can also see more photos on our Facebook page! Book a room by May 15th for any date in 2015 and receive a $200 amenity savings booklet! So hurry up, your family adventure awaits!