As stated in our article, 10 Benefits of Cooking with Kids, engaging kids in the culinary arts helps develop many skills such as independence, fine motor and communication. It's also a wonderful way for families to bond in addition to encouraging a healthy lifestyle.
So how do you introduce your kids to cooking? Some kids are naturally curious while others could really care less. Since there are so many developmental benefits, it is important to introduce cooking at some point during childhood. In this article I have come up with: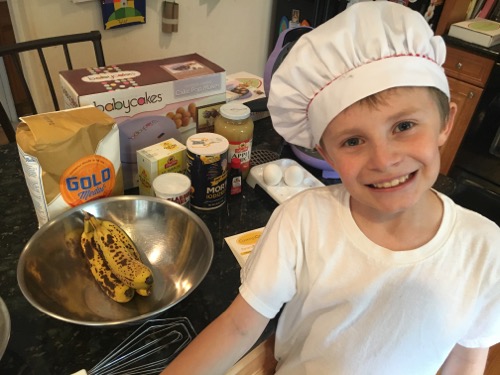 10 Easy and Brain Boosting Ways to Introduce Kids to Cooking
Watch Cooking Shows
My son loves watching Master Chef Junior. He is inspired by young kids and wants to learn how to make the food they are making. These types of programs show kids that kids can cook and can cook well. Other educational programs also offer cooking segments that makes children curious and interested in cooking.
Pretend Play
There are so many toys out there that introduce kids to cooking from play kitchens to utensil sets to pretend microwaves. When kids play in their kitchen and "make" meals, they are learning about the cooking process, and we all know kids learn best by doing. Cooking puzzles and games also offer a great introduction to culinary arts. My boys especially love pretending to own their own restaurant complete with menus and waiters!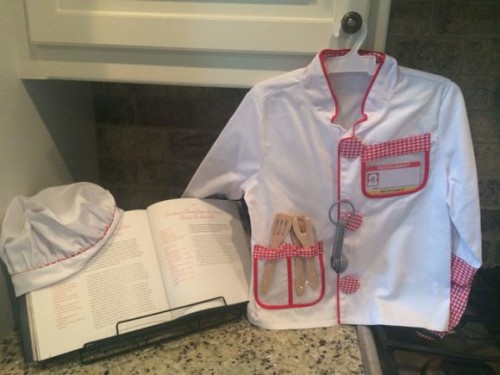 Books About Cooking
Head to your local library or Barnes and Noble to check out some books all about cooking. Some story books offer recipes in the back which helps with the understanding about cooking. You can also find books with easy to make recipes as well as meals to make from around the world as to introduce kids to other cultures.
Cooking Classes
Taking your kids to a cooking class like the ones at Wegmans and Shoprite not only get kids excited about cooking but teaches them basic cooking techniques like chopping, peeling and mixing. It also boosts vocabulary and fine motor skills. Kids also get to eat what they make at the end so they have a true understanding of the final product.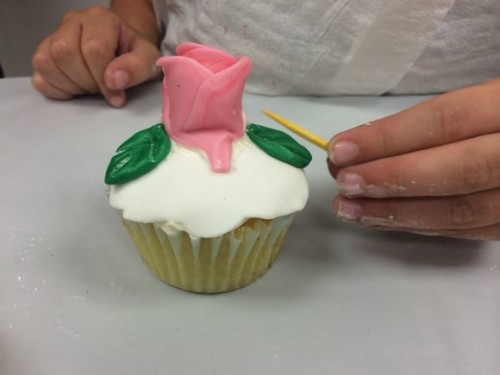 Take a Tour of a Restaurant
Many restaurants provide tours of the kitchen or even hands-on workshops. This helps kids understand the cooking process as well as culinary arts as a career option. Places like panera bread and carvel often allow groups to tour and learn to make products in their kitchens.
Silly Snacks
A fun way to introduce kids to cooking is to make snacks into art. Turning a banana into a boat or a tortilla into a snowflake gets kids excited about food and cooking. It also helps expand creativity. We love making snacks from the book Snacktivities which offers 50 easy to make recipes that also offer a learning experience. (Review coming soon!)
Let Them Watch
The easiest way to introduce kids to cooking is to have them watch you as you prepare a meal. While cooking, explain each step in detail so they are expanding their vocabulary. They also learn that healthy cooking and eating is an important part of life.
Easy Bake Oven
Although it may not make the healthiest of meals, it does get kids excited about cooking. An Easy Bake Oven teaches kids the basic steps of cooking such as mixing and measuring. My son loves his easy bake oven as he feels like a little chef. It allows him to be more independent and build confidence in his cooking skills.
Science Experiments
Kids love science, and the kitchen is full of fun scientific opportunities. Let them experiment with ingredients to see what happens when the mix together. For instance, we all know what happens when we combine baking soda and vinegar. Check out our article Egg-cellent Experiments for fun science experiments using eggs!
Let Them Help
When the kids are old enough (aka: can reach the counter with a stool), let them start helping. It can start with measuring and pouring the water into the jello mix to learning to cut strawberries and pineapples for a fruit salad. Making Jell-O is a wonderful introduction to cooking as it also introduces math and science concepts. Making and decorating cookies and cupcakes are also great activities that enhance an understanding of baking.
If you like this post, you might like: