This post is not sponsored but contains affiliate links.
At Mommy University, we believe that everything our children play with should enhance development and aid in positive academic growth. This Easter why not fill their baskets with fun and educational goodies the kids will not only love but learn from?
For this guide, we will provide 5 themed Easter basket ideas. Each theme will promote growth and development in certain areas. Under each theme we will provide 4 suggestions of what to put in your child's basket. We believe there is something for everyone on this list. So have fun making a themed basket or mix and match different ideas! Either way you will be happy knowing you provided Easter goodies that will have a positive impact on your child's development and academic success.
5 Brain Boosting Themed Easter Baskets
Arts and Crafts
Our first basket will focus on our love of art. Introducing kids to art helps them enhance creativity, boost fine motor skills, increase visual-spatial awareness, and let's face it, it's fun! Here are 5 brain boosting arts and crafts suggestions for this basket:
1. Faber-Castell Art Supplies: There are so many art supplies to choose from when it comes to Faber-Castell! For this year's Easter basket I recommend the gel crayons, connector paint and watercolor crayons. Another great idea is connector pens that not only allow for artistic exploration, but also allow kids to build and create!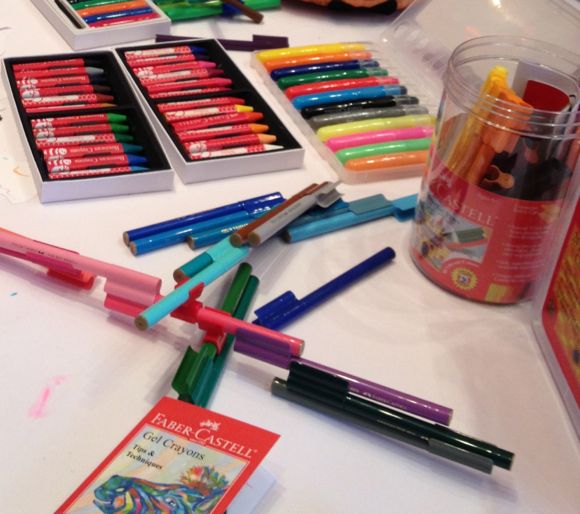 2.  Sun Catchers: Nothing says spring like sun beaming through the windows! Sun catchers are a wonderful spring and summer craft that kids will love to make and hang around the house. Some fun ones include Melissa & Doug Butterflies and Dinosaurs, Suncatcher Group Pirate Kit and Fun Express Butterfly Sun Catcher Wind Chimes.
3. Creativity Can: It comes in 8 designs: Motion, Music, Art, Critters, Stories,Build, the original Creativity Can and the Big Creativity Can. Each can comes with anywhere from 30 to more than 100 pieces that kids can use to develop their own creations. Creativity Can not only sparks the imagination but it also boosts children's knowledge in engineering, science, literacy, architecture and much more!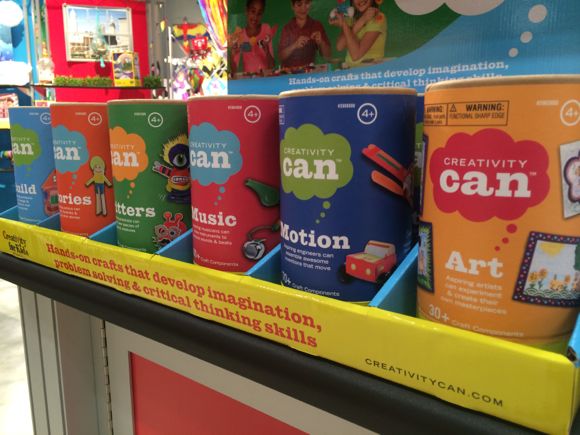 4. Crayola Sidewalk Chalk: Get kids excited for spring by filling their baskets with amazing sidewalk chalk. Gone are the days of just colored chalk. This Easter get the kids glitter and washable multicolor chalk. Also check out the Special Effects line with color core, glitter, multicolor, neon and tie dye. Make it even more exciting by getting the Rainbow Rake which kids can use to make fun designs with their new chalk! Stay tuned for an exciting chalk giveaway!
Science
Introducing science to kids is so important to us at Mommy University. Not only does it help strengthen problem solving skills, it also enhances academic knowledge, increases curiosity and sparks the imagination. Here are 5 brain boosting science suggestions for this basket:
1. Dinosaur Eggs: Instead of using chocolate eggs this Easter, fill their baskets with Dinosaur Eggs. Geoworld offers an egg filled with a dinosaur skeleton that the kids will love putting together while Toysmith has a Dinosaur Egg Excavation kit. Not into dinosaurs? Check out these adorable Easter Egg Hatch 'N Grow Chicks from Uncle Milton.
2. SmartLab Get Growing Greenhouse: With this fun new kit, kids are introduced to the scientific world of botany. SmartLab Greenhouse comes with a self-watering greenhouse, seeds, pots, shovel, sticker sheet and booklet full of scientific facts.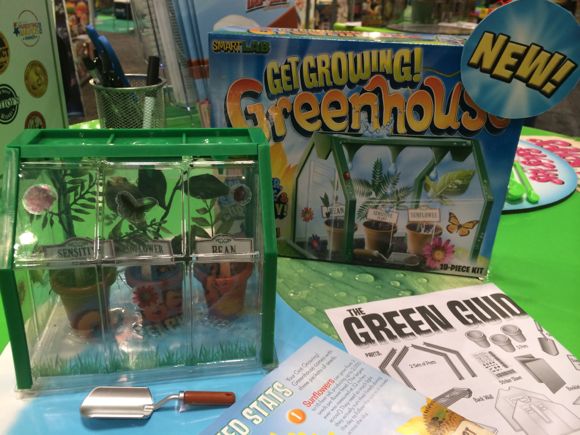 3. Uncle Milton Ant Farm: Let's face it, most kids love bugs especially boys. This Easter foster that love by getting the Uncle Milton Ant Farm. It will allow them to better investigate how ants live and work together.
4. Educational Insights Nancy B's Science Club: This amazing science line helps encourage girls to engage in scientific exploration and discovery. Girls (and boys) will love the Black Light Illuminator and Nature's Mysteries Journal, Nature Keeper and Tree Diary, Discovery Lab Pens and Field Journal and Crime Solver Scope.
Sensory Learning
Children learn best by engaging all their senses. This is especially true for little ones. Children with special needs also thrive on sensory based learning and discovery. In this themed basket, we have come up with 4 brain boosting suggestions to help stimulate all the senses:
1. Toobs from Safari Ltd.: Toobs including dinosaurs, farm animals, butterflies and insects are perfect to include in sensory bins. They add texture and a pretend play aspect to sensory learning. They also help increase vocabulary and general knowledge.
2. Little Kids Inc. Bubbles: Did you know that bubbles are wonderful sensory-based learning tools that boost language development and visual scanning skills? Fubbles Bubbles are no-spill bubble containers that are perfect for spring and summer.  They come in mini, regular size and the bucket. Little Kids Inc. also offers Peeps Bubbles products which are perfect for your kids' Easter baskets!
3. Play-Doh: This is one of the best sensory learning toys around! It allows kids to use their imagination and creativity while boosting their fine motor skills. I recommend the mega pack which you can open and place the individual containers in the kids' Easter baskets! You can also get the Create 'N Store Toolbox and use it instead of an actual basket.
4. Foam Paint from Roylco: This easy to use foam paint is perfect for little hands to smoosh around and play with. It offers a wonderful sensory experience. It also boosts creativity and fosters a love of art!
Academic
What would a Mommy University list be without academics? In this basket, we focus on toys and tools that help increase academic skills such as math, writing, reading and more. Here are 4 brain boosting academic goodies for your Easter basket:
1. Pop and Stacker Cracker Games from Learning Resources: These games are fun and exciting ways to help kids learn academic skills such as sight words, letter sounds, colors, counting, math calculations and more. It also involves cooperative play which improves social skills!
2. Melissa & Doug On the Go: With these fun activity sets, kids can learn numbers, letters, shapes, colors and animals all while enhancing their artistic and fine motor skills. I recommended the Water WOW Bundle, Water WOW Kit and Alphabet Splash Cards. They are perfect for at home and when traveling.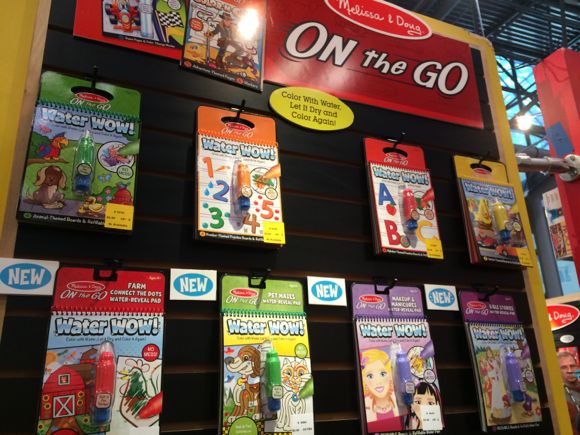 3. Tiggly Shapes and Counts: Tiggly offers a fun and interactive learning adventure that works with your iPad. Tiggly Shapes comes with 4 colorful shapes: circle, triangle, square and star, while Tiggly Counts comes with 5 colorful counting rods. Each game comes with 3 FREE iPad apps the kids will LOVE!
4. Flash Cards: Using flash cards is a wonderful visual approach to helping kids learn various skills such as sight words, math facts and vocabulary words. Some flash cards you may love are by Playskool, LeapFrog and Trend Enterprises.
Cognitive
Let's have some brain building fun this Easter. Cognitive development is so important and essential for academic success. Here are 4 brain boosting Easter basket ideas that help build cognitive skills such as spatial awareness, visual-discrimination and problem solving:
1. Logic Puzzles/Games from SmartGames: Games like IQ Twist, Brain Cheeser and Bunny Peek a Boo offer a fun and entertaining learning experience. They are also perfect for long car rides, plane rides and even a trip to the grocery store! Stay tuned for our review of Bunny Peek a Boo plus a giveaway!
2. Melissa & Doug Stackers: Melissa & Doug offers some wonderful stackers that help boost cognitive skills for little ones. They include Rainbow Stacker, Plush Rainbow Stacker, Stack and Count Forklift and Smart Stacker.
3. Crocodile Creek Two-Sided Puzzles: Crocodile Creek offers gorgeous puzzles that kids will love to play with without even knowing they are boosting brain development. Some two-sided puzzles include: Fairytale, Solar System, Robots, Dinosaurs and Garden.
4. Roylco Crystal Color Stacking Blocks: We fell in love with these stacking blocks at Toy Fair NY. The bright colors are great for enhancing color recognition as well as seeing what happens when you put one color over another. Stacking the blocks is a great introduction to architecture and design as well!
I hope you have enjoyed our list of educational and exciting toys you can put in your child's Easter Basket!